Mac Jones' Potential Replacement will be on Campus Tomorrow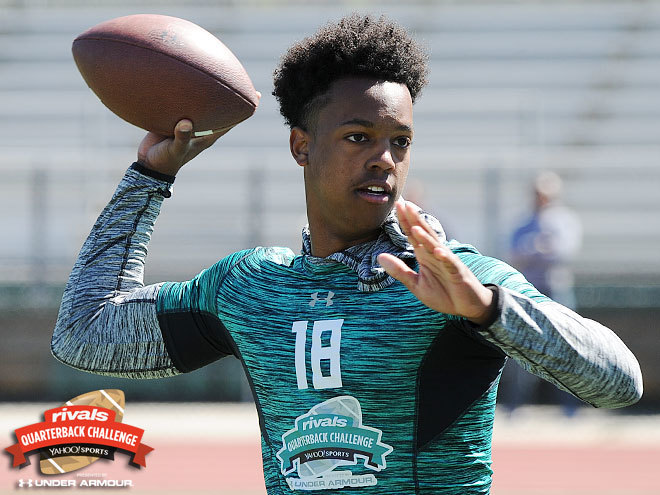 Mac Jones' flip to Alabama has deflated the football recruiting hype surrounding Mark Stoops, but that doesn't mean he's gong to slow down.  It's "Camp Season," providing a perfect opportunity to show off the new facilities and provide hands-on training to top prospects.  One recruit visiting tomorrow just became much more important.
Jarren Williams is a rising junior quarterback, slated as a pro-style by 247 but possessing the athletic ability to be typecast as "dual-threat."
On my way to Kentucky #BBN 🔵⚪️‼️

— Jarren Williams (@Jarren2Williams) June 7, 2016
It won't be the first time the Lawrenceville, Georgia native has visited Lexington.  He was on campus in March, receiving an offer a month later.  He currently has ten offers on the table, most notably Florida State, Louisville, Houston and West Virginia.  After watching his highlight film, you can understand why he's piqued Hinshaw's interest.
Williams fits the mold of how Hinshaw has recruited quarterbacks at Kentucky.  Like Stephen Johnson, Williams is an exceptional athlete who throws a nice touch pass and keeps the ball near his ear during his throwing motion.  There are other '18 QBs with UK offers that share a similar skill set as athletic quarterbacks, Cade Fortin and Connor Noland to name a few.
From a perspective on the recruiting landscape, losing Mac Jones is devastating.  Losing Mac Jones shouldn't kill the Cats on the field.  
Lexington Lafayette's Walker Wood appears to be a lock in the class of 2017.  They could go after another quarterback, but with limited openings in '17, it probably wouldn't make sense.  Drew Barker has three more years and Gunnar Hoak looked formidable as a true freshman in the Spring Game.
Kentucky doesn't have to cash in on another quarterback in the 2017 class, but they need to answer the call in 2018.  Jarren Williams could be an exceptionally athletic answer.