Lots going on tomorrow in and around Commonwealth Stadium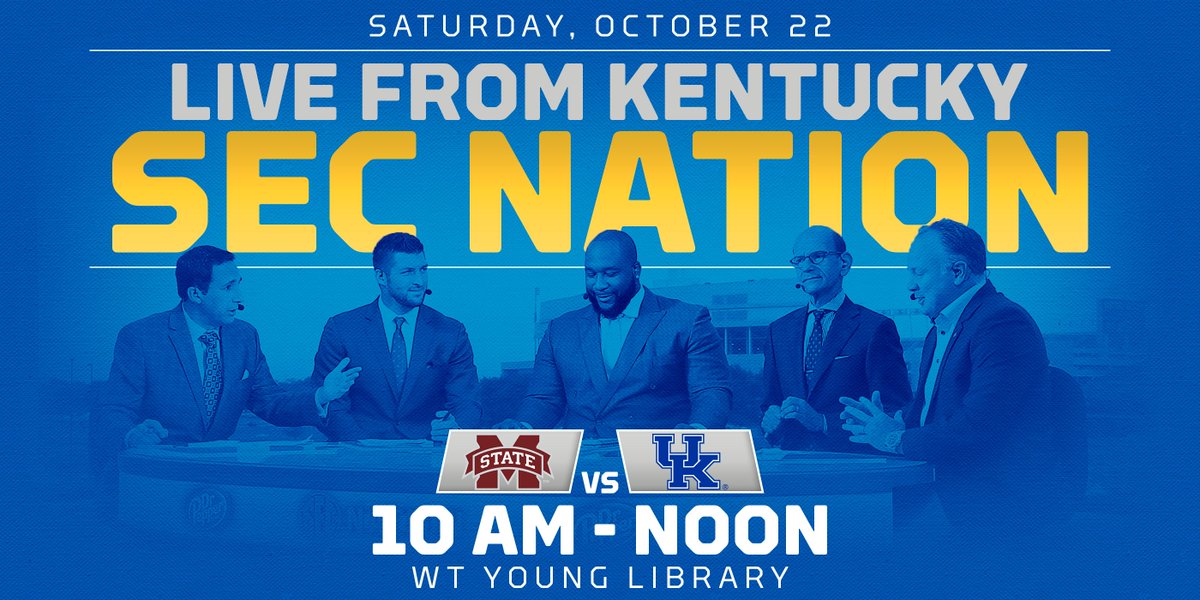 I know there's an exciting basketball scrimmage in Rupp Arena tonight, but let's not forget about all of the excitement surrounding the football team's pivotal game against Mississippi State tomorrow night.
Here's the schedule of special events, for those of you planning to be in Lexington for the Cats versus the Dawgs:
— SEC Nation will be broadcast live from Lexington outside William T. Young Library from 10 a.m. to noon. The SEC Network's traveling college football pregame show is making its third trip to UK's campus, but it will be its first time at the library, where ESPN's College GameDay was held in 2007. The show consists of the new host, Maria Taylor, with Tim Tebow, Marcus Spears, Paul Finebaum, and a new reporter, Laura Rutledge.
— The KSR pregame show will go on the airwaves for two hours beginning at 3:30 p.m. As far as I know, we will hang out in the RV lot along Nicholasville Road to start the show, before making our way toward the Cat Walk. Freddie Maggard and Christi Thomas will take over at 5:30 p.m. for their one-hour pregame show.
— The Cat Walk will begin at Gate 1 at 5:15 p.m. The team will proceed down its new route down Talbott Todd Way to Gate 12.
— After the Cat Walk, the Bobby Perry Band will perform on the stage in the Gate 12 plaza. Ryan Lemond's favorite band is comprised of five Kentucky natives and Bobby Perry, a former Wildcat basketball star from 2004-07.
— UK baseball's 2006 SEC Championship team will be recognized during the game.
— UK track and field's 2016 Olympians, Jasmine Camacho-Quinn (Puerto Rico), Leah Nugent (Jamaica), Rondel Sorrillo (T&T), Mikel Thomas (T&T) and Luis Orta (Venezuela), will be recognized during the game.
— Then at halftime, Commonwealth Stadium will be introduced to the 1976 Peach Bowl and SEC Championship team. Mark Stoops said earlier this week, "We're certainly proud of them and look forward to seeing as many of them as we can."
Go Cats.