Listen to JoJo Kemp's interview with KSR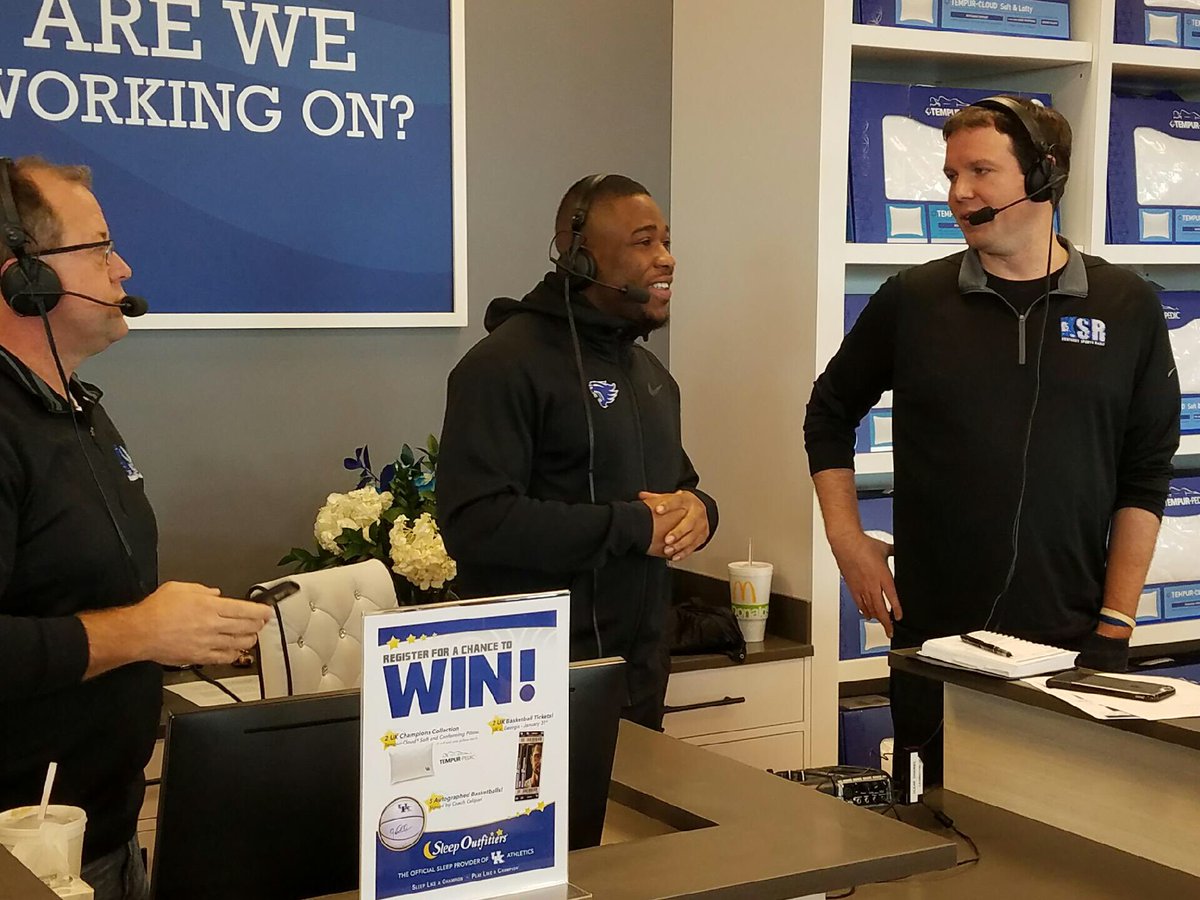 Fresh off his school's first bowl appearance since 2010, departing Kentucky running back JoJo Kemp made a guest appearance on this morning's KSR show at Sleep Outfitters in Lexington.
JoJo was awesome, as expected, and you can find some of his quotes from the interview below. Then tune in to the second hour of the show down at the bottom to hear his entire conversation with Matt and Ryan.
On finally reaching a bowl game in his senior season…
"It was very exciting to see the difference we made in the Kentucky program. That is what we came here to do — change the culture, change the perspective of Kentucky football. To be able to play in the TaxSlayer Bowl in Jacksonville and see so many fans, it was a great experience… It was very awesome to see the impact we made on so many people lives. It was amazing."
On the team's mentality after losing to Southern Miss and Florida…
"Of course it started rough. We knew people — some people, not the true blue fans — were going to hop off the bandwagon and they're going to start saying things about us."
"We knew (the turnaround) was going to happen. We just had to stay together and believe in ourselves and, you know, continue to fight."
His favorite moment at UK…
"One of my favorite moments would be when we went down to South Carolina the second time and we got our first road win in the SEC… It was awesome because — the year before, of course, we ran the Wildcat and beat them — and people was saying, 'Oh they won't beat them again. It was luck. Steve Spurrier won't let that happen again." So when we beat them, it was just an awesome feeling. We beat them away on a road game and, also, Steve Spurrier retired. So it was awesome because that's when we knew the program was changing and moving in the right direction."
On Big Blue Nation and moving the football program forward…
"It took me being here to (understand BBN). My sophomore year when people were trying to get me to leave, I was letting them know that it's bigger than me. We have a wonderful fan base. I know the basketball program is where it needs to be, that's why it is so important for us to get this football program just as high as basketball. Lexington is a great place. The state of Kentucky is a great place. To have both programs where it needs to be is awesome and awesome for the state."
His prediction for next season…
"I think they can win all 12 games. They just gotta take it a game at a time, continue with that work ethic we had this year. If we was just a little more detail oriented and focused on little things, we could've won a lot more games than we did this year. Only thing they have to do is continue to find, build, and keep that leadership mentality, and don't flinch, like Coach Stoops always says."
Tune in to the entire interview below to hear more from JoJo about the win at Louisville, getting his friends and family to the bowl game, and his plans for the future.
And if you'd like to meet JoJo this week, he will be at the Elizabethtown Mall tomorrow night from 6:00 to 7:30 pm and then on Saturday at All Sports in Fayette Mall from 2:30 to 4:00 pm.