Last Chance U's Friday Morning Wakeup
Last night, I finished up "Last Chance U," Netflix's original series about East Mississippi Community College and it's celebrated football program. The show has been a viral hit, so in case you haven't finished it yet, I won't spoil the ending, but man…if you're looking to get ready for football season, put this series on your To Do List for the weekend. In a time of year that is reserved for all things football, this is not only a perfect palette teaser, it's a documentary that will really make you think about the JuCo system.
We've mentioned this series ad nauseam on this site in the past few weeks, but in about two hours, I'm interviewing Brittany Wagner, the academic advisor who is arguably the star of the series. Matt interviewed Brittany for his podcast on Wednesday, but I'm planning to take a totally different approach, asking her about her journey to Scooba and how she deals with the ups and downs of her job.
If you have any questions for Brittany, please leave them in the comments sections or tweet them @MrsTylerKSR. If they're good (and not lewd, you perverts), I'll use 'em.
Meanwhile, here's what we have to look forward to today…
Get ready for a practice report
After a day away from the media, the offense will address reporters after practice today. Check the site after lunch for a practice report and some more of Freddie's awesome "Behind the Facemask" posts.
So far, KSR is leading the Medialympics 4x100m relay poll
I mean, we have to do this, right? It can't just join the graveyard of great ideas alongside the Waddy campout, 24 Hours of Ryan Lemond Radio, and Matt's Kentucky county profiles.
Team USA takes on Spain in the Olympics semifinal at 2:30 p.m. ET
DeMarcus Cousins and Team USA looked better vs. Argentina on Wednesday, but to make the gold medal game, they have to beat Spain, who they've faced in the last two Olympic finals. The winner takes on the winner of Australia/Serbia for the gold medal on Sunday afternoon.
Here's the rest of today's Olympic schedule: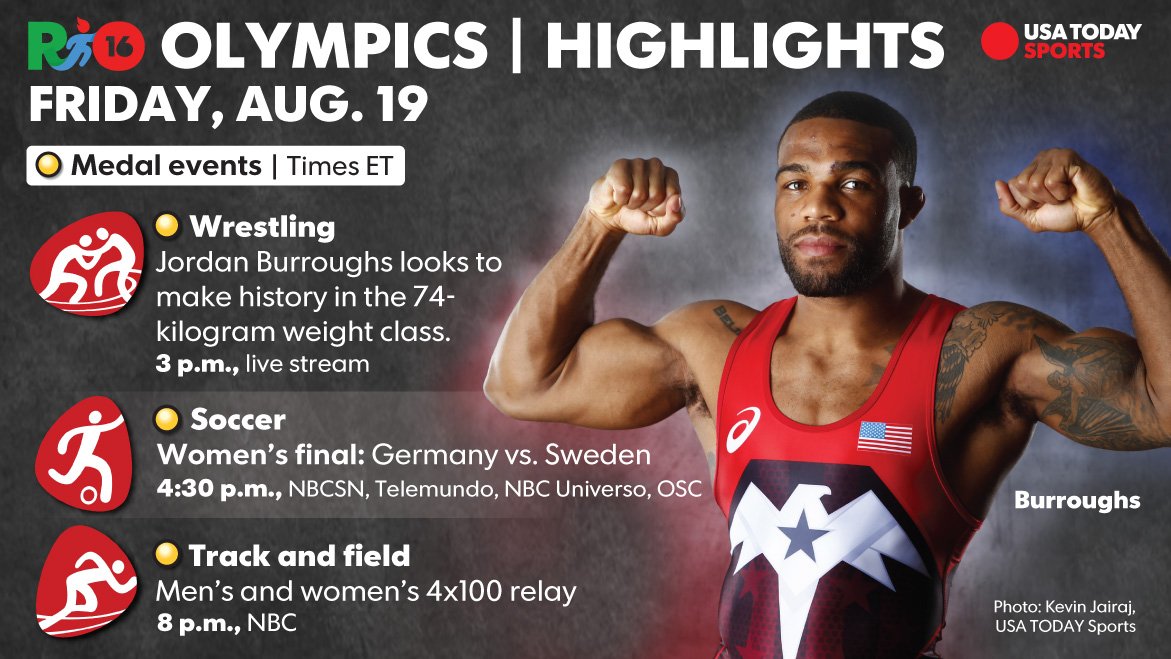 Two big recruiting events going down this weekend
On Saturday, two major recruiting events will go head to head: The Nike Select Camp in the Bahamas and Under Armour's Elite 24 in Brooklyn. Jamal Mashburn and Tony Delk are serving as coaches in the Elite 24, and got some quality one-on-one time with three of UK's targets in the 2017 class: Hamidou Diallo, Kevin Knox, and Nick Richards.
Kentucky is the leader for both Diallo and Richards, and this sweet play yesterday could be a preview of what's to come for the 2017-18 Wildcats:
SEC Network has faith in UK's running backs
Freddie Maggard was watching the SEC Network last night because of course he was, and snapped this picture of Matt Stinchcomb's running back duo ratings. As you can see, Kentucky is in fourth behind Tennessee, Georgia, and LSU, and AHEAD of Alabama's Bo Scarbrough and Damien Harris. How 'bout THEM APPLES.
KSR as the State Fair
Matt and Shannon are at the DirecTV booth at the State Fair to talk about the topics of the day while Ryan gets a blessed day off after his big night at the Darius Rucker show. Get some work done now so you can listen to it later.