KSR's SEC Power Rankings, Week 7
It's Monday, and even though the Cats didn't play, I watched a LOT of college football this past weekend. Here are my thoughts on the SEC after Week 6:
1. LSU (5-0)
Last weekend: Beat South Carolina 45-24; This week: vs. #8 Florida
The Leonard Fournette Show rolled on, with Fournette putting up 158 yards rushing and his teammate Derrius Guice (which is a real name) putting up 161 of his own. Even more impressive was quarterback Brandon Harris, who threw for 228 yards, a career high. Uh oh, y'all. LSU's got balance.
2. Alabama (5-1)
Last weekend: Beat Arkansas 27-14; This week: @ #9 Texas A&M
Arkansas gave it their best, but Alabama was too much for the Razorbacks. The bigger story is Bret Bielema's pathetic sideline antics, which came to light this morning. Check out Bielema hopping in front of Alabama lineman Cam Robinson and attempting to "break up" a scuffle that didn't exist, and when Robinson made a slight movement in his direction, stagger backwards dramatically to draw a flag.
@ClayTravisBGID watch Beilema instegate Cam Robinson, fake like he was shoved, then dance a jig to celebrate. pic.twitter.com/DYSSZdEkOM

– Anthony Jacks (@Coach_Jacks) October 12, 2015
Pathetic.
3. Texas A&M (5-0)
Last weekend: Off; This week: vs. #10 Alabama
I'll be honest, I haven't watched a single second of Texas A&M football this season, but they're 5-0, so I guess that's good. I will be watching when the Aggies host Alabama on Saturday. HUGE game for the SEC West.
4. Ole Miss (5-1)
Last weekend: Beat New Mexico State 52-3; This week: @ Memphis
Ole Miss rebounded from their loss to Florida by routing New Mexico State, but Carlos Davis' fumble on a punt return was still pretty embarrassing.
5. Mississippi State (4-2)
Last weekend: Beat Troy 45-17; This weekend: vs. Louisiana Tech
Dak Prescott was sick and played lass than a quarter, but that didn't stop the Bulldogs from taking care of business against Neal Brown and Troy.
6. Florida (6-0)
Florida QB Will Grier apologizing. Can't help but feel for the guy. pic.twitter.com/syMqo5Yt60 – Nikko Tan (@TheNikkoTan) October 12, 2015
Last weekend: Beat Missouri 21-3; This week: @ #6 LSU
Well, I had Florida a lot higher on this list when I started it this morning, but after the news broke that starting QB Will Grier is suspended the rest of the season for taking performance-enhancing drugs, it's time to reevaluate the Gators. Treon Harris will presumably get the nod, but will Florida be able to keep up their impressive momentum without Grier? Doubtful.
7. Tennessee (3-3)
Last weekend: Beat Georgia 38-31; This week: Off
It pains me to say it, but the Vols got a huge, huge win over Georgia this past weekend. Fortunately, that puts Kentucky in second place in the SEC East, and with Florida having to regroup after losing Will Grier, the Cats could make some noise. Unfortunately, the Tennessee game looks tougher now that the Vols proved they can finish a game.
8. Georgia (4-2)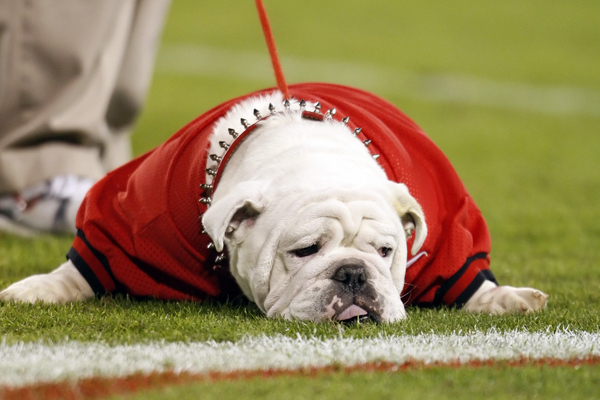 Last weekend: Lost to Tennessee 38-31; This week: vs. Missouri
The low point of the weekend by far was Nick Chubb's injury. Georgia's star running back suffered a horrific injury to his knee on his first play against Tennessee, and it was so bad CBS refused to show the replay again; however, they did show a lot of pictures of sad Chubb on the sideline, being helped to the locker room, on the injury cart, etc. I could have done without all of that. Understandably, Georgia was rattled the rest of the game. Will they rebound vs. Missouri this week?
9. Kentucky (4-1)
Last weekend: Off; This week: vs. Auburn
This is a big week for the Cats. Beat Auburn and we could be talking about Atlanta (if Florida slips off). Lose to Auburn and we'll be back to debating which low to mid-tier bowl is better. Hopefully the team learned a lesson from the Florida game and won't let the hype affect them this week.
10. Auburn (3-2)
Last weekend: Off; This week: @ Kentucky
No starting quarterback named yet and the top wide receiver dismissed from the team. If I didn't know better, I'd say the stars are aligning for a Kentucky upset. History suggests otherwise. Cautious optimism, folks!
11. Missouri (4-2)
Last weekend: Lost to Florida 21-3; This week: @ Georgia
I bet Missouri wishes they played Florida this week instead of last. How are the Tigers so bad?? I realize Maty Mauk's still "suspended," but wow. Pull it together and stop making our win over you look less impressive, Mizzou.
12. Arkansas (2-4)
Last weekend: Lost to Alabama 27-14; This week: Off
Remember when I said I liked Bret Bielema during SEC Media Days this summer? That I thought he was a funny fellow I'd like to have a beer with? Yeah, so much for that. After his antics this week, I'm like…
13. South Carolina (2-4)
Steve Spurrier vs. headset wire = LOL. pic.twitter.com/fybRwtlZGn

– Jimmy Traina (@JimmyTraina) October 10, 2015
Last weekend: Lost to LSU 45-24; This week: vs. Vanderbilt
After a rough few weeks, the Gamecocks will return to Columbia to host Vandy, a welcome reprieve from a nightmare of a season that is best summed up by Steve Spurrier's fight with his headset wire.
14. Vanderbilt (2-3)
Last weekend: Off; This week: @ South Carolina
Real conversation with a Vanderbilt friend this weekend:
Me: "Kentucky doesn't need to worry about Vanderbilt, do they?"

Vandy friend: "No."

Me: "Not even after they looked good against Ole Mi–"

Vandy friend: "No."