KSR's SEC Power Rankings: Week 1
With week one of college football in the books, what did we learn about the SEC? Quite a few things, actually. Let's jump right into our SEC Power Rankings, starting with the obvious:
1.
Alabama

(1-0)

24-7 win over Florida State

Bama rolled over No. 3 Florida State, looking every bit as dominant as you imagined. Diehard Alabama fans will find things to nitpick, but the Crimson Tide may not face a real test until LSU on November 4. If you missed it, Damien Harris blocked a punt AND got a touchdown:
Damien Harris (@DHx34) extends #Alabama's lead with this 11-yard TD run! #FSUvsBAMA pic.twitter.com/cpMI2Ev5Ag

– Chat Sports (@ChatSports) September 3, 2017
Man, that kid's good.
2.
LSU

(1-0)

27-0 win over BYU

I'm giving the edge to LSU here over Auburn because not only did they shut out BYU, they held them to negative rushing yardage while rushing for almost 300 yards on their own. That's ridiculous. Almost as ridiculous as the ESPN crew's Ed Orgeron impressions:
3.

Auburn

(1-0)
41-7 win over Georgia Southern
Auburn had no problems with Georgia Southern at home, racking up 535 yards of offense to Georgia Southern's 78. They'll get a bigger test vs. Clemson on Saturday.
4.
Georgia

(1-0)

31-10 win over Appalachian State

Starting quarterback Jacob Eason went down with a knee injury, and although it doesn't appear to be too serious, freshman Jake Fromm has been thrust into the spotlight. Fromm looked good vs. App. State, but what will happen when he faces bigger, better foes? Or, when Eason returns?
5. South Carolina (1-0)
35-28 win over NC State
South Carolina backed up all the buzz they got at SEC Media Days with an impressive win over a legit foe. Jake Bentley looks like the real deal, and Kentucky's trip to Columbia on September 16 looks even more daunting. Muschamp was the Muschamp of old when he tried to fire the company that makes the headsets after they didn't work in the first half:
Angry Will Muschamp is the best Will Muschamp (via @jacobburson) pic.twitter.com/xJOU1AFGYY

– Saturday Down South (@SDS) September 3, 2017
6. Arkansas (1-0)
49-7 win over Florida A&M
Arkansas looked dominant vs. Florida A&M, but they're an FCS team, so it doesn't tell us much. We'll find out more against TCU this weekend.
7. Mississippi State (1-0)
49-0 win over Charleston Southern
The Bulldogs had one of the most balanced offensive attacks in the league this week, with 274 yards passing and 281 yards rushing, while holding FCS squad Charleston Southern to 33 total yards. Like Arkansas, it's hard to tell if the Bulldogs are legit yet given the competition.
8. Florida (0-1)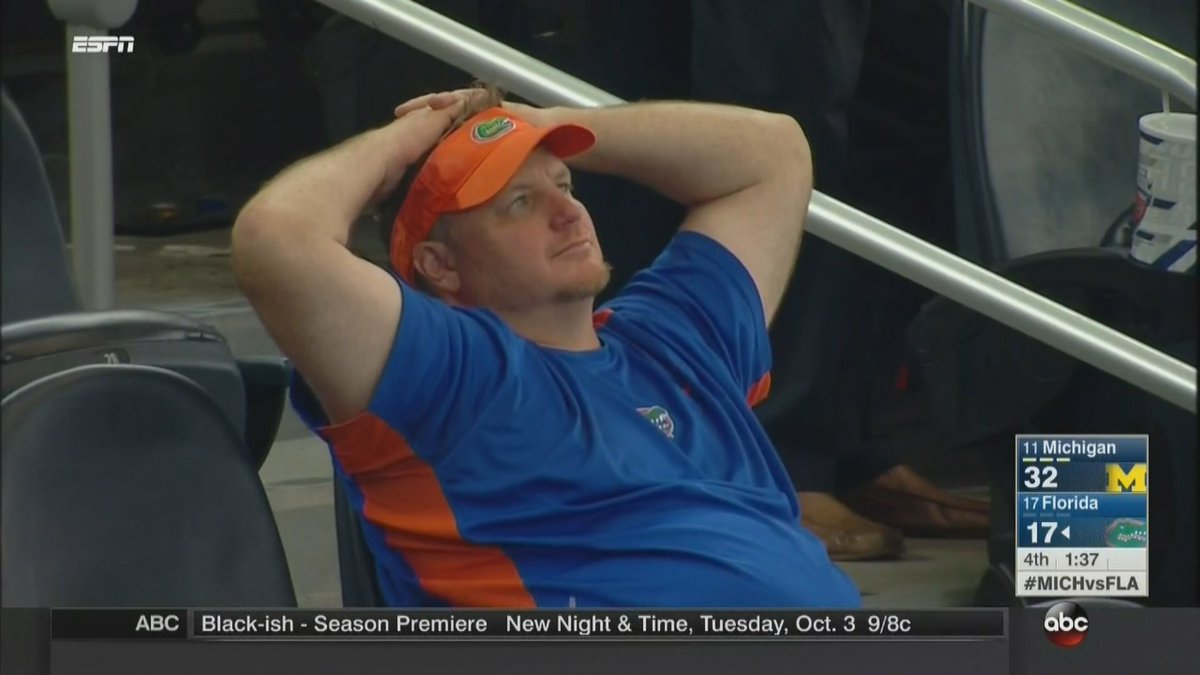 33-17 loss to Michigan
The Gators lost to Michigan, yes, but when you consider 10 players were out due to suspension, including their top returning running back and wide receiver, a 16-point loss to what is now considered a top 10 squad doesn't seem so bad.
9. Tennessee (1-0)
42-41 win over Georgia Tech
It's really hard for me to take the Vols seriously after the motivational trash can, but they did come back to beat a good Georgia Tech team. As Kentucky learned the hard way in the TaxSlayer Bowl, that triple option is no joke. The motivational trash can is:
"Can you imagine Nick Saban allowing a trash can on the sideline?"@ClayTravis: Butch Jones is a gimmicks clown. https://t.co/IIy03Gm79t pic.twitter.com/rubMsrbvsq

– FOX Sports Radio (@FoxSportsRadio) September 5, 2017
10. Vanderbilt (1-0)
28-6 win over Middle Tennessee State
I'll be honest: I expected MTSU to give Vandy fits in Murfreesboro on Saturday. They did not. Vandy looked impressive, especially quarterback Kyle Shurmur. Matters got even worse when MTSU accidentally set off fireworks and the touchdown siren after an incomplete pass:
Fireworks and a celebration for an incomplete pass?!?! pic.twitter.com/bSjRAIVY7m

– CBS Sports Network (@CBSSportsNet) September 3, 2017
Poor Blue Raiders.
11. Kentucky (1-0)
24-17 win over Southern Miss
Kentucky got the win on the road, but it didn't feel as good as we all had hoped. As we've gone over ad nauseam, the running game never got going, averaging only 2.2 yards per carry, which overshadowed a very impressive showing by the defense. Here's hoping a date with Eastern at home will allow the Cats to get some momentum heading into a tough trip to South Carolina.
12. Ole Miss (1-0)
47-27 win over South Alabama
Given all the issues in Oxford, Ole Miss actually looked better than I thought they would, especially on offense, but their defense has issues, giving up almost 400 yards to South Alabama.
13. Missouri (1-0)
72-43 win over Missouri State
Clearly, the Tigers have no problems scoring. Behind quarterback Peyton Huslig, Missouri hung 72 points and over 800 yards on Missouri State, but their defense gave up 43 points and almost 500 yards. To an FCS school. Unless they can outscore every team in the league, that's going to be a problem.
14. Texas A&M (0-1)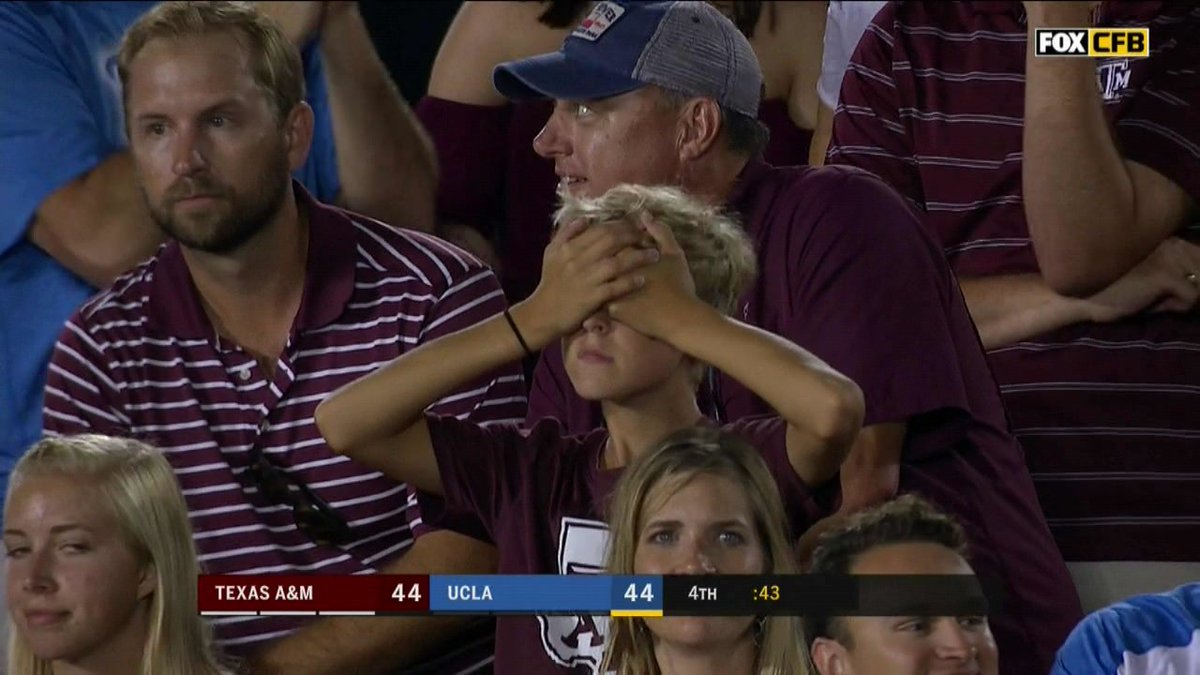 45-44 loss to UCLA
The Aggies are not the worst team in the league, but their collapse in the season opener puts them at the bottom of the list. Kevin Sumlin's squad had a 44-10 lead with two minutes left in the third quarter and absolutely blew it. The loss was so embarrassing that one of Texas A&M's own regents called for Sumlin's firing. Ouch. With starting quarterback Nick Starkel out for what could be an extended period of time, it doesn't look like things will get any easier in College Station.