KSR's Monday Night Football Notebook: Spring Game Guests Friday night provided a wonderful opportunity to take spectacular pictures, like the significant one above, at Kroger Field. Before explaining the portrait's significance, allow me to briefly explain why the 2019 Blue/White Game was much more than a photoshoot.
Mark Stoops' 2019 spring game accomplished every imaginable goal. The team left the turf injury free. Fans saw the offense unleash points with explosive plays down the field. Terry Wilson dropped bombs and his receivers finished the catch.
Some may fear Kentucky's secondary has been left in shambles by the mass exodus by future pros. Even though that may prove to be true, you cannot discount Wilson's improvements. He was effortlessly throwing darts. In his first three drives Wilson completed 8-of-8 passes for 169 yards and 2 touchdowns. He had a quarterback rating of 360 and a touchdown at the end of each drive. For those who needed reassurance that Wilson can handle the lofty expectations, he did everything he could possibly do to instill confidence in the fans, coaches and his teammates.
Wilson's timely performance should help Kentucky on the recruiting front.
Beau Allen is arguably the most important recruit of the Mark Stoops era. When the Drew Barker experiment did not work, Stoops had to scrape by with JUCO products. Each have produced magnificent results to this point, but Stephen Johnson and Terry Wilson can't be Beau Allen. The four-star pocket passer is from Lexington. His dad played at Kentucky. He has the potential to be "The Guy" that takes Stoops' program into the stratosphere, and bring a bunch of his talented friends along with him (like Andru Phillips and John Young).
Since Allen's visit for the game, he's conducted a couple of interviews, revealing he will finish the recruiting process in a month or so. In each interview he talked about Kentucky's explosive offense. As Mike Leach and Neal Brown fight for Allen's services, Eddie Gran's offensive onslaught might have come at the perfect time.
Before I get to more recruiting, one more thing from the game…
The Depth Chart
Appearing in the press box for the first time, Adam Luckett was feeling froggy after the Blue/White Game. On top of his grades for the offense and defense, he shared a projected two-deep. I can only disagree with the "or" tag on Keaton Upshaw. Obviously, much will change, especially in the secondary, prior to August 31, but it's a good look where everybody stands as of right now.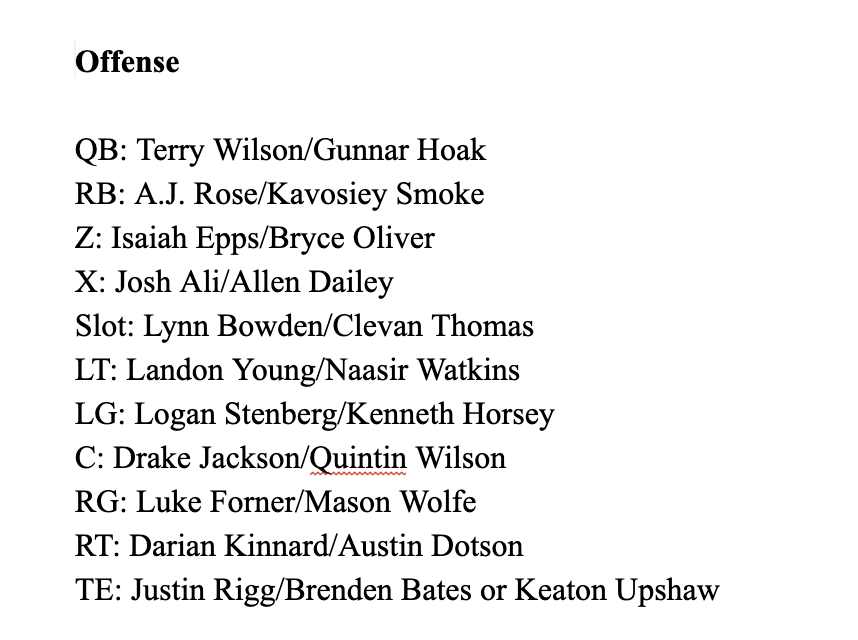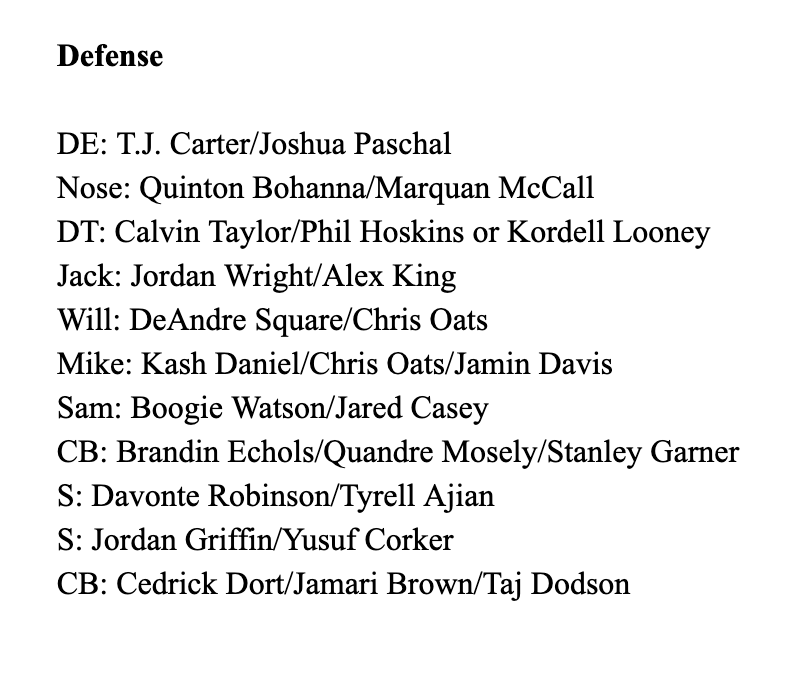 It's a Photoshoot
How do recruits spend their time on unofficial visits? Taking pictures and talking Xs and Os. Instead of simply providing a list, here are some of the photos from Friday afternoon.
Up first, Randall Cobb. Ever heard of him? His nephew is three-star running back Tee Hodge. Could UK steal another talented athlete from beneath the shadows of Neyland Stadium?
The University of Kentucky ?? pic.twitter.com/PjNcIRigKp

— Tee Hodge (@TdotH44) April 12, 2019
Offensive tackle Richie Leonard has received plenty of love from Florida schools recently, but he still remains committed to the Cats.
Uniform still fits…#BBN @Rhl4Richie @UKFootball @CoachHinshaw @UKCoachStoops pic.twitter.com/43q9nLZ1sX

— ?Prishonda? (@Prishonda) April 12, 2019
Shortly after snapping these photos, four-star wide receiver Kalil Branham de-committed from Michigan. The power of photography.
Thanks for all the cool pics. Had fun.. #branhamboys #BBN pic.twitter.com/iZ76sSOVJO

— Kalil Branham 2020 (@kbug_dash) April 15, 2019
This is the smirk of a man who has offers from Auburn, Alabama, Georgia and every other powerhouse program. Noah Josey is a rising junior from Brentwood, Tennessee who could be an incredible interior offensive lineman at the next level.
Visit to Kentucky yesterday @NoahJosey#proudmom pic.twitter.com/2j3fX0EJlD

— Shannon Finch Josey (@shannonjosey) April 13, 2019
Hodge was not the only running back in attendance. Rising senior Ahmani Marshall made the trip from North Carolina to watch the Cats in the Blue/White Game.
Thank you ! @UKFootball for an amazing visit ! ? pic.twitter.com/JgBIeEz2BO

— Ahmani Marshall (@MarshallAhmani) April 14, 2019
Pictured in the header image, South Carolina cornerback Andre Phillips shared quite a few photos from the trip. Up until high school, the three-star prospect actually lived in Louisville.
Past x Future… pic.twitter.com/shiDddg40o

— dru (@AndruPhillips) April 15, 2019
If the whole Beau Allen thing doesn't work out, I'm all in on this guy. Santino Marucci is a quarterback from Youngstown. Those are the only two things I know about him and that's all I need to know about him. Get this guy to Lexington ASAP.
awesome time visiting kentucky!! @CoachGran @UKCoachStoops @UKFootball @coachmarroquin ? pic.twitter.com/R7UXgt9plx

— Santino Marucci (@santinomarucci) April 12, 2019
Terian Williams was an explosive quarterback starting as a freshman in the state of Georgia. A frequent guest to the Bluegrass, he'll be a Top 300 prospect as an athlete before his prep career has concluded.
Thanks @UKCoachStoops For A Great Visit, Always Feels Like Home When I'm In Lexington..Had The Chance To Catch Up With 2 Georgia HS Legends Who Paved The Way For Me @CROD_JR @YCorker Keep Grinding pic.twitter.com/DoebVmYtIs

— Terian Williams II (@T_WilliamsD1) April 13, 2019
Will Darragh played for a pretty good South Oldham team as a freshman. The Cats will be keeping a close eye on this one.
Had a great time last night @UKFootball ??? game. Thanks to @CoachWhiteFB and @CoachJonSumrall for having me. #BBN @Aspirationsgym @RivalsDave @KPGfootball @RoushKSR @PatrickLoney @SWiltfong247 @KY_HS_Football @kybigthings pic.twitter.com/DTHKrPGVQf

— Will Darragh (@DarraghWill) April 13, 2019
He does not yet have an offer from Kentucky. I'm not sure if Ta'Chawn Brooks will receive one or not, but I do appreciate his honesty. It's the best policy when captioning photos.
Also had great time in Lexington with #BBN a lot of people showed out to the spring game was really worth the time #GoCats @danakay82 @CoachDeanHood @CoachSchlarman @UKCoachStoops @CoachJoshPruitt @JEdwar247 pic.twitter.com/jw8aSySw53

— Ta'Chawn Brooks7??7?? (@mar18_tayy) April 14, 2019
[mobile_ad]