Know Your Wildcat: Ryan Flannigan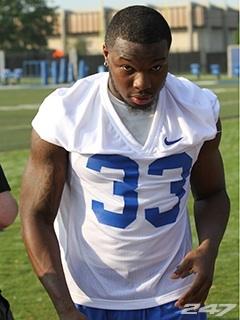 #2 Ryan Flannigan
Vitals
— Height: 6'2"
— Weight: 225 lbs.
— Class: Junior
— Experience: 2 years played at Blinn Junior College (Texas)
— Position: Linebacker
— Hometown: Missouri City, TX.
— High School: Marshall
Class of 2014 High School/JUCO Ranking
— 247Sports.com: #23 ILB (HS), 
— ESPN Recruiting: #40 ILB (HS), 
How He Got Here
Flannigan originally committed to play for Texas Tech in 2012. That situation didn't work out for the big fella and he decided to enroll at Blinn College, a junior college in Texas, for two seasons before looking to play for a division one program. During his sophomore season he began talking to a host of schools who were interested in his services for 2014. Flannigan began talking to UK and found himself primarily centered on the Wildcats after Neal Brown and Chad Scott (previously at Tech) made the move to Kentucky. He stayed in communication with those two coaches primarily, and committed to play for the Cats last June.
Previous Accolades, 2012-2014
Flannigan was a 2 year starter at Blinn College before he came to UK. His freshman season he had 45 tackles, 3 of which were for loss, and one sack. He was only able to play in 3 games his sophomore year because of injury, but in those 3 games he put up 22 tackles and 2 INT's, one of which he returned for a pick-six. Flannigan had many offers, but he chose to come to play for the Cats over Arizona State, Cincinnati, Houston and Texas Tech.
Something You Didn't Know About Him
He was ranked in the ESPN Top 200 coming out of high school in Texas.
Something We Made Up About Him
Flannigan was kicked off his high school team because he was literally sending kids to the hospital every practice. He couldn't stop hurting the other kids with hits.
Unfair NFL Comparison
Wesley Woodyard, Tennessee Titans
Outlook for 2014
He showed up late to campus to campus this year after having to stay back at his junior college to finish up some academic coursework. Since his late arrival on campus I haven't heard a bad thing said about this kid. He works hard and fortunately he came to fall camp somewhat of familiar with what D.J. Eliot expects him to do this season. Eliot sent him defensive playbooks to study while he was still back at his other school, and he has been impressive so far in fall camp. Stoops hasn't stopped raving:
"Ryan Flannigan just got here, really impressed with him. We needed him. We talked about the depth at linebacker, and he's a guy that will definitely help us. We love the way he's playing."
I'd say he will probably fall behind other linebackers and won't start at season's beginning, but he should still see good minutes throughout the season as a back-up or possible starter.