Kirk Herbstreit lists DeAndre Square as week one college football standout
Following a standout performance that included 11 tackles, 1.5 for loss, a half sack, and an interception in the fourth quarter that helped seal Kentucky's victory over Toledo on Saturday, sophomore linebacker DeAndre Square has been named one of the top players of the week by ESPN's Kirk Herbstreit.
In a post highlighting his top-five teams and players across all of college football, Square was Herbstreit's top defensive standout in the nation.
The College GameDay host listed Georgia State, Boise State, Auburn, Oklahoma, and Wisconsin as the top team performers, while he named Oklahoma quarterback Jalen Hurts, Boise State quarterback Hank Bachmeier, Wisconsin running back Jonathan Taylor, Nevada kicker Brandon Talton, and DeAndre Square as the top individual standouts of the week.
My top performances of WEEK 1
Teams
1-@GeorgiaStateFB
2-@BroncoSportsFB
3-@AuburnFootball
4-@OU_Football
5-@BadgerFootball
Players
1-Jalen Hurts OU QB
2-Hank Bachmeier Boise St QB
3-Jonathon Taylor Wisconsin RB
4-Brandon Talton Nevada FR K
5-Deandre Square Kentucky LB

— Kirk Herbstreit (@KirkHerbstreit) September 3, 2019
Yesterday, Square was one of just two linebackers named to Pro Football Focus' Eckrich Team of the Week, which honors the top performers nationally each week.
"Flying around like a missile for the Wildcats, Square recorded multiple QB pressures, eight defensive stops and didn't allow the single target thrown his way to be caught on 29 snaps in coverage," PFF's Cam Mellor wrote following the sophomore's impressive performance.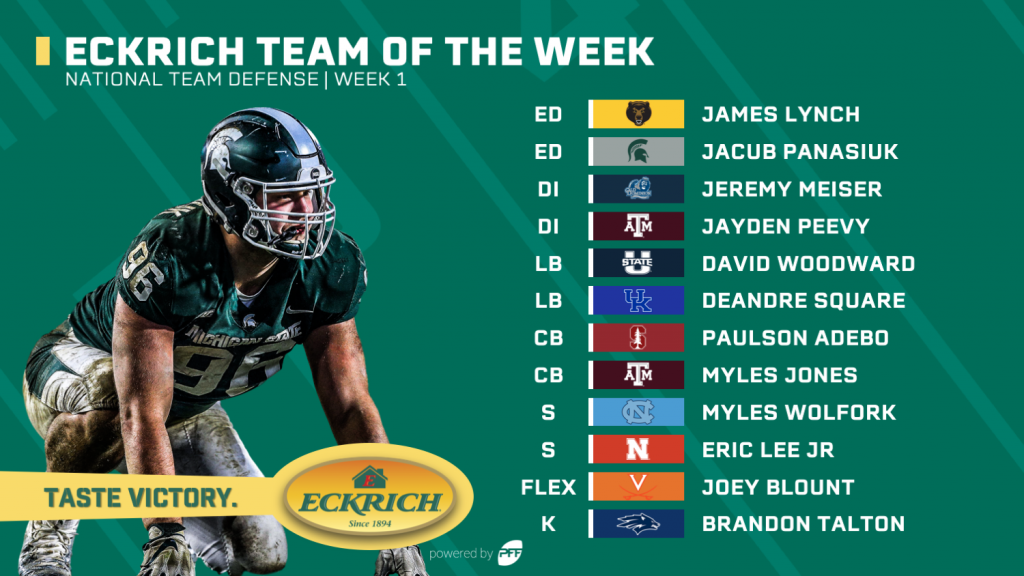 After the game, Square's teammates were not surprised in the slightest to see the Detroit, MI standout succeed in the season-opener.
Something tells me this kid is going to be a superstar.
[mobile_ad]