Kentucky finished fourth in Fulmer Cup standings, which isn't a good thing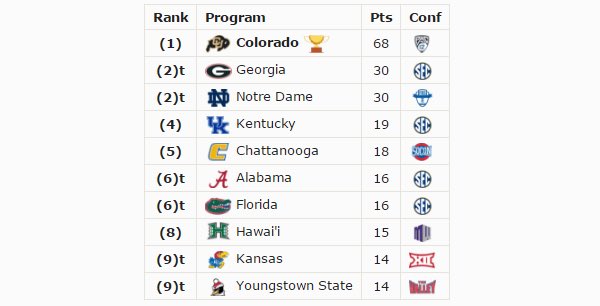 Reddit gives out the Fulmer Cup to the football program with the worst criminal activity in the offseason and Kentucky finished fourth in the standings, sadly.
Colorado took the top prize with a staggering 68 points, more than doubling up second place Georgia and Notre Dame. Kentucky came in fourth with 19 points due to its troubling February and March. (See Hatcher, Jason.)
A list of the point system can be found here.
A list of the entire standings can be found here.
Your 2016 #FulmerCup Team winner are the Colorado Buffaloes! 🏆 pic.twitter.com/ZpYD0D6qZS

— The Fulmer Cup (@TheFulmerCup) August 30, 2016