Kentucky 14th, South Carolina 12th in ESPN's SEC Power Rankings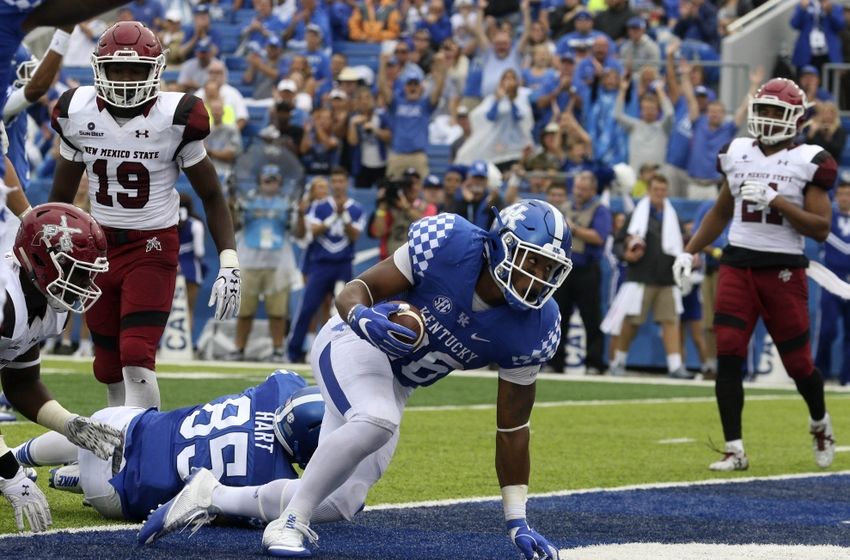 Both Kentucky and South Carolina got wins this weekend with new quarterbacks at the helm, but the Cats' 692 yards of total offense wasn't enough to get them off the cellar floor in ESPN's latest SEC Power Rankings. The Worldwide Leader ranks Kentucky 14th out of the 14 teams in the league, with Sam Khan arguing that although Kentucky looked good on offense, the defense is still too problematic for the Cats to climb the rankings:
14. Kentucky: The Wildcats needed a win and got it — 62-42 over New Mexico State — but they had to work for it. Lots of head-scratchers in this one for Stoops' Troops, such as giving up 35 first-half points at home and committing three first-half turnovers. On the bright side, Kentucky rolled up 692 offensive yards and found that backup quarterback Stephen Johnson — who filled in for an injured Drew Barker — is a capable field general.
How about South Carolina? After beating East Carolina 20-15, the Gamecocks are two spots ahead of Kentucky in 12th, with issues that are almost the complete opposite of the Cats'.
12. South Carolina: The Gamecocks won with a true freshman QB making his starting debut (Brandon McIlwain) and there was some good mixed in with some freshman moments. The defense came up with four turnovers in a 20-15 victory over East Carolina, but the offense has to be a lot better than it was (312 yards, 3-for-12 on third downs) moving forward.
Good offense/bad defense vs. bad offense/good defense? Oy. Check out the rest of ESPN's SEC rankings at the link below.