Insider Notes from the Kentucky Football Women's Clinic

Stoops isn't a fan of the Missouri body surfing picture
During a Q&A, Stoops was asked if he is going to break any more ceilings this year. He quickly said no, but went on to say that he isn't a fan of that famous picture from after the Missouri game.
Why? Because all he sees is his stomach hanging out. Just a bad angle, Coach.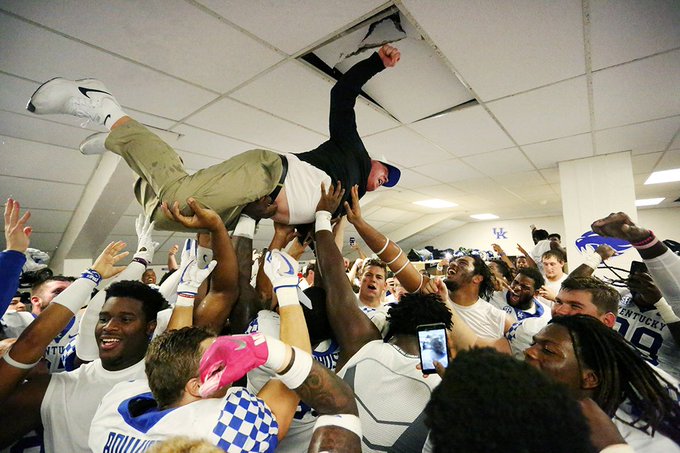 Eddie Grain is still going to run it on 3rd and long
While going over different 3rd down scenarios, Gran acknowledged that he hears the fans boos when he runs the ball on 3rd down and long. And guess what? He doesn't care what you all think. He's still going to run it if he thinks it's the right call. And also guess what? He knows more than you.
Fans are going to love Brad White
This was the first time that I've got to hear our new defensive coordinator talk. He was definitely the right pick to replace Matt House. Fans are going to really like him.
Steven Clinkscale is confident in his young defensive backs
It would be a lie to say the coaching staff, especially defensive back coach Steven Clinkscale, isn't worried about the loss of Davonte Robinson. However, Clinkscale is very confident in his young defensive backs like Tyrell Ajian and Yusuf Corker.
My mom thought Sam, Will, and Mike were players on the team
The coaches do not water down their explanation of anything. They speak as if they were talking to their own team. While I love it and nerd out with all the football talk, my mom, on the other hand, was a little lost.
When talking about the defense and she asked why Coach White kept naming only three players on defense; Sam, Will, and Mike? I laughed. So I went on to explain that Sam is the strongside linebacker, Will is the weakside linebacker and Mike is the middle linebacker.
The Types of Football Linebackers
Female football fans are the best
And, that's the tea.