In a Must-Win Game, is the Auburn QB Competition Reality or Gamesmanship?
Expectation has not met result. The Auburn Tigers were voted to represent the SEC West in Atlanta. Through five games, it hasn't played up to billing. Football experts confused sports and voted QB Jeremy Johnson onto preseason All-SEC Teams as well as naming him to Heisman Trophy watch lists. In regard to preseason accolades, football and basketball are vastly different. In football, proven result trumps potential. Given Johnson's starting career entailed all of two games, 2015 has not produced the Cam Newton comparison that was prominently thrown around during SEC Media Days. Disclosure, I fell into that same Johnson hype trap.
The Tigers are 3-2 and like UK, will be coming off a much-needed bye week. Word from the Plains is that Gus Malzahn had opened up competition at quarterback as well as every other position on the team. Common from an underachieving, youthful team. As for the QB race, some think it's real, others indicate it's merely motivation for its current starter. Candidates are: Jeremy Johnson, Sean White, and former WR Jason Smith. Let's take a deeper look into Auburn's signal callers:
Jeremy Johnson 6'5″, 240 lbs. junior, 3 starts
In week one, the nation waited to be wowed. Johnson disappointed in the Tigers win over Louisville. Even with Auburn opening a sizable lead and holding on for the victory, fans and media left the game perplexed. 11-21 for 137 yards were accompanied by three interceptions and one touchdown. Of his ten incompletions, some were baffling and led to more questions than preseason affirmations.
Next week, Auburn faced Jacksonville State. An overtime win led to more reservation. In AU's victory, Johnson was 21-32 236 yards, 2 INTs and 2 TDs. Numbers weren't all that bad, but misreads and inexplicably errant throws continued from week one. Hesitancy was common. For an athlete of his stature, Johnson pocket discomfort was troubling and hard to watch.
Johnson's final start came against LSU. 11-19 for 100 yards led to 2 TDs, one more INT, as he endured 5 QB sacks. For many Plainsmen, a QB change was inevitable. LSU and Leonard Fournette beat AU 45-21.
For the year, Jeremy Johnson's numbers are as follows: 43-72 for 473 yards, 6 INTs, and 5 TDs. He's also run for two scores.
Sean White 6'0″, 200 lbs. freshman, 2 starts
Not a typical Gus Malzahn quarterback, White is more of a pocket passer. He came to Auburn highly recruited. His first start was statistically better than his predecessor by going 20-28 for 188 yards and 1 INT. White also showed flashes of being able to effectively run the football. However, Auburn dropped another conference game to Miss. State 17-9. The projected West champions were 0-2 in league games.
The next week, Auburn got back on the winning track by beating San Jose State 35-21. However, the final score was misleading. The Spartans had critical turnovers and Auburn scored late. White attempted just 10 passes, completing 6 for 108 yards. In his two starts, White has yet to throw a touchdown pass.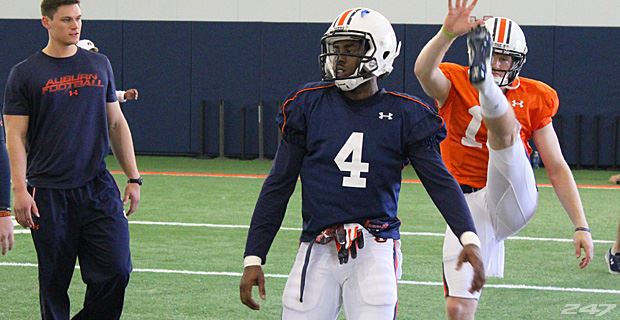 Jason Smith 6'1″ 180 lbs. sophomore, zero starts
Smith is the wild card. The former Mobile Register Player of the Year signed with Mississippi Gulf Coast Community College. Smith played quarterback and led his team to an 8-2 record and 7th national ranking. He passed for 1566 yards and 18 TDs. He also rushed for 10 scores. Smith is believed to be more of a Malzahn QB than Johnson or White. His expertise is the read option.
On the current Auburn roster, the 6'1″ 180 lbs. Jason Smith is listed as a WR. Season totals: 3 catches for 17 yards. Former Tiger QB Nick Marshall was a cornerback at Georgia prior to transferring to Auburn and eventually led it to a national championship loss to Florida State. Could we be seeing a similar trend in Smith? Would Auburn start a WR at QB on the road in a must win situation?
Miscellaneous Notes:
— Excluding the dismissed Duke Williams, Auburn's top 5 pass catchers include only two WRs. Ricardo Louis leads the team with 19 grabs, Melvin Ray is next with 9. Following the WR pair are three running backs: Roc Thomas (8 receptions), Kerryon Johnson (7), and Peyton Barber (4). Telling. Against San Jose State, Sean White only attempted 10 passes. I can sense there's a level of uncertainty in whomever is under center. Therefore, a change to a true read option quarterback like Jason Smith or a return to Jeremy Johnson could become a reality. Much will depend upon Auburn's success in its run game.
— Auburn has only thrown 5 TD passes in 2015
— Gus Malzahn's offense is centered on the quarterback's ability to execute the read option. Through five games, Tiger quarterbacks have 106 rushing yards on 36 attempts. A far cry from Cam Newton and Nick Marshall.
— Auburn is scoring 24.6 points per game. It's averaging 343 total yards: 190 rushing and 153 passing. The Tigers have scored 9 TDs on the ground and 5 passing scores.
— Auburn's next four opponents: @ Arkansas, Ole Miss, @ Texas A&M, and Georgia
— Given above post-UK slate, Thursday is a MUST WIN for the Tigers. With two SEC losses, AU cannot afford another league setback. This is where it becomes tricky. Once considered a certain win, Kentucky now punches back and is 2-1 in SEC action. Its only loss was the result of a tightly contested game against arguably the conference's hottest team, Florida.
— Combine Auburn's winless SEC record with Duke Williams' dismissal and hints of turmoil, expect the unexpected on Thursday. With its backs against the wall and a brutal four-game stretch that follows Thursday, the Tigers will pull out every trick in the book to "steal" a win in Lexington. It also has the perfect coach in Gus Malzahn that is known for such trickery. That may include playing multiple quarterbacks, going back to Jeremy Johnson, or inserting Jason Smith with hopes to ignite a stagnant offense. In the end, Sean White could remain as the Auburn starting quarterback. But, the threat of otherwise forces Kentucky to prepare for all three.
— I can see a wild game on Thursday. Both teams will have much on the line. For Auburn, another SEC loss would be damning. For the Cats, beating the Auburn logo would be program enhancing. As for which team is actually better? Debatable, but sure is leaning more toward Kentucky than anyone would have predicted in August.
What does this mean for the UK pass defense?
Linebackers must maintain zone and man to man responsibilities to limit RB catches. Auburn's top 5 pass catchers are RBs, this is non-negotiable. Flat/perimeter defenders, Nickel backs Blake McClain and Kendall Randolph as well as strong safety Marcus McWilson will also have to show restraint and discipline. I don't think Tiger WRs will be able to consistently force the issue downfield.