The fine folks at Kentucky Sports Radio Headquarters graciously allowed me to take a week off to recharge my batteries and to get a head start on research for National Signing Day. Both went well. Batteries and full charge. NSD notes now number over 4,000 words.
Let's catch up:
Four-star athlete Lynn Bowden moved his decision date from January 25th to this Saturday the 14th. Most, if not all indicators favor Kentucky.
I find it unfair to place an overabundance of expectation on incoming freshman. However, the more film I watch the more enamored I become. Bowden is the most Randall Cobb-like prospect that I've evaluated since Randall Cobb. To add even another level of expectation; Bowden also possesses Lamar Jackson-type elusiveness and open field fluidity.
His commitment and eventual signature could add an all new dimension to Eddie Gran's Wildcat package and overall offensive approach. Huge, huge announcement. Stay tuned.
In a strange way Kentucky's Class of 2017 has a large dose of Jordan Jones influence. Let me explain. The Edge prospects (Paschal, King, Whittaker, and Wright) in this class are downright nasty. Same can be said with offensive linemen, linebacker, receivers, and secondary. We'll discuss each signee in depth on a later occasion but I really, really like outside linebacker Jamin Davis.
Just as 2014 is known as the class with the most stars, this class could eventually be remembered as the most aggressive, fastest, and athletic of the Stoops' era.
Great home visit with @vincemarrow 🔵⚪️🔵⚪️ BBN pic.twitter.com/gilbAcsEQH

— Lynn Bowden (@H_Huncho) November 30, 2016
The Wildcat coaching staff resumed full recruiting operations on Thursday as the NCAA mandated dead period came to an end. Flights and rental cars are now being occupied in order to maintain its current list of pledges. In addition to nurturing those already on the list, Vince Marrow and crew will be selling recent success to a small number of prospects in order to flip their loyalties to Kentucky.
Stay tuned.
Benny Snell garnered more honors as he was recently named Freshman All-American according to the Football Writers Association of America. Snell's rookie season will now be the standard of which all Kentucky running backs are compared to going forward.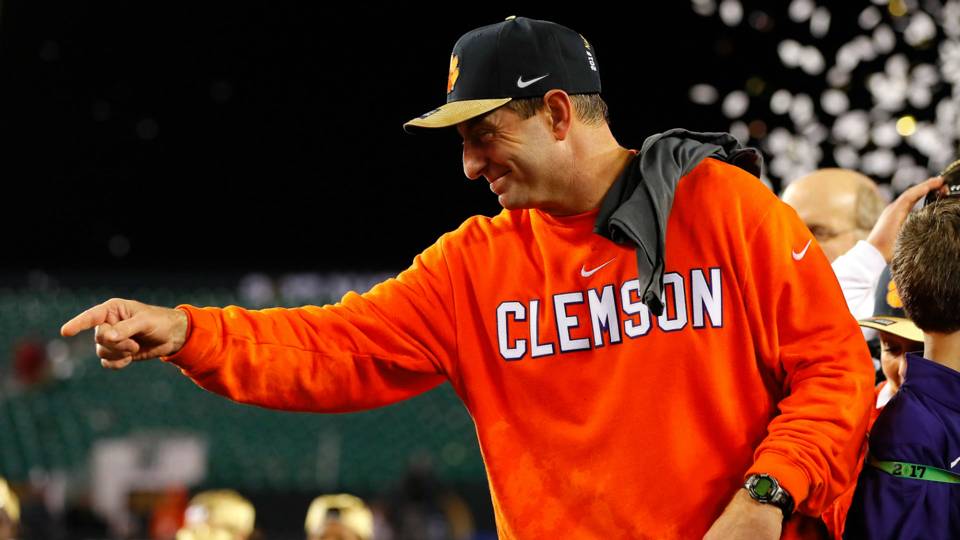 Clemson won the National Championship by defeating the unbeatable Alabama Crimson Tide. Just for fun; let's apply Clemson's strategy, personnel, and methodology to Kentucky as ten short years ago the programs were virtually even in terms of significance and status:
— As much as defense is mentioned as being the most important phase in college football; Clemson showed that having the better and most experienced quarterback in a game can trump defensive prowess. Watson is/was special.
Stephen Johnson has to advance his strength, development, and pocket mechanics over the course of a full offseason.
Darin Hinshaw also has to identify two additional game-ready quarterbacks. UK coaches rave about Gunnar Hoak. Questions of Drew Barker's health status may linger. Johnson showed flashes of upper-shelf, SEC quarterback play in 2016. Consistency, purpose, and depth are questions going into spring practice.
— QB play is extremely vital, but it all starts and finishes up front. Dabo's done an incredible job identifying, signing, and developing linemen on both sides of the football. UK's offensive line executed at an unprecedented level in 2016. It has to continue that upward trajectory in spring practice. Even with returning 4/5 starters; positional competition will be heated. Finding Jon Toth's replacement will be a priority.
Jimmy Brumbaugh's defensive line will again be under the microscope. Depth should be enhanced with Kordell Looney and JaQuize Cross coming off redshirt. True freshman TJ Carter impressed in the Taxslayer Bowl.
Depth and effectiveness at NT as well as developing a starting defensive end concern.
— A one dimensional team will normally struggle to win. Alabama finished the game 2/15 on 3rd down and lost the Time of Possession game by nearly 6 minutes mainly due to Jalen Hurt's inability to complete a downfield pass. Clemson could then focus on stopping the run and it did so in a violent and physical manner. Offensive balance is crucial.
When Kentucky struggled offensively in 2016 it did so mainly because of its inability to execute a balanced game plan. Play action passing and achieving an optimal run/pass ratio will need to be accomplished in spring practice.
National Signing Day is rapidly approaching. Let's stay in touch.