Harlan County's Jordan Steele's Journey to San Antonio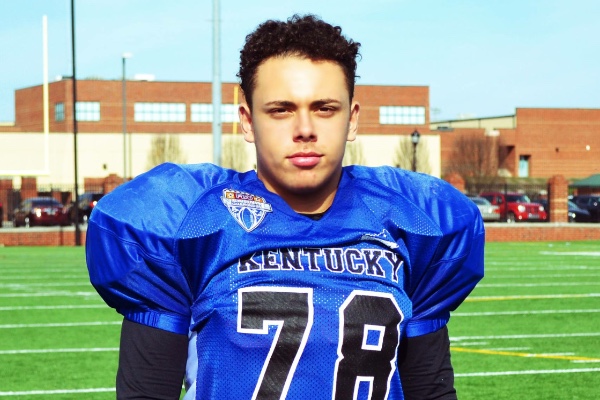 6'2″ 220 lbs. 7th grader Jordan Steele is an elite football player from Evarts, a town located deep in Harlan County. He was recently selected to represent Kentucky in the Football University Youth All-American Bowl in San Antonio, Texas. As earlier reported on Vaught's Views, Jordan's mother Astria Howard started a GoFundMe account to help her son get to San Antonio, as travel, housing, meals, and miscellaneous expenses are not covered and the family could not afford it.
Jordan's father was a Kentucky National Guard soldier. Following a deployment to Iraq in 2005, Shane Howard suffered from post traumatic stress disorder (PTSD) and passed away on October 1, 2007. In the United States, 22 veterans a day take their own life, a disturbing number that has tragically affected many Kentucky families.
When speaking to the family about the fund growing from $365 to over $3,000 in one day, Jordan's mother Astria Howard emotionally said, "I can't thank God enough for putting the people at Kentucky Sports Radio and Larry Vaught in our life so our son can achieve his dreams. I just want to say we love you Big Blue Nation."
Astria said that when she found out her son Jordan had been selected to play in the Texas bowl game, she couldn't believe it.
"At first I knew we were playing for team Kentucky, a bowl game representative said he wanted to invite me and Jordan to San Antonio to play in the All-American Game," Astria said. "I was like, are you serious? And then I said, guess we're going to San Antonio."
Astria said she is overwhelmed by the support her family has received from the Big Blue Nation.
"Thank you from the bottom of our hearts for donations for our son to be able to do this and maybe have a chance to get out of Harlan County and get a scholarship. They have humbled me and I've cried all day."
When asked what she feeds her son of his size, she laughed and said, "fried potatoes, soup beans, deer meat, and corn bread."
Jordan Steele is a quiet, thoughtful and humble young man and mature beyond his 14 years. When discussing public support to assist him travel to San Antonio, Steele said "It felt really good, I think people want to help me get out of here. I'm doing this for my dad. I'm playing for God, but also playing for my dad. I wish my dad was here to see this."
My faith and family are near and dear to my heart; so are the mountains of southeastern Kentucky and the people living within its borders. After hearing Ryan Lemond, Drew Franklin, and Jared Lorenzen discussing Jordan's situation on KSR this morning, I quickly read Larry Vaught's article and wanted to help. I'd like to say that I'm amazed by the outpouring of support shown to this wonderful family, but I'm not. We are Kentuckians, it's what we do.
Thank you, God Bless, and Happy New Year.
---
To donate to Jordan's GoFundMe account, please click here.