Get familiar with Vandy's defensive leaders
The Vanderbilt defense has been silently making things happen on the field all season under defensive-minded head coach Derek Mason. Vandy has risen to nineteenth in the nation on defense, and this week they will be looking to put the hurt on UK's struggling offense. Lucky for the Cats, Vandy's offense is pretty awful as well. They're next to last in total offense (13th) in the SEC. They rarely put up much of a fight even against average teams. Their defense could cause problems for the Cats today, so let's meet some of their most troublesome group on defense.
#41 Zach Cunningham, ILB
Cunningham is a member of the linebacking duo anchoring down the Vandy defense this season. He is a very good athlete. His ability to get pressure on Towles and to limit the production of big plays from the UK backs will be essential for the Commodore's chances today. He leads the Vandy team in tackles, sacks, and forced fumbles (69 tackles, 3.5 sacks, 3 FF), and is one of the best talents on their entire team. Cunningham will make open field tackles and put great pressure on the UK offensive line when asked to do so, they will rely upon a great performace from him to win against Kentucky.
#35 Darreon Herring, ILB
This is the other member of the hard hitting linebacker duo. Herring is 2nd on the team in tackles and will be lining up beside Cunningham in the center of their defense. Herring is a senior leader on this team, and will be rushing the passer a little more as the smaller of the two central linebackers. He and Cunningham are the strength of this defense and the Commodores are expecting a big performance from their star linebackers.
#5 Torren McGaster, CB
He is the most experienced corner on the roster, and will presumably be placed on our biggest receiving threat in the game. He is sure open-field tackler, and the best pure cover this Vandy defense has. Towles will have to pay attention to this fourth-year player, and the passing game will need to be a positive for our team this week. McGaster is a physical corner, and the use of receiver depth at wideout positions not guarded by him will be important to avoid letting this guy in on some big plays.
#20 Oren Burks, FS
A very young DB with great skill and ability to read the defense, Burks has accounted for 2 of the team's 15 takeaways this season. As only a redshirt sophomore he has provided Derek Mason and the defense with a great spark in the secondary alongside Andrew Williamson and corner Torren McGaster. Burks is top-5 on the team in tackles and will be ready to face a young UK receiving corps in Nashville today.
#55 Caleb Azubike, DE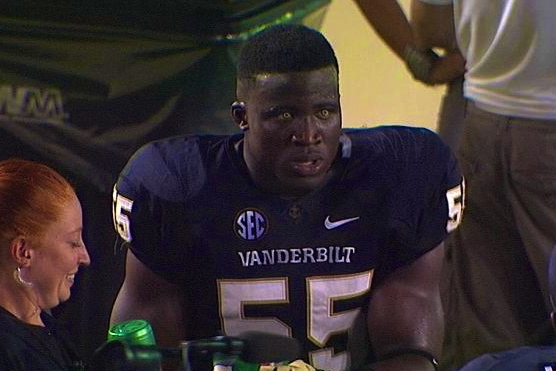 At 260 pounds, Azubike is an absolute force for Vandy. As a senior, he has only played in 6 games due to different reasons. His presence will be an important factor in getting better pressure up front today with the strength and size he has. He has created havoc in previous matchups against the Cats, and we injured him two years ago, so I'm sure he hasn't forgotten about that. He is listed as "or" on their pre-Kentucky depth chart, but he will defintely be out there flying around for the Commodores today. He's terrifying, is he not?