Georgia's Starter at QB Last Week Now Dabbles in Defense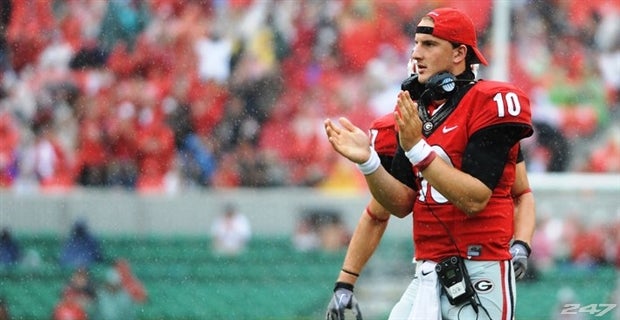 Things just keep getting weirder and weirder around the Georgia football program.  After going six quarters without a touchdown, Mark Richt opted to go with Faton Bauta to start for the Dawgz in the World's Largest Cocktail Party.
Bauta completed 45% of his passes, threw 4 interceptions and extended the offense's touchdown-less streak to ten quarters.
Mark Richt doesn't know who will start against Kentucky on Saturday, but it probably won't be Bauta.  Greyson Lambert and Brice Ramsey have been getting most of the reps with the ones leading into the game.  Instead of getting bored on the sidelines, Bauta has decided to play safety for the scout team when he isn't taking offensive snaps.
Even though he is running around with the defense, Richt says he hasn't ruled Bauta out of the QB competition.  As much as I'd love to hear the announcers mispronounce the QB's name on Saturday, I'd much rather see a special appearance from #10 at the back of the Bulldogs' defense.