GAMEDAY, Presented by Liquor Barn: The Battle for the Governor's Cup
A message from our sponsor:
Kentucky-proud and locally-owned, Liquor Barn has been serving Big Blue Nation for over 30 years! Liquor Barn and Party Mart are where Kentuckians go to celebrate life.
Head to your local Liquor Barn and Party Mart store to stock up for game day or every day! It's never been so easy to shop Kentucky's favorite wine, spirits, beer, and cigar store. Download the new Liquor Barn app to order for pick-up or delivery, save your favorites, and get exclusive deals. We are now delivering in Lexington and Louisville areas. Use code GOCATS for one month of FREE delivery!*
Visit LiquorBarn.com to shop now, download the app, or see what's happening in your local store. GO CATS!
*Delivery currently available in select Louisville and Lexington areas. Promotion covers delivery fees only. Minimum order for delivery is $20. Complimentary delivery on all orders of $75 or more. Must be delivered to an address. Must be 21+ to download the app and accept a delivery. Valid photo ID required.
---
The 2018 edition of the Battle for the Governor's Cup kicks off at 7:00 on ESPN2.  Louisville has won five of the last six, but the tables have turned.
Bobby Petrino only claimed victories over Indiana State and Western Kentucky before the Cards kicked him and his family to the curb.  Interim coach Lorenzo Ward lost plenty of staffers and a few players along the way.  Since he took over, not much has changed.  Louisville was drubbed by N.C. State 52-10 last week.  The way things are looking on the other side, it will probably be more of the same today.
Kentucky's powerful rushing attack has paved the way to an 8-3 record and a spot at No. 15 in the CFB Playoff Rankings.  Today Benny Snell will face the nation's No. 128 rush defense.  If he can match his career-high, set last year against Louisville, Snell will become Kentucky's all-time leading rusher and carry the Cats to their ninth victory of the season.
If Kentucky brings the Governor's Cup back to Lexington, the Cats will finish with the best record in 41 years and have an outside shot at a New Year's Six Bowl.  It's been one hell of a year.  There's no better way to cap it off than any beating the crap out of the Cards.  Prepare accordingly.
The Schedule
4:00 — The KSR Pregame Show Begins on 630 WLAP
4:45 — The Cat Walk at Gate 2
5:00 — Countdown to Kickoff w/Christi Thomas, Jeremy Jarmon and Dusty Bonner
7:00 — Kickoff on ESPN2
How to Watch and Listen
Dave Brown and Andre Ware are on the call for ESPN2. If you're stuck on the road and can't watch, there are multiple ways to listen to The Voice of the Wildcats.
AM: 840 WHAS, 630 WLAP
FM: 98.1 WBUL
Satellite: XM-194 and Sirius-113
Online: iHeart Radio
New Helmets
We still don't know UK's exact uniform combination, but we do know they will be debuting new helmets this afternoon.  The classic Chrome Domes will get a refreshing look with a white stripe and a white logo.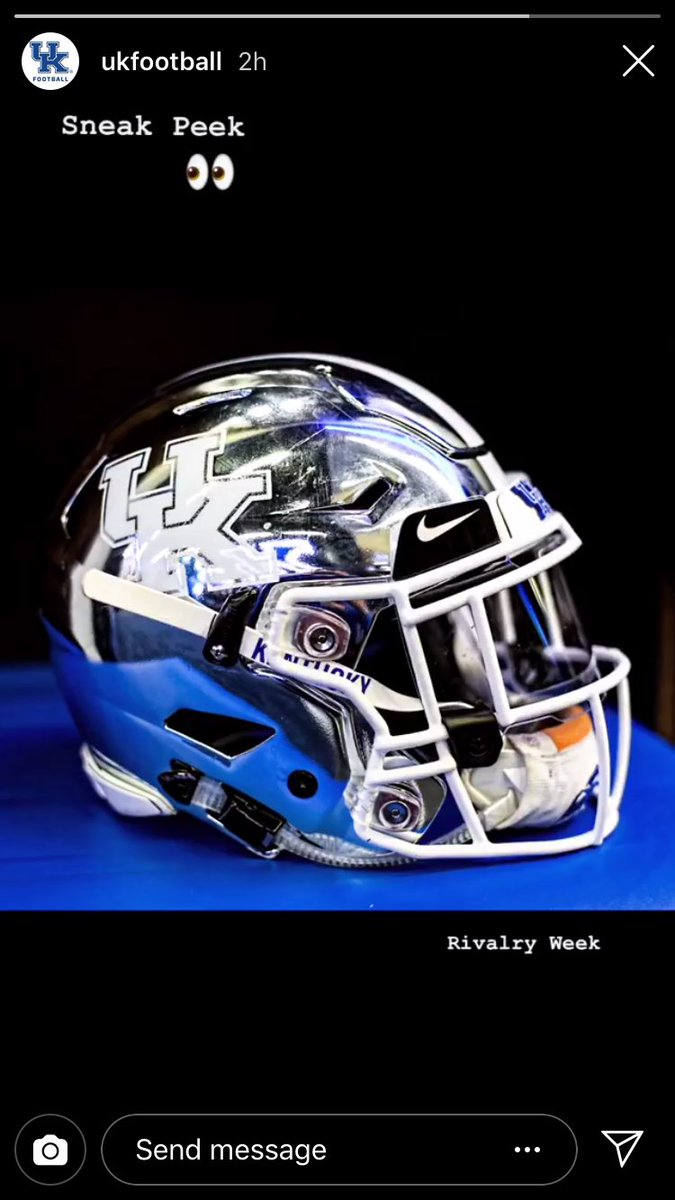 Who's the Quarterback?
Louisville has played 11 games and still doesn't have a quarterback.  Jawon "Puma" Pass was the primary option at the start of the season, but Malik Cunningham started last week for the suspended Pass.  An injury temporarily sidelined Cunningham, but expect to see him back this week.  Even though he isn't the most proficient passer, he is Louisville's leading rusher.  Ward can't keep that threat off the field.
Who can Cover?
Louisville has given me so much money this year.  I'm not alone.  Betting against the Cards has been incredibly profitable.  They have covered the spread only once all season.  They are 17-point underdogs at home tonight, but betting against them isn't a given.  Mark Stoops' Kentucky Wildcats have never covered a double digit spread against an FBS team.  Something's gotta give tonight.
The Last Trip to Cardinal Stadium
Much has changed since Kentucky last played in Louisville.  Papa John's name is off the stadium, Lamar Jackson is in Baltimore and Bobby Petrino is riding his motorcycle somewhere.  Before that fateful day in 2016, the Louisville band came in hot.
The UofL band thought it'd be cute to play the fight song right in front of the Cat Walk pic.twitter.com/NDlm1q4a3Q

— Nick Roush (@RoushKSR) November 26, 2016
Kentucky wasn't having it.  Not for a second.  Stephen Johnson loved that shit, Lamar fumbled, and the rest is history.
Today's College Football Schedule
Noon: #4 Michigan at #10 Ohio State on Fox
Noon: #11 Florida at Florida State on ABC
Noon: #20 Boston College at Syracuse on ESPN
Noon: Georgia Tech at #5 Georgia on SEC Network
Noon: Purdue at Indiana on ESPN2
3:30: Auburn at #1 Alabama on CBS
3:30: Maryland at #12 Penn State on ABC
3:30: #24 Pitt at Miami on ESPN
3:30: Minnesota at Wisconsin on ESPN2
3:30: Arizona State at Arizona on FS1
4:00: Tennessee at Vanderbilt on SEC Network
7:00: South Carolina at #2 Clemson on ESPN
7:30: #7 LSU at #22 Texas A&M on SEC Network
8:00: #3 Notre Dame at USC on ABC
10:15: #21 Utah State at #23 Boise State on ESPN
Sweet Soccer
Lost in the Governor's Cup madness is the Kentucky men's soccer team.  When the Cats kickoff in Louisville, the soccer team will begin their Sweet 16 match against Lipscomb at The Bell. Get your tickets here, then bring your radio to the stadium to listen to the football game during the futbol game.
Basketball Victory
Keldon Johnson scored a career-high 27 points in an ugly game that featured 752 fouls.  Avoid the ugliness and enjoy just the best of the best from the 77-62 win over Tennessee State with highlights from KYWildcatsTV.
KHSAA Playoff Football Scores
The state championship games at Kroger Field are set.
6A Final — Saturday at 8:00
Male 27, Trinity 20
Scott County 40, Madison Central 6
5A — Sunday at 2:00
South Warren 31, South Oldham 10
Cov Cath 36, Pulaski County 14
4A — Saturday at 4:30
Johnson Central 59, Knox Central 20
Franklin-Simpson 33, Taylor County 0
3A — Friday at 7:00
Corbin 21, Boyle County 0
Central 48, LaRue County 8
2A — Saturday at 1:00
CAL 35, Somerset 12
Mayfield 38, Walton-Verona 7
1A — Friday at 1:00
Beechwood 48, Campbellsville 13
Pikeville 38, Raceland 19
One More Time
I've watched this no less than two dozen times since Thanksgiving.  It's happening two more dozen times before kickoff at Cardinal Stadium.
[mobile_ad]