GAMEDAY, Presented by Liquor Barn: Kentucky Celebrates Senior Day vs. Middle Tennessee
A message from our sponsor:
Kentucky-proud and locally-owned, Liquor Barn has been serving Big Blue Nation for over 30 years! Liquor Barn and Party Mart are where Kentuckians go to celebrate life.
Head to your local Liquor Barn and Party Mart store to stock up for game day or every day! It's never been so easy to shop Kentucky's favorite wine, spirits, beer, and cigar store. Download the new Liquor Barn app to order for pick-up or delivery, save your favorites, and get exclusive deals. We are now delivering in Lexington and Louisville areas. Use code GOCATS for one month of FREE delivery!*
Visit LiquorBarn.com to shop now, download the app, or see what's happening in your local store. GO CATS!
*Delivery currently available in select Louisville and Lexington areas. Promotion covers delivery fees only. Minimum order for delivery is $20. Complimentary delivery on all orders of $75 or more. Must be delivered to an address. Must be 21+ to download the app and accept a delivery. Valid photo ID required.
---
Kentucky's Seniors will play on the Kroger Field turf for the final time today at noon against Middle Tennessee State. The 16 veterans will be honored with their families before the game beginning around 11:30.
A group that was recruited on a vision has turned Mark Stoops' recruiting pitch into a reality. After a pair of seven-win regular seasons, the Cats have finished SEC play with a winning record for the first time since 1977. The seventeenth-ranked Wildcats could be the first Kentucky team to win eight regular season games since 1984, but Middle Tennessee stands in the way.
The Blue Raiders present a formidable late-season challenge. Next week they will play UAB for a spot in the C-USA Championship Game. At 7-3, MTSU has been exceptional in conference play after stumbling out of the gate against two of UK's former foes, Georgia and Vanderbilt (MTSU lost by a combined 84-14).
Middle Tennessee is led by a three-year starter at quarterback, the coach's son, Brent Stockstill. A big lefty that can move, he is the catalyst in Tony Franklin's Air Raid offense. However, Middle's bread and butter is on defense. They have created 19 turnovers and four defensive touchdowns. Ball security will be at a premium this afternoon.
It will be an emotional afternoon for Kentucky's experienced leaders. The faster the Wildcats start, the better.
The Best Moments from the Senior Class
KY Wildcats TV paid tribute to the seniors with an excellent video montage. After you've watched the highlights, see the messages the parents sent their sons before their final game at Kroger Field.
The Schedule
9:00 — The KSR Pregame Show Begins on 630 WLAP
9:45 — The Seniors Final Cat Walk
10:00 — Countdown to Kickoff w/Christi Thomas, Jeremy Jarmon and Dusty Bonner
11:30 — Senior Day Ceremonies Begin
12:00 — Kickoff on the SEC Network Alternate
KSBar opens early for breakfast with specials that are out of this world.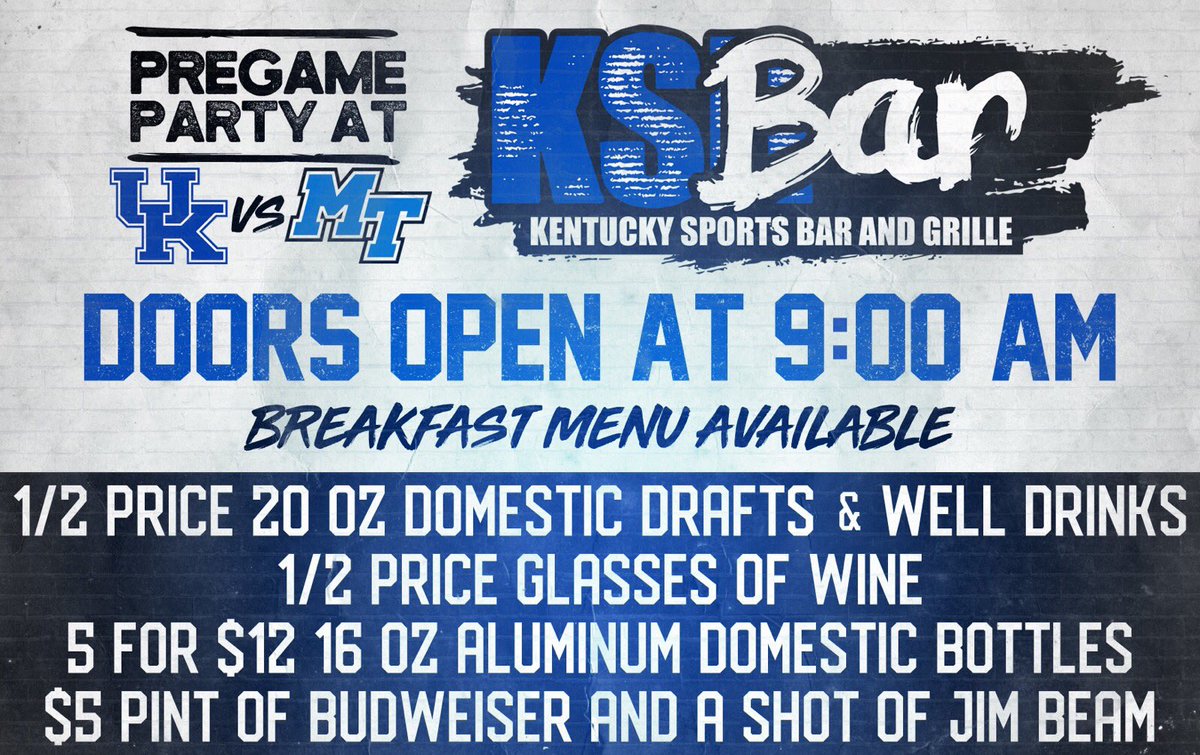 How to Watch and Listen
Dave Lemont, Ray Bentley and Tera Talmadge are on the call on the SEC Network Alternate channel. You'll find it right next to the regular SEC Network channel, or on Watch ESPN. If you're stuck on the road and can't watch, there are multiple ways to listen to The Voice of the Wildcats.
AM: 840 WHAS, 630 WLAP
FM: 98.1 WBUL
Satellite: XM-191 and Sirius-98
Online: iHeart Radio
Two Monumental Milestones with One Stat
Mike Edwards and Josh Allen only need one. Mike Edwards needs one tackle to become the second defensive back to join the 300-tackle club. Josh Allen needs only one more sack to hold UK's all-time sack record. History could be made today by two incredible seniors.
A Josh Paschal Appearance?
Mark Stoops was hesitant to say much when he was asked about Paschal on Thursday. "We'll see. He's been better this week. He's been out there feeling better."
I've been telling you for months that Paschal would return to play in a limited capacity before the season's end. I have no knowledge to confirm that today will be the day. However, adding a dressed Paschal into the lineup could be the perfect shot in the arm this team needs to finish the season strong. Just keep an eye out for a big No. 4 on the sidelines.
Tale of the Tape
Today's College Football Schedule
Noon: Idaho at #13 Florida on ESPNU
Noon: #10 Ohio State at Maryland on ABC
Noon: Arkansas at #21 Miss. State on ESPN
2:30: #12 Syracuse vs. #3 Notre Dame on NBC
3:30: #9 West Virginia at Oklahoma State on ABC
3:30: #20 Boston College at Florida State on ESPN2
3:30: Miami at Virginia Tech on ESPN
3:30: Missouri at Teneesse on CBS
3:30: USC at UCLA on Fox
7:00: Duke at #2 Clemson on ESPN
7:00: UAB at Texas A&M on ESPN2
7:30: Kansas at #6 Oklahoma on Fox
8:00: #24 Cincinnati at #11 UCF on ABC
10:30: Arizona at #8 Washington State on ESPN
KHSAA Playoff Football Scores
Only the strong have survived. Each class is now down to four teams after last night's Regional Finals.
Male 20, St. X 10
Scott County 56, Simon Kenton 28
Trinity 50, Ballard 0
Madison Central 28, Conner 27 2OT
South Warren 44, Owensboro 7
South Oldham 35, Fern Creek 12
Pulaski County 13, Southwestern 6
Cov. Cath 36, Highlands 0
Taylor County 22, Moore 17
Knox Central 13, Franklin County 7 OT
Johnson Central 50, Ashland Blazer 14
Franklin-Simpson 12, Madisonville North-Hopkins 10
Larue County 40, E-Town 32 OT
Corbin 42, Bell County 16
Louisville Central 26, Russel 0
Boyle County 41, Belfry 24
Walton-Verona 18, Glasgow 14
Somerset 35, LCA 31
Mayfield 57, Murray 13
CAL 34, DeSales 7
Pikeville 57, Williamsburg 16
Raceland 14, Paintsville 7
Campbellsville 27, Crittenden County 21
Beechwood 49, Frankfort 8
[mobile_ad]