Gameday Need-to-Know: Vanderbilt
Coming to Nashville for tomorrow's Kentucky vs. Vanderbilt game? Here's everything you need to know.
Plenty of tickets are still available
This probably won't surprise you, but there are lots of tickets still up for grabs for tomorrow's game on Ticketmaster and secondary markets. Use your ticket dealer of choice (we like Guy On The Corner) or just walk around the stadium and scalp before the game.
KSR Pregame Show: 11:30 a.m. CT/12:30 p.m. ET
For road games, the pregame show starts three hours before kickoff, so at 12:30 p.m. ET, tune into 630 WLAP or fire up that iHeart app to hear Matt, Ryan, Drew, and special guest FREDDIE MAGGARD preview the Cats vs. the 'Dores.
Cat Walk: 12:15 p.m. CT
At noon, come to Gate 3 in the southeast corner of the stadium (off Jess Neely Drive) to greet the Cats as they arrive.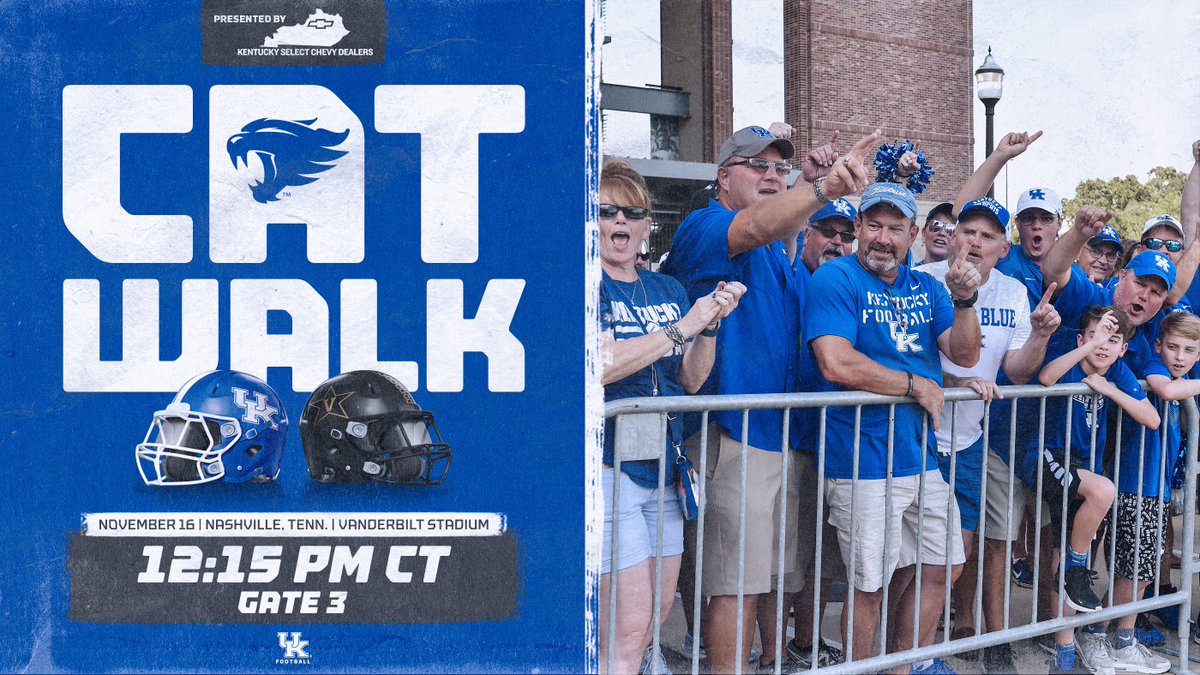 You can drink at the game!
Vanderbilt approved stadium-wide alcohol sales this season, so if you're coming down and are of age, you can enjoy a brew. It's ain't cheap, though. A 16 oz. can of Bud Light costs $8.
Here are Vanderbilt's rules for enjoying responsibly:
All guests must be 21 years of age to purchase alcoholic beverages; a valid ID is required for purchase.
A limit of two beers purchased at one time per legal ID.
Sales will begin when gates open (two hours prior to kickoff).
Per conference requirements, sales will end at the end of the third quarter once time has expired.
A security officer or Spectra staff member will begin to close the line with three minutes remaining in the third quarter and only the guests that were already standing in line will be able to purchase alcohol.
Stadium and Parking Maps
The visitor's sections are U and V, but blue will be everywhere.
Spots in the Natchez Trace Surface lots cost $50, while passes for the 25th Avenue parking garage cost $15. Several businesses surrounding the stadium will open their lots for a fee, or you can search for a spot on the street in the Hillsboro Village area and walk over. Or, just Lyft or Uber from your hotel (I recommend that).
Tailgating
Tailgating for Vanderbilt games is not easy. It's an urban campus, meaning most of the parking is in garages and the few green spaces around the stadium are reserved for Vandy groups. Centennial Park is across West End Avenue from the stadium, but you're not allowed to drink alcohol in city parks. If you're hell bent on tailgating before the game, you can buy a pass for one of the Natchez Trace Surface lots or try out Vandyville, Vandy's designated tailgating area. It opens at 8 a.m. and is located at the corner of Jess Neely Drive and Natchez Trace.
Clear Bag Policy
Kickoff: 2:30 p.m. CT/3:30 p.m. ET, SEC Network
Taylor Zarzour, Matt Stinchcomb, and Alyssa Long will be on the call for the SEC Network. You can also stream the game on the ESPN app or listen on the UK Sports Network or Sirius channel 133 or XM 190.
Postgame Show: Approximately one hour after the game's over
If you drive back to the Bluegrass after the game's over, listen to the KSR Postgame Show. If you hit the streets of Nashville to celebrate and and need a recommendation on where to go, check out my flowcharts from the SEC Tournament.