GAMEDAY: Kentucky Kicks Off 2019 Season vs. Toledo
Go ahead. You can finally say it.
"IT'S FOOTBALL TIME IN THE BLUEGRASS!"
The Wildcats return to the gridiron for first time since Kentucky capped off a ten-win season by defeating Penn State 27-24 in the Citrus Bowl. Benny Snell, Josh Allen and a handful off talented defensive backs have departed, but the Cats still believe they can keep the momentum rolling by taking down Toledo in the season-opener.
It will be a beautiful 80 degrees and sunny at Kroger Field when the Cats kickoff against the Rockets at noon.
The KSR Pregame Show Begins RIGHT NOW
Get on over to KSBar to hear Matt, Ryan, Drew and a fourth mystery guest dissect every angle in play ahead of the Cats' first game of the 2019 season. Doors open for breakfast at the bar beginning at 9:00 a.m. If you aren't making the trip to Lexington, you can stream the show online with iHeartRadio.
TV, Radio, Vegas
The line is falling. Kentucky is now only an 11.5-point favorite in some sports books. Taylor Zarzour, Matt Stinchomb and Alyssa Lang are on the call for the SEC Network. If you're stuck on the road and can't watch, there are multiple ways to listen to The Voice of the Wildcats.
AM: 840 WHAS, 630 WLAP
FM: 98.1 WBUL
Satellite: XM-190 and Sirius-135
Online: iHeart Radio
Ride the LexTran Shuttle
If you don't have a parking pass, LexTran provides an easy alternative to get to The Kroge. For only $1 each way, LexTran will pick you up downtown or at Virginia Ave. by KSBar. It doesn't get much easier, but if you need more details, here is where you can find them all.
Stay Clear
The clear bag policy is nothing new, but it would be a shame if you forgot it before of the first game of the season. Here's a guideline as to what you can and can't bring into Kroger Field. .
Arrive in Time for the Cat Walk
The Big Blue Nation is invited to welcome the football team to Kroger Field with open arms by attending the first Cat Walk of the season. The team will arrive just outside of Gate 1 at approximately 9:45 a.m. See you there.
Saturday's Threads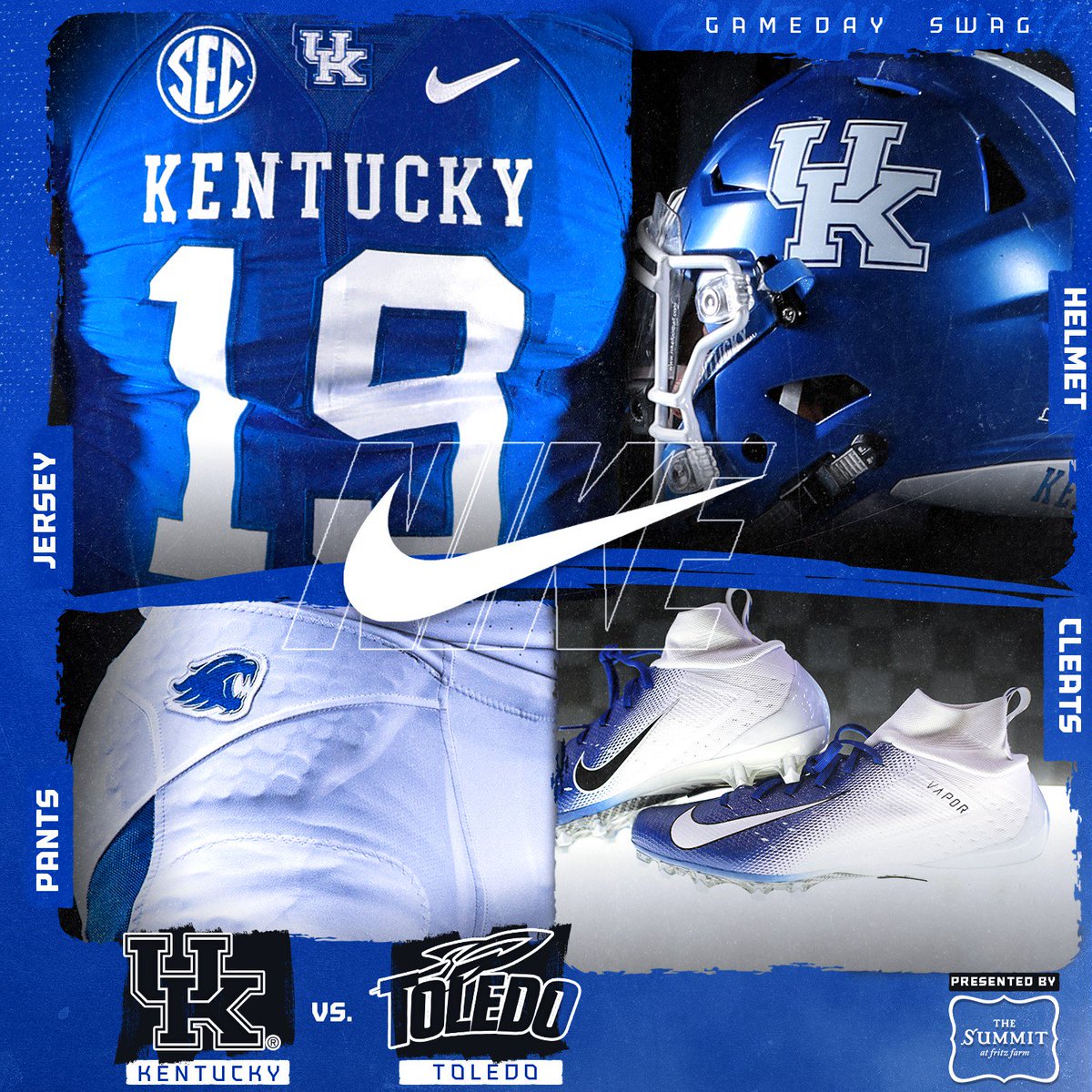 Kentucky Elects Five Captains
Thursday afternoon the team submitted their votes for captains. Outside linebacker Josh Paschal, offensive guard Logan Stenberg, wide receiver Lynn Bowden, linebacker Kash Daniel and quarterback Terry Wilson are the leaders of the 2019 football team. They'll be joined by an honorary captain for the coin toss. Today is Houston Hogg Day in Lexington, celebrating one of the four men who broke the color barrier in the SEC. Along with the coin toss, he might get to take a swing at the Big Blue Drum.
College Football Schedule
Noon: Boise State at Florida State on ESPNews
Noon: FAU at #5 Ohio State on Fox
Noon: Ole Miss at Memphis on ABC
3:30: Duke at #2 Alabama on ABC
3:30: South Carolina vs. North Carolina on ESPN
4:00: Northwestern at #25 Stanford on Fox
4:00: Virginia Tech at Boston College on ACCN
7:30: #3 Georgia at Vanderbilt on ESPN
7:30: #16 Auburn vs. #11 Oregon on ABC
10:30: Fresno State at USC on ESPN
High School Football Scores
Southwestern 35, Madison Southern 34 OT
Greenup County 40, Fleming County 36
Male 41, Ballard 14
Manual 22, Fern Creek 18
DeSales 38, Butler 7
St. X 48, Henry Clay 7
Boone County 34, Dunbar 28
Scott County 28, Lafayette 19
Mayfield 27, Hopkinsville 22
Bardstown 28, Danville 7
Harrison County 27, Mason County 21
Meade County 26, Franklin-Simpson 21
Paintsville 19, Beechwood 14
Pulaski County 35, Wayne County 27
Trinity 17, Warren Central (IN) 14
Four More Hours
Let's. Go.
https://www.youtube.com/watch?v=tmH6hr4zbsA
w