GAMEDAY: Kentucky Hosts UT-Martin on SoCon Saturday
The season-ending Iron Bowl, Callin' Baton Rouge at Death Valley, cigars after Tennessee-Alabama and SoCon Saturday are just a few of the rich traditions that make SEC football just mean more. You may not be as familiar with the last listed tradition.
For years SEC teams have ended the regular season with rivalry games, both inside and outside of the conference. Kentucky only recently began playing Louisville during rivalry week when the Cards entered the ACC in 2014. Traditionally, each rivalry game follows a foe from the FCS level. For the Alabamas and Auburns of the world, that team typically comes from the Southern Conference. This year Bama gets Western Carolina and Auburn gets Samford from the SoCon. Unlike Kentucky's southern neighbors, the Wildcats must pick from a different group, taking on teams from the OVC instead. This year the UT-Martin SkyHawks come to Lexington.
UK does not always follow SoCon Saturday traditions, nor do they always convincingly win. Dorian Baker saved Mark Stoops from losing to EKU and that "damn Dean Hood" back in 2014. Last year UK took on Middle Tennessee in the penultimate game of the regular season, a team that played in the C-USA Championship Game a few weeks later.
Even though UT-Martin appears on the face to be an easy win to earn bowl eligibility, the SkyHawks are actually a nice opponent to prepare UK for the Governor's Cup.
On the outside of the bubble looking in at the FCS playoffs, the SkyHawks rank 31st in SP+. A big play offense with a talented young quarterback, they are not so different than the Cards. Defensively, Louisville does not run UT-Martin's 3-3-5, but they try to succeed in similar ways by bringing pressure early and often. Kentucky's offensive line will see defenders coming from all over the place. If they can get moving downhill early to make lanes for Lynn Bowden and Co., it's going to be a fun Saturday afternoon.
HUGE Saturday Morning News
We interrupt your Caturday preview with some urgent news regarding Florida State's head coaching vacancy: Mark Stoops reportedly met with Florida State officials for an interview before removing his name from the pool of candidates.
There are multiple ways to look at this news. One might be angered that Stoops would even take a meeting with FSU officials. The wiser perspective is the one Stoops will likely tell recruits. He can share the message to the remaining four-star targets on the board that Florida State wanted him to be their coach, but he turned them down because he would rather stay at Kentucky. It's a hell of a chess move that could pay dividends with a handful of four-star targets announcing just before the beginning of the Early Signing Period.
Now, back to the football game being played this afternoon…
A Nasty Forecast
For the third time in five games, Kentucky will play in the rain. When the SEC Network broadcast kicks off at 3:30 p.m. ET, AccuWeather calls for a 52 percent chance of rain with temperatures in the upper 40s. As the temperature falls, so do the chances of rain. It's not looking pretty, folks.
TV, Radio, Vegas
Books typically release lines for FCS games a day in advance. We're less than six hours from kickoff and I still can't find a spread. Good luck on your money-making quest. The SEC Network broadcast will feature Dave Neal, D.J. Shockley and Dawn Davenport. If you can't watch, there are multiple ways to listen to The Voice of the Wildcats.
AM: 840 WHAS, 630 WLAP
FM: 98.1 WBUL
Satellite: XM-190 and Sirius-133
Online: iHeart Radio
Today's Uniforms
Kentucky is rocking a traditional look, with all blue uniforms and white lids.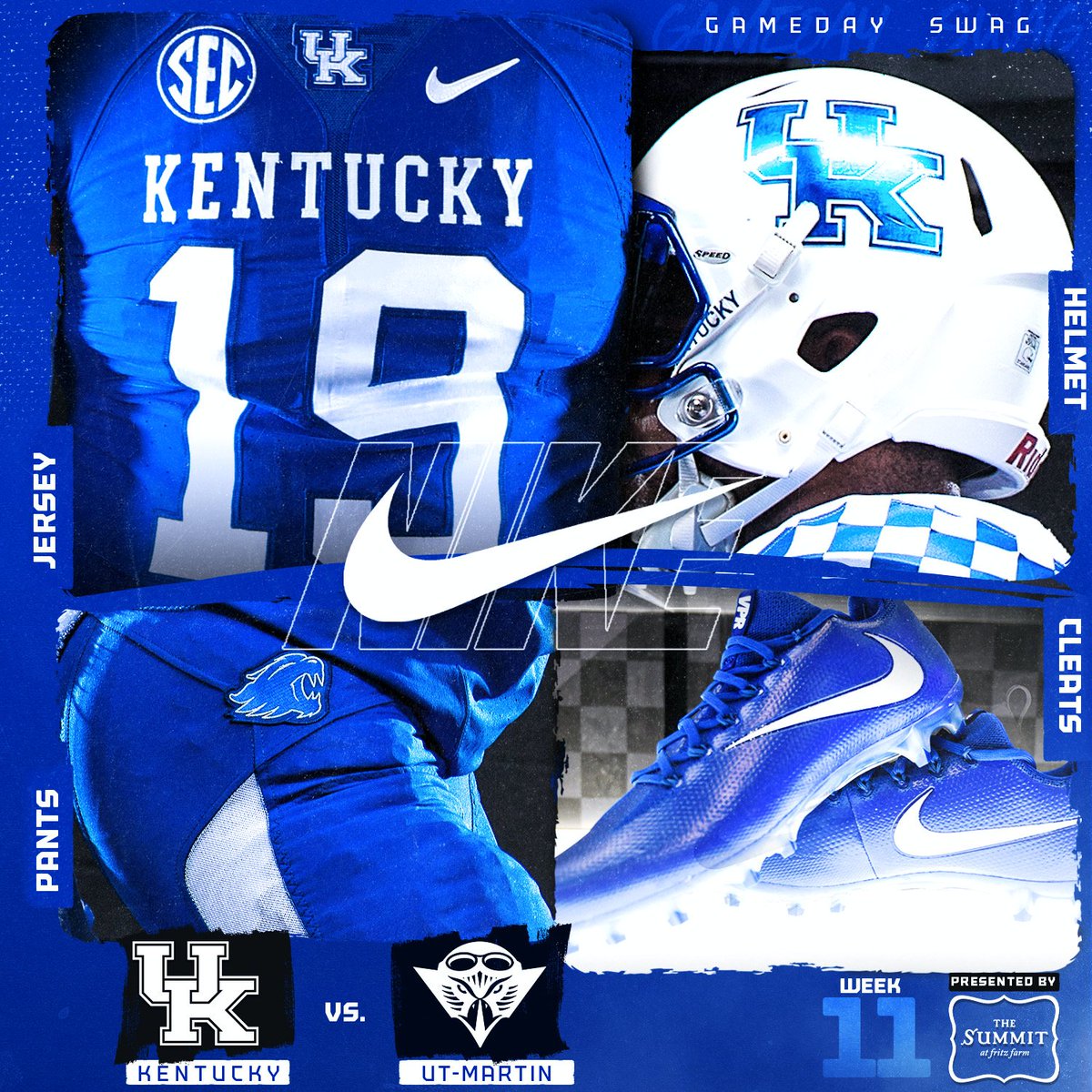 The Schedule
10:00 — KSBar and Grille Opens
12:30 — The KSR Pregame Show featuring Alan Cutler and Derek Smith
1:15 — The Cat Walk
3:30 — Kickoff on the SEC Network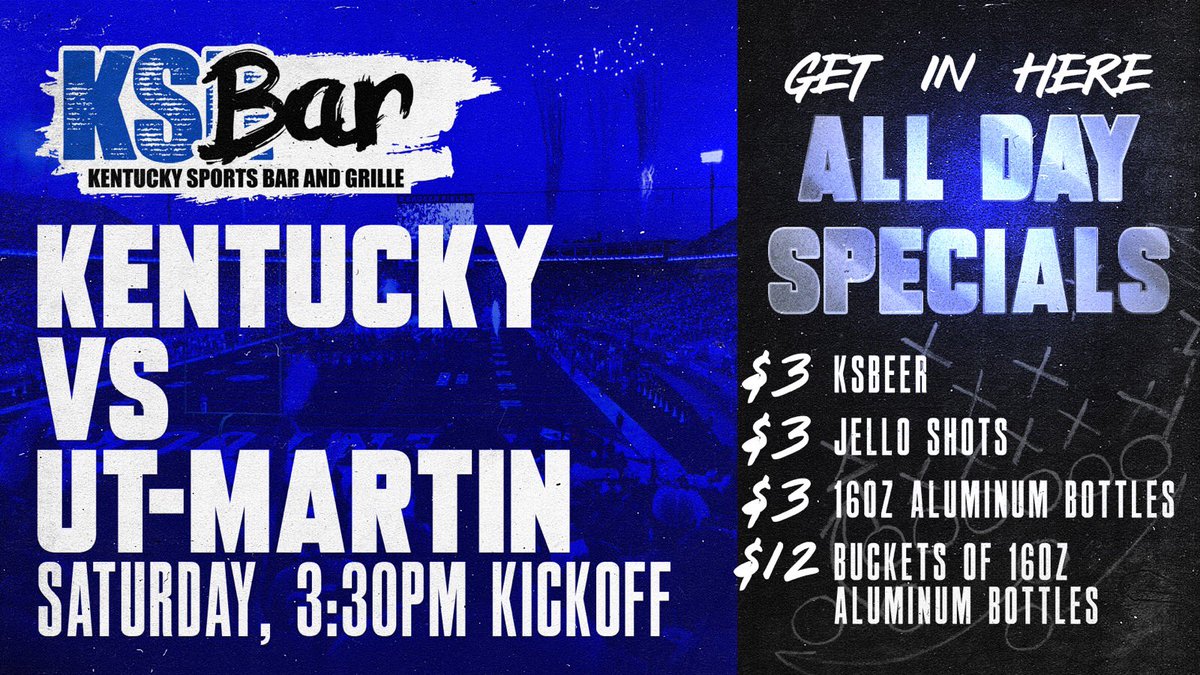 UK Basketball Defeats Mount St. Mary's 82-62
Kentucky looked more like Kentucky in the 20-point victory. Immanuel Quickley (13 points) and E.J. Montgomery (7 points, 6 rebounds) returned to the floor to provide some much-needed depth, while Nick Richards continued to look like the Cats' most consistent contributor. The big fella was comfortable running the court and catching lobs, playing a team-high 33 minutes to score 19 points and grab six rebounds.
A couple of threes by the Mountaineers kept it closer than most would like to see in the first half. An 18-2 run by the Wildcats in the second period opened the floodwaters for a fun Friday night win. See the best of the best from KyWildcatsTV:
College Football Schedule
Big Noon Saturday: #8 Penn State at #2 Ohio State on Fox
Noon: #10 Minnesota at Northwestern on ABC
Noon: Western Carolina at #5 Alabama on ESPN
Noon: Illinois at #17 Iowa on BTN
2:30: Boston College at #16 Notre Dame on NBC
3:30: Texas A&M at #4 Georgia on CBS
3:30: Texas at #14 Baylor on FS1
7:30: #7 Oregon at Arizona State on ABC
7:30: Tennessee at Missouri on SECN
8:00: TCU at #9 Oklahoma on Fox
10:00: Washington at Colorado on ESPN
Regional Champions Crowned
Typically this is the point of the season where the games get tough, but thanks to the KHSAA's new playoff format, we got another week of blowouts. In the 24 Regional Championships the average margin of victory was 30.7 points and only two were decided by single digits, according to contributor John Reecer. Do better, KHSAA. As for the winners, Congrats. Enjoy practice on Thanksgiving. That's when you know you're doing something right. A look at some of the scores:
Louisville Holy Cross 21, Newport Central Catholic 16
Paintsville 36, Williamsburg 34
Belfry 41, Ashland Blazer 7
DeSales 41, Bardstown 7
Male 33, St. X 7
North Hardin 38, McCracken County 2
Bowling Green 28, South Oldham 14
Johnson Central 36, Wayne County 7
Madisonville North-Hopkins 45, Franklin-Simpson 31
Taylor County 38, Paducah Tilghman 28
Winners of the next 12 games will advance to the state championships at Kroger Field Dec. 6-8.