From the Governor's Cup to Now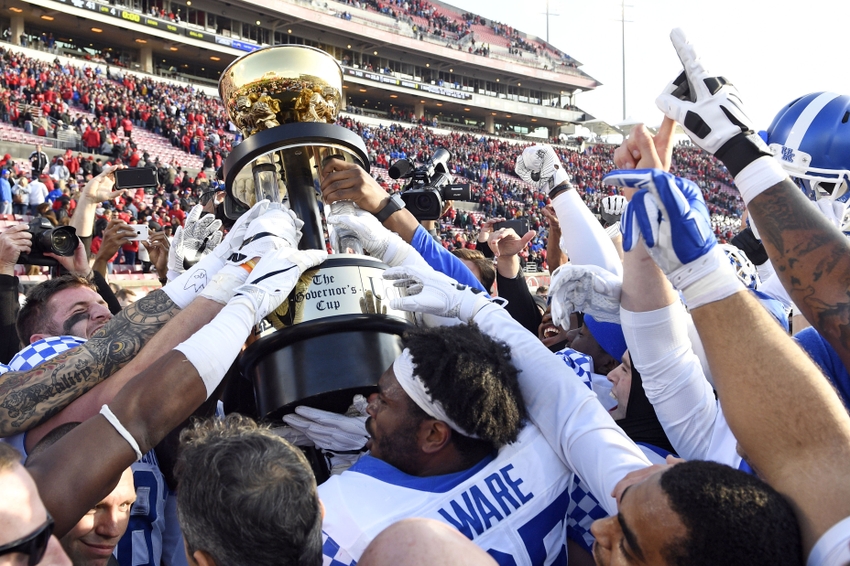 November 26th, 2016 resonates within the Big Blue Nation as the moment that Kentucky Football began to turn the proverbial corner under Mark Stoops. The Wildcats entered the game as a 26-point, road underdog. It proceeded to beat the Louisville Cardinals and its Heisman Trophy winning quarterback Lamar Jackson 41-38.
Excitement surrounding the program pinnacled. Several, including me and mine, raced to Kroger Field to welcome the triumphant Cats back to Lexington. Conversations began to surface about pending bowl games and what could be in 2017.
Mark Stoops was projected to return ten offensive starters from the Governor's Cup lineup. In that expected unit was running back Boom Williams and his 1170 rush yards as well as receiver Jeff Badet's 21 yards per catch. The defense was expected to return eight starters. 18 of 22 starters coming back from a 7-5 team. Expectations ascended. Then; unexpected, key personnel departures ensued.
Boom Williams declared for the NFL Draft immediately after the Taxslayer Bowl. Weeks later Jeff Badet announced his intentions to transfer. We learned on Tuesday that defensive end Alvonte Bell was dismissed for violation of team rules.
As of today, offensive coordinator Eddie Gran will begin fall camp with eight starters from the Louisville game instead of ten. Defensive coordinator Matt House will have seven starters from last November's contest instead of eight. 18 of 22 is now 15 of 22. Still good, but not as eye popping in a division that contains several teams with a high number of returning contributors.
Couple surprise personnel losses with the word that "two to three" incoming freshman did not report for June summer workouts and the lineup in Hattiesburg, Mississippi will be a little different than expected back on November 26th, 2016. Is this topic a cause for concern?
Let's take a look at departed starters:
OFFENSIVE STARTERS vs. LOUISVILLE
Tight End- CJ Conrad
Left Tackle- Cole Mosier
Left Guard- Nick Haynes
Center- JonToth
Right Guard- Bunchy Stallings
Right Tackle- Kyle Meadows
Receiver- Jeff Badet
Receiver- Dorian Baker
Receiver- Garrett Johnson
Running Back- Boom Williams
Quarterback- Stephen Johnson
— Jon Toth: The All SEC performer and team captain started 48 consecutive games. That level of consistency and leadership will be missed. Starting guard Bunchy Stallings was moved to center. Stallings originally signed as a center prospect then was moved to guard. He's familiar and comfortable at the position. Redshirt freshman Drake Jackson will also be a part of John Schlarman's 2-deep rotation.
The Post-Toth era offensive line should again be the team's best offensive grouping. I'm not alone in this thinking. The SEC Network's Cole Cubelic listed Kentucky's offensive line as the 3rd best unit going into the 2017 season.
An important factor in the Wildcat OL's high rating is the fact that UK returns nine players that consistently rotated throughout last season at all positions other than center. Experience and proven success equal expectation.
— Boom Williams: 171 carries, 1170 rushing yards, 6.8 yards per carry, 7 TD's, 90 rush yards per game.
The Wildcats finished 3rd in the league with 3304 rush yards in 2016. Williams' loss will be felt, but to what extent remains to be seen. History has taught us that four running backs are required to survive the physical nature of the SEC.
Benny Snell, Sihiem King, and AJ Rose are poised to run in 2017. Snell is a Top-5 SEC RB that also topped 1,000-yards a year ago. But, Gran will need one more. Remember, it takes four. True freshman Bryant Koback's rehabilitation will be closely monitored. At a minimum, his on-field presence could provide a safety net. Fellow rookie Lynn Bowden has been rumored to get situational carries from the RB position as well. More on Bowden later. Boom's explosive nature will be difficult to replicate.
Benny Snell is special. Just how special? I've interviewed some of UK's all-time great defensive players and they describe Snell as unique; or possessing a style unlike any other historical UK running back. Should be fine here.
— Jeff Badet's 2016 numbers: 31 catches, 670 yards, 21.6 yards per reception, 4 TD's, 51.5 receiving yards per game. Badet was poised to become Kentucky's number one pass catcher as a senior but transferred to Oklahoma as a grad-transfer. Playing against Big 12 defenses will be refreshing and a path of lesser resistance than those he faced in the SEC. The Big 12 had just 14 players selected in the 2017 NFL Draft good, or bad enough to be ranked 5th amongst all conferences. 5 of those 12 played defense. On the other hand, the SEC had 53 players selected; 35 played defense. He could catch 100 passes in Norman.
Garrett Johnson led the team in catches a year ago. But, Badet was Stephen Johnson's top deep-ball threat. Defenses were forced to honor his speed which loosened the box for Benny and Boom.
True freshman Lynn Bowden is penciled in to help replace Badet's explosiveness. Garrett Johnson, Charles Walker, Tavin Richardson, and other true freshman will also attempt to fill the void. Bowden's campus arrival is crucial. Receiver is a deep position group and theoretically should be able to absorb a portion of this departure.
DEFENSIVE STARTERS vs. LOUISVILLE
Defensive End/Outside Linebacker- Denzil Ware
Defensive Tackle- Adrian Middleton
Defensive End- Courtney Miggins
Nose Guard- Avonte Bell (Position listed in UK media guide)
Free Safety- Marcus McWilson
Nickel- Blake McClain
Will Linebacker- Jordan Jones
Mike Linebacker- Courtney Love
Strong Safety- Mike Edwards
Cornerback- Derrick Baity
Cornerback- Chris Westry
— Courtney Miggins' 2016 numbers: 28 total tackles, 4 tackles for loss, .5 QB sack, 5 pass breakups, 1 forced fumble, 1 recovered fumble. Miggins was a solid run stopper and provided a steady but not forceful influence in the pass rush. Alvonte Bell was slated to be his replacement; see below.
— Alvonte Bell's 2016 numbers: 27 total tackles, 1 tackle for loss, .5 QB sack, 2 pass breakups, 1 QB hurry, 4 starts. Bell was coming on strong at the end of the 2016 season. A knee injury in the Taxslayer Bowl prevented spring practice participation. His unexpected departure will lessen the Wildcat's ability to chase the quarterback in 2017. TJ Carter, Calvin Taylor, and Kengera Daniel are veterans that will vie for the starting defensive end job. True freshmen Josh Paschal, Jordan Wright, and Abule Abadi-Fitzgerald will also get early fall camp looks.
— Marcus McWilson finished 2016 as the team's 5th leading tackler with 69 total. He also registered 4.5 tackles for loss, and had 1 INT. McWilson is a player that Stoops wishes he could have redshirted as the light really came on in his senior season.
— Blake McClain was another dependable defender that played a whole lot of football over the years. 2016 stats: 6th leading tackler with 62 total, .5 tackle for loss and 3 interceptions. The safety/nickel position took a hit with the departure of McWilson, McClain, and JD Harmon.
The Cat's secondary is deep and talented enough to recover from their exit.
What does all this mean?
Let's be completely honest here. The loss of Boom, Badet, and Bell will sting. Unforeseen exits are a commonplace across college football; attrition happens. The "Next Man Up" mantra will be frequently stressed in fall camp. There is no other course of action.
Leadership is always tested during the summer time. My projection for this team has not changed. Kentucky has a legitimate chance to make a run in the SEC East. However, the Wildcats cannot afford to suffer additional personnel losses.