From Running Backs to Receivers to Chapel Hill, Scott Moves On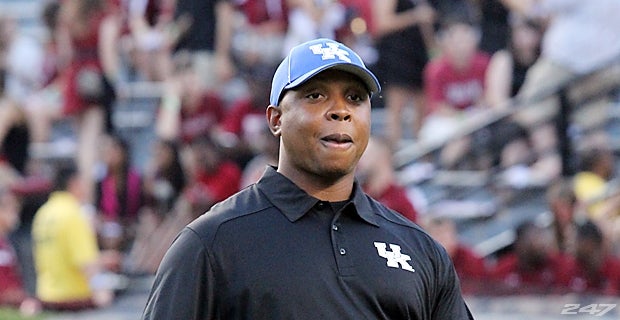 Late Monday night, Football Scoop Staff broke the news that RB Coach Chad Scott will be the new tight ends coach at the University of North Carolina. Scott came to UK from Texas Tech with former offensive coordinator Neal Brown. He survived the Shannon Dawson experiment, then was moved from running backs to wide receiver coach upon the arrival of new offensive boss, Eddie Gran.
Unreported is how or why the move was initiated. Was it Scott's initiative to return to Chapel Hill where he played and began his coaching career? Or was it Kentucky wanting to go in a different direction? Regardless, apparently Chad Scott is no longer calling the Nutter Center home. Just like with transferring or departing players, the age old adage applies; next man up.
How or why Scott left is irrelevant. Coaches are born to do two things: get fired and move. During decades of UK Football familiarity, I've witnessed a plethora of coaches come and go. That's the nature of the business. In the Mark Stoops era, Tommy Mainord did both. While at Texas Tech, Mainord was considered near the top of the receiver coaching fraternity. He's now the Associate Head Coach at North Texas. The Scott-to-receiver-coach experience lasted weeks instead of seasons.
Familiar and new replacement names have surfaced. From former Cats Craig Yeast and Gerad Parker to Cincinnati's Blake Rolan, speculations are flying around like January snowflakes. In my opinion, it's not so much who is next, but how the new hire handles the inherited collective. Positional coaching experience is mandatory. Based on potential and sporadic success, the next coach will be walking into a room full of talent and in certain cases, egocentric personalities. In other words, a typical wide receiver group.
Whoever is next, I feel that the ability to manage the position room in an orderly and disciplined manner are as valuable as the skill to instruct the post-corner route. UK has recruited a higher level of pass catchers. With higher caliber prospects comes various forms of expectation. De-recruitment, inconsistent quarterback play, reoccurring drops, and questionable play calling are all underlying factors that led to last season's receiver woes. Right, wrong, or indifferent; the ire of fan backlash seemed to focus on the quarterback and receivers.
A fresh and not so always smiling face may be just what is needed to clean up effort and productivity questions. What is known is that Eddie Gran and Darin Hinshaw have a plan. That plan doesn't involve winning over the hearts and minds of the locker room. As I interpreted the pair's introductory press conference and read from subsequent interviews, a much needed change is on the horizon. In college football, change is inevitable and can be positive. Scott was not the primary recruiter for a 2016 commit, but has experienced success in Florida. The Herald Leader's Jen Smith reported that Darin Hinshaw and Scott's recruiting areas overlapped. I do not project a drop in that category.
Before rushing to judgement on the "why" Chad Scott is no longer in Lexington, understand that the majority of the BBN begged for postseason change. Adjustments have occurred. Change also brings out emotion. Now, results need to surface to reinforce and redefine 2016 expectation.