Freddie's Take: Shannon Dawson's Tenure
For one season, Shannon Dawson directed a Kentucky offense that had sufficient skill player talent but lacked the offensive line to establish a resemblance of offensive identity. Predictability was commonplace as 1st and 10 resulted in too many 2nd and longs. Along with predictability, Dawson's offensive Achilles heel was loss-of-yardage plays. Kentucky allowed 30 QB sacks and 84 tackles for loss. With those two numbers, sustained drives and momentum were all but an impossibility.
Last season wasn't all bad for Dawson. He called a near-perfect half against South Carolina and his unit racked up nearly 500 yards vs. Auburn. Following the Thursday night loss to the Tigers, his group displayed a violent downward trajectory. Down the stretch, Dawson's offense was just plain hard to watch. Starting in Starkville and running through the Governor's Cup second half, the BBN lost faith that non-Charlotte touchdowns were on the horizon.
Question now is will Mark Stoops hire another "Air Raid" disciple or will he go in a different direction and hire a pro-style play caller that better fits his desire for balance and clock management? Is Stoops more interested in managing field position than quick strike scores?
I stand by my statement that Neal Brown is a Top 20 offensive mind in college football. Years of production and points scored support that theory. I worried that his replacement wouldn't build upon the groundwork that Brown had left at the Nutter Center. Let's take a look at a Dawson-Brown comparison:
Dawson's offensive output compared to Neal Brown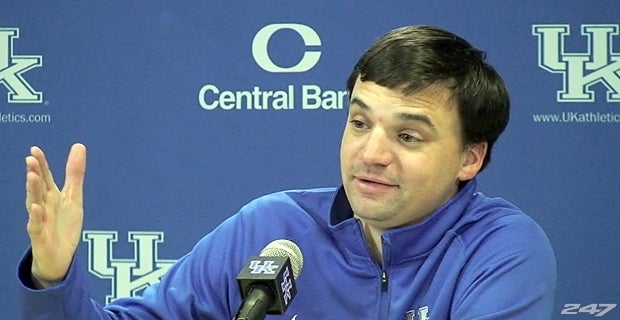 Neal Brown 2014
Total Offense: 384.3 yards per game
Rushing Offense: 153.17
Passing Offense: 231.2
Points per game: 29.2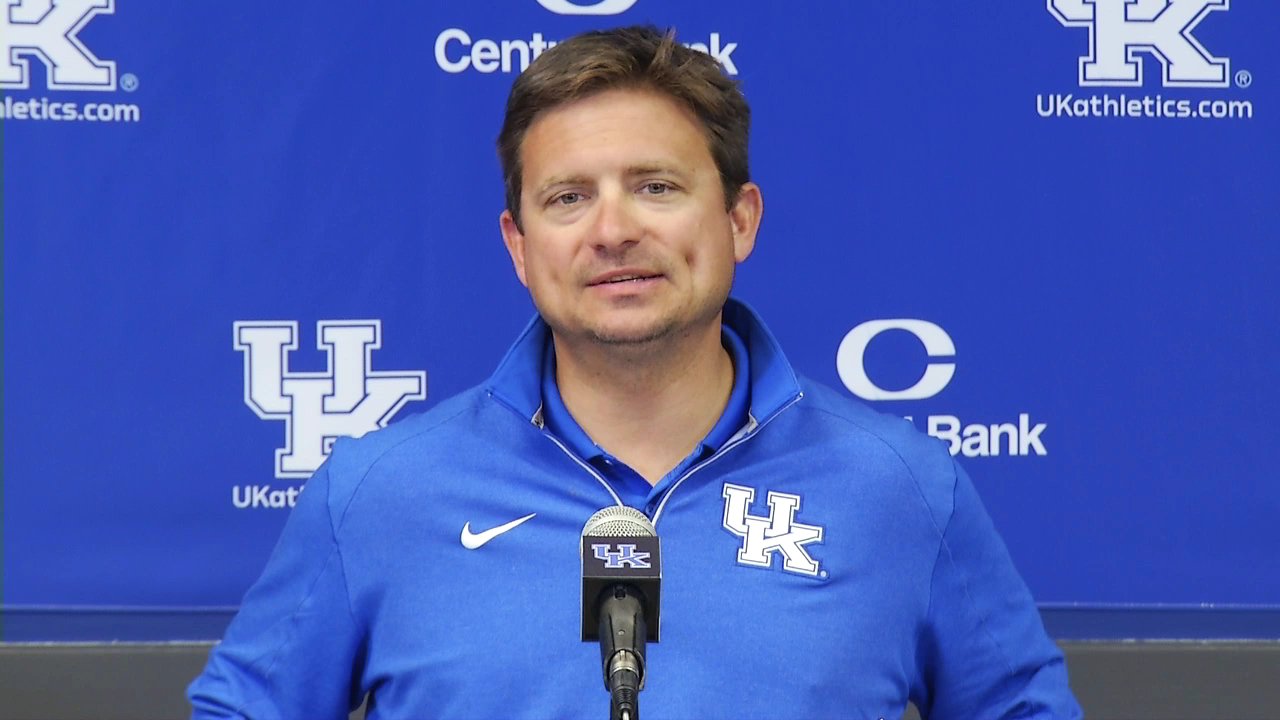 Shannon Dawson 2015
Total Offense: 372 yards per game
Rushing Offense: 162.67
Passing Offense: 209.3
Points per game: 24.7
Numbers indicate a decrease in scoring, passing, and total yardage per game. Year three offensive digression was not a good look for the Stoops' regime. Argument can be made that changing a coordinator after one year is counterproductive. But 2016 is not a normal year. UK Football has painted itself into a corner. The Wildcat's backs are against the proverbial wall.
Two factors will describe Mark Stoops' tenure in Lexington. The first is the success or failure of the 2014 recruiting class. The second is his pending offensive coordinator hire.
Being in the minority on this opinion, I feel the Air Raid has run its course in the SEC. While its inventor, Hal Mumme had vast success, modern-day defenses have figured it out. Air Raid evolutions such as the pistol formation has taken its place. Gimmicks are fun to watch, when they work. SEC defenses are too fast and athletic to consistently trick into gaining offensive advantage.
In 2015/16, offensive balance has supplanted Run and Shoot variations. Kentucky does not have offensive linemen on its roster to sustain blocks to become a straight ahead ground pounding team. However, Kentucky currently possesses skill players that surround a young quarterback to take the strain off Drew Barker's shoulders to execute a well-rounded, balanced attack.
So where does Mark Stoops go from here? His new offensive coordinator's style will be the first indication of not only what type of offense he intends to use, but also a gauge of his personnel. The new offensive leader will paint the picture of a Mark Stoops-led football team. I'm not certain Stoops was ever comfortable with an all-out rapid tempo passing attack.
Argument could be made that a more traditional offensive scheme would have secured the 2015 Wildcats a bowl game. For example, two first-and-goals against Vanderbilt totaled zero points. A simplistic power approach could have netted at least one score that would have sealed the UK victory. After going up 24-7 against Louisville in the Governor's Cup, a contemporary approach could have produced more than two second half first downs which would prevented the Cardinals sufficient time to mount a 31-0 scoring run that cost UK the football game.
With more coaching turnover than I can remember, now is the time to secure the right fit that matches Mark Stoops' vision for his football program. But, quality offensive coordinators come at a steep price. Will a proven coach take a chance on the Cats after seeing Shannon Dawson shown the door after one year? Conversely, with a talented yet underachieving group of skilled players, a coach may see a promising opportunity. Regardless, for Mark Stoops to succeed, the new offensive coordinator has to be his last offensive coordinator. The Bill Curry era proved that a coordinator revolving door is a precursor to unemployment. Let's hope he gets this one right.