Four Reasons Za'Darius Smith Will Become a Superstar this Season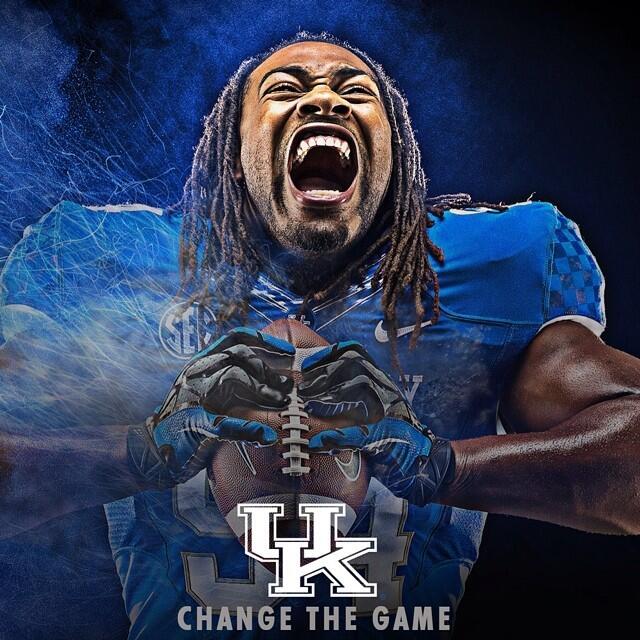 From East Mississippi Community College to Kentucky football posterboy, Za'Darius Smith has helped transform the attitude inside the locker room and the fan base in less than two years on campus.  After a solid start in year one, Smith slowed down in SEC play but still managed to finish third on the team in tackles while sacking opposing quarterbacks six times.
Za'Darius was good last year, but this year he can be on of the best in the country.
1.  You can't stop em both.  Two is better than one, the math is simple.  Last year the Bud/Z duo combined for 13 sacks, and there's no reason that number won't be larger in 2014.  Opposing offensive lines can only double-team an end on one side, leaving a one-on-one opportunity.  If we thought this combo was good last year, it will be entertaining to see their improvements over the offseason.
2.  The Spring game screen pass interception.  The highlight of the Spring Game for me, was watching Patrick Towles try to bring down Za'Darius at the goal line after Z snagged a screen pass out of the air.  It's just one play, but I don't care.  DO YOU KNOW HOW DIFFICULT IT IS TO PULL THAT OFF?  Even if he did pickup on what the offense was doing (he probably had gone against that play more than a dozen times in practice), there aren't many people on the country that can make that play.  If that happens just once this year, it can be the difference between winning and losing a game.
3.  JUCOs at UK 'get it' much better in year two.  The purpose of recruiting JUCOs is receive immediate help at positions of need.  Z did his part last year, but there's a difference between being good and opening a can of whoop ass on a regular basis.  WRs Chris Matthews and Stevie Johnson held their own in year one, but nothing compared to year two (see: Stevie Got Loose).  Za'Darius came to UK with better fundamentals than anyone at the position, but the speed of the game can make it difficult for things to click in between the ears.  Without first-year obstacles in the way, nothing should slow Z down.
4.  Taking responsibility as a leader.  Za'Darius could not be more appreciative of the shot coach Stoops has given him.  From humbled beginnings, Z knows that it's now or never.  He's assumed responsibility for helping everyone around him get better, the fastest route to success.  Last week he told Tyler at SEC media days, "Coach Brumbaugh taught me in junior college, and I have the ability to help the team and know what I'm doing. Just by coming in when he's not there, I can go outside with all the other guys and be that leader to help them with technique work."
When Za'Darius became Coach Stoops' first recruit on campus, he became a symbol for the BBN.  This is what Mark Stoops' players are going to look like.  Much like the 'high noon' game that can determine how a season will play out, Za'Darius' second-year success will be a reflection of the direction Kentucky football is heading.