Five reasons you shouldn't be concerned about Central Michigan
We are just three days away from kickoff, and excitement is building. We have a starting quarterback, the coaches are confident, and more fuel has been added to the fire for Benny Snell.
Las Vegas has the spread at 17 in favor of the Cats right now, and whether they cover or not (I like them to, but that's beside the point), the Big Blue Nation should be confident in the game playing out in Kentucky's favor.
Here are five reasons you shouldn't be concerned about the Central Michigan Chippewas:
Tony Poljan has never played meaningful reps at quarterback
The second you see Central Michigan's 6-foot-7, 235-pound quarterback step onto the field, I guarantee you'll have a sudden moment of worry. From a pure physical perspective, the guy looks like a freak of nature. Nick Fitzgerald (6-5, 230 lbs.) looks massive for Mississippi State, and even he comes up short compared to Poljan.
But the sophomore CMU quarterback has minimal reps under center, and though their coaching staff seems to like him, he's a major question mark going into Saturday's game against the Cats.
He came out of high school as a consensus three-star dual-threat quarterback with offers from Michigan State, Minnesota, and Nebraska, among others, but stayed home and played at CMU. Since he got there, he has thrown just 21 balls for 78 yards and zero touchdowns. He has also managed 125 rushing yards on 27 carries, along with five receptions for 97 yards.
He's an "athlete," but he's not necessarily fast laterally. He can gain yards in a hurry with a full head of speed, but he's beatable if you can get to him in the pocket. If the Kentucky pass rush can provide a solid push and make him uncomfortable, you have him beat. Lamar Jackson, Dak Prescott, Fitzgerald, and other running quarterbacks have torched the Cats over the past few years, but Poljan isn't in that same conversation.
Terry Touchdown is here to stay
Terry Wilson won the starting quarterback job outright, and he's ready to lead the team out of the tunnel on Saturday.
What impressed me the most is that Mark Stoops said the decision didn't come down to Wilson's legs, the newest starter flat-out won the job with his arm. Darin Hinshaw and Eddie Gran both agreed, saying Wilson had an incredible past few weeks and he made the decision simple for them.
With the weapons Kentucky has on offense, Wilson has everything he needs to thrive against CMU.
But the biggest asset for the Cats in preparing for the Chippewas, and running QBs going forward in general, has to do with Wilson's ability to emulate even the best of the best in terms of athletes. Usually Mark Stoops has had to have random receivers and running backs emulate the athletic quarterbacks, but it just wasn't the same. Even with Stephen Johnson, it was that next-level speed the Cats couldn't prepare for.
Now, they have it for this weekend and the remainder of Wilson's eligibility here at UK.
I'm not too worried about Poljan, but Touchdown Terry's presence in practice makes me feel even better.
They have nine underclassmen in their two-deep defensive lineup
There's young, and then there is Central Michigan young. They're starting seven upperclassmen on defense, but many of those guys are inexperienced and the depth underneath them is even younger with minimal game reps. Nine of their top-22 are underclassmen, but even the upperclassmen will be replacing major players on the defense, a task that will be visibly difficult on Saturday.
Five of the team's top-ten leading tacklers from last season are no longer with the team, including their two starting safeties. Josh Cox (No. 2), Darwyn Kelly (No. 4), Joe Ostman (No. 6), Amari Coleman (No. 9), and Mitch Stanitzek (No. 10) have all graduated.
Cox, Kelly, and Coleman, who intercepted a total of ten balls and deflected 14 passes last season, are all gone, making their secondary extremely vulnerable.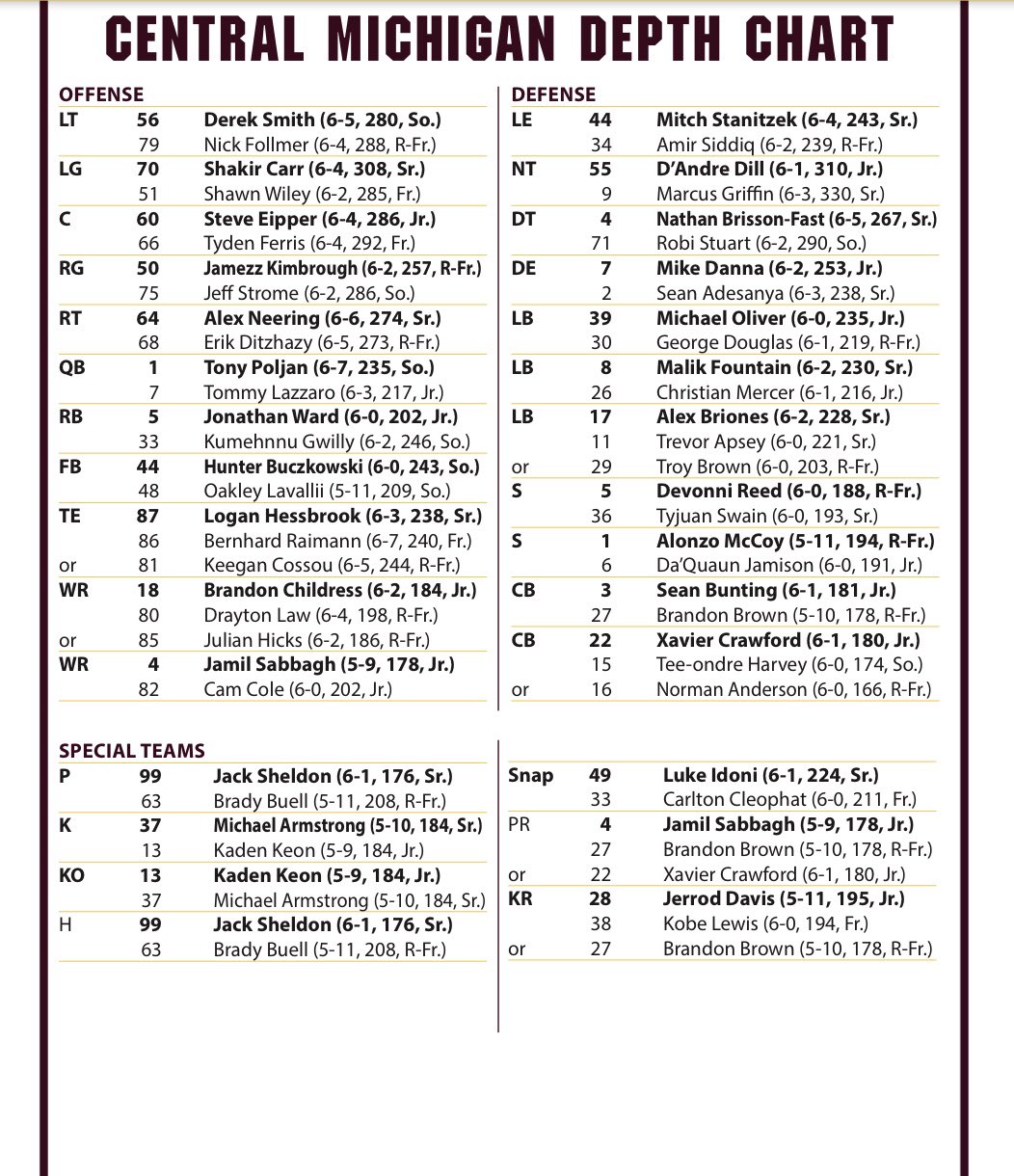 The Cats have a newcomer at quarterback, but just about everywhere else on offense will have experience and talent, presenting a major challenge for what should be a very thin and young Chippewa defense.
They pissed off Benny Snell
If there is one player in college football that thrives off of criticism, it's Benny Snell.
And Central Michigan running back Jonathan Ward did just that yesterday.
"I don't know him," he said, via CMU reporter Evan Petzold. "I don't think there's anything too special."
Nothing too special? Oh, he only led the SEC in rushing touchdowns and finished third in the conference with 1333 yards. Arguably the greatest back in Kentucky history. No big deal.
Snell knows what's up.
"I'm a back-to-back 1,000-yard rusher in the SEC. My play speaks for itself," he said yesterday afternoon.
And Snell will absolutely let his play speak for itself on Saturday.
When are they going to learn to not poke the bear?
… and the offensive line
They didn't just stop at Benny. They even threw a jab at Kentucky's offensive line.
Central Michigan defensive coordinator Greg Colby told reporters yesterday that he's not scared of John Schlarman's o-line group.
"I like our chances with our defensive line against their offensive line. We have to finish tackles," he said.
Several Kentucky players responded to this tweet, specifically left tackle EJ Price.
He later deleted the tweet, but Price quoted the comment and added a drooling smile and pancake emoji (what a weird time to be a sports writer). He wants them to know he's going to make them regret their comments on Saturday.
Logan Stenberg is already known for being a mauler, Drake Jackson is filthy, "Big George" Asafo-Adjei has the experience, and the Kentucky staff nearly tossed Naasir Watkins' redshirt last season because they loved him so much. Landon Young may be down, but you better believe they have the talent to compete against CMU's defensive line.
We ain't afraid of no Chippewas.
[mobile_ad]