Five More Things I Saw at UK Football Spring Practice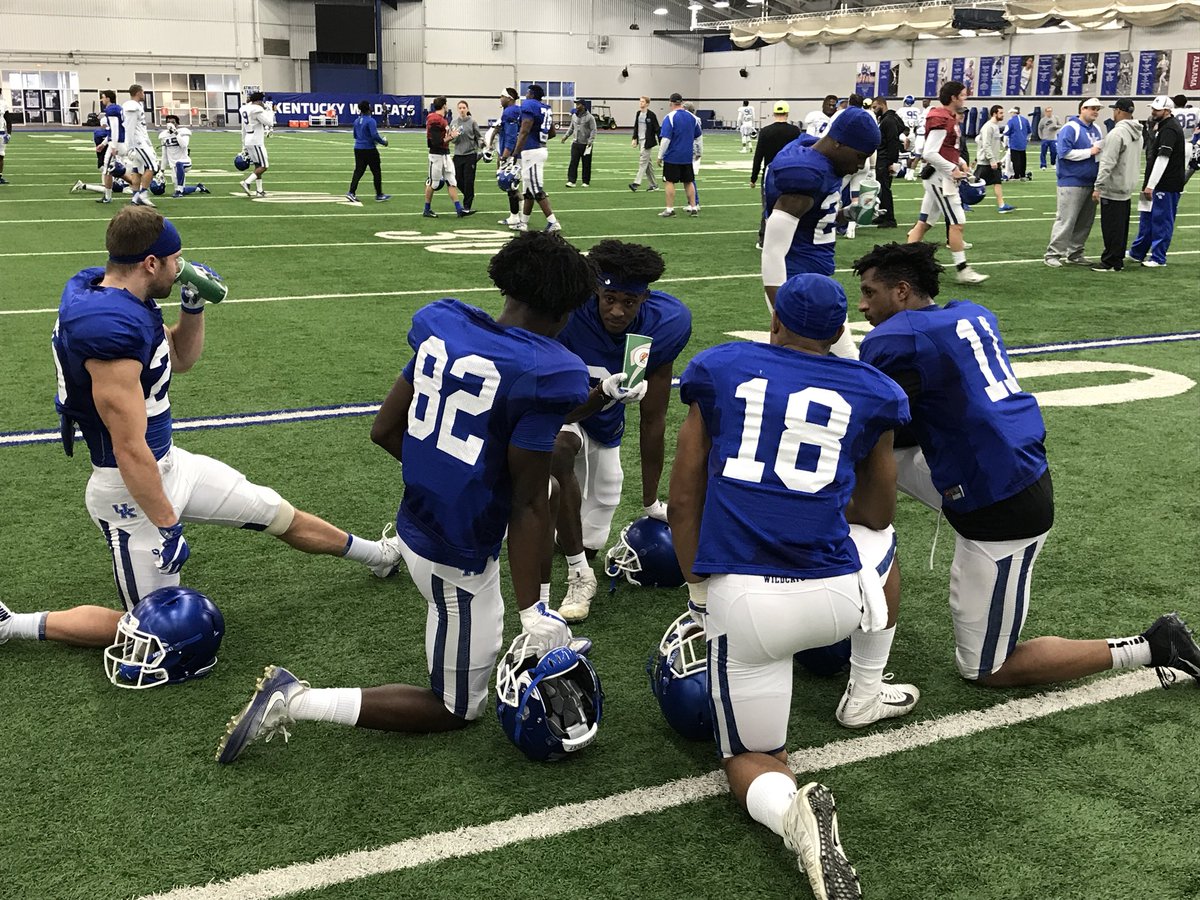 There was an onslaught of news following Thursday's spring practice.  Open to the media, I saw so much that I simply could not share it all at once.
1. Benny Snell is still a Beast 
The Kentucky running back isn't getting his usual reps, but when he does run the ball, it's still extremely terrifying.  Snell looks like he's gotten larger, but that's not entirely true.  His diet is leaner, so he still has the bulk, but with a little extra speed.
"I feel like I've definitely gotten faster," Snell said.  "I'm trying to maintain my muscle, so I can use it well."
The goal for this spring was to become a smarter runner.  Snell has done that by learning the responsibilities of everyone in the offense, not just his.  "If I know everybody's role, I can do mine better."
Snell is not exponentially larger, but Josh Allen is.  Brad White said he's put on a lot of weight in his lower body, enough that you can see the difference on film.  I do not disagree with coach White.
Make Every Rep Count #BBN pic.twitter.com/jTMGprZMAw

— Kentucky Football (@UKFootball) April 3, 2018
2. DeAndre Square does not look like an Early Enrollee
He's only been on campus for three months, but the linebacker has been impressive.  More on that later.
3. Isaiah Epps will be Important 
The wide receiver struggled to get comfortable on the football field as a true freshman until the final two games of the season.  He did not make a ton of catches in that time, but you can see how the experience helped.
Thin at wide receiver without incoming freshmen and Dorian Baker this spring, Epps, Tavin Richardson and Lynn Bowden are the most experienced pass-catchers.  None disappointed during the practice.
Epps and Richardson each caught impressive fades.  A route that's entirely up to the wide out to make a play, on back-to-back reps Epps and Richardson beat the defender to make the catch with one foot landing just inside the boundary.
For the UK passing game to improve, receivers have to make plays.  To stretch out the defense, they need to make a few downfield.  Epps is that important downfield threat that can open up the run game for Benny Snell.
4. Your Starting Offensive Line is…
From left to right: Landon Young, Logan Stenberg, Drake Jackson, Bunchy Stallings and George Asafo-Adjei.
Last year John Schlarman spent the first half of the season tinkering with different combinations to fill the void left by Cole Mosier.  Right now Schlarman has a set five and he's sticking to it.  Lack of depth is actually helping maintain continuity.  There's only 11 in the offensive line's meeting room, giving Schlarman little wiggle room.  Naasir Watkins and Mason Wolfe are testing a few spots in the second unit, but for the most part, the o-line is keeping it simple this spring.
5. Courtney Love was in the Building
The former Kentucky linebacker spent the first few months of the offseason working out in Atlanta.  He returned to Lexington for Pro Day and has stayed with the program ever since.  Shadowing Matt House, if the NFL doesn't work out, Love will likely give coaching a try.
Jon Toth was at practice too.  Freddie's favorite UK center spent his first season with the Eagles' practice squad after he was sidelined with a back injury just prior to the NFL Draft.
[mobile_ad]