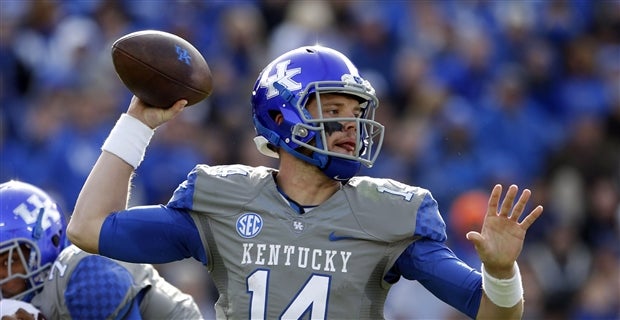 It's here. Projection transfers to result as the Wildcats start their prospective journey to bowl eligibility. Will Kentucky achieve that goal? Many pundits are saying that the Cats will go into the Louisville game needing to beat their instate rival in order to reach the six win plateau. Regardless of how the team's collective goal is met, there are five fundamental issues that must be accomplished prior to September 5:
-A starting quarterback must be named and the winner has to be consistent. I think it's Patrick Towles' job. Drew Barker will push him early, but this is Patrick's team. My question or concern is simple, just which Patrick Towles will we see? Will the '15 version be the early season quarterback that garnered national accolades all the while skyrocketing onto future draft board projections? Or will we see the rattled signal caller that limped through the finish line and six consecutive losses? UK is absolutely not in the position to tolerate quarterback inconsistency. A third-year Stoops-led team must have a dependable, confident, and consistent offensive leader.
-Dynamic punt/kick returner has to surface. UK has experienced a prolonged and troubling return game lull. When Randall Cobb left for Green Bay, there's been little to no threat from the Cat back deep. That has to immediately change. Kentucky has recruited adequate athletes to improve this blatant team weakness.
-Three strong-side defensive ends will need to claim their spots on the depth chart. Farrington Huguenin is the pre-camp starter. On the current depth-chart, true freshman Kengera Daniel is running with the second team. JUCO defenders Alvonte Bell and Courtney Miggins are late arrivers which may dampen their ability to provide an immediate impact. DJ Eliot must establish three, non-linebacker pass rushers in order to achieve defensive balance.
-Nine-ten primary receiver rotation will be decided. For two consecutive seasons, youthful receivers have been given a pass. No pun intended. It's time for that position group to grow up and produce. Simple as that. An offense such as Shannon Dawson's relies on a steady stream of receivers but only nine or ten can be effectively prepared for game action. Just who that will be is yet to be determined.
–Linebacker competition will influence critical backups. My first KSR post brought up linebacker depth as being a critical concern. That worry remains to this day. If Courtney Love is ruled ineligible, Kentucky will have to count on three backups that have yet to play their first college football game. Scary thought with ULL's Elijah McGuire coming to town.
Stay tuned for a KSR football marathon.