Final Pass: Louisville Cardinals
The Governor's Cup marks the end of the regular season for both Kentucky and Louisville. However, both teams are poised for postseason football for the first time in six years. It's been a relatively quiet Rivalry Week. One reason for newfound civility can be related to mutual respect for elite talents on both sides. Cardinal QB Lamar Jackson is the hands-down favorite to win the Heisman Trophy and has captured the attention of football fans across America. UofL folks I know marvel at true freshman RB Benny Snell.
Let's take a last look at the Louisville Cardinals:
DEFENSE
— Kentucky's rushing attack (242 ypg) is ranked 17th in the nation; 3rd in the SEC. Louisville allows just 99 rush yards per game which is good enough for 6th nationally. Something's got to give here.
— UofL ranks 7th nationally in Total Defense.
— Louisville defense is stout; but a portion of its rankings are situationally related to QB Lamar Jackson as several opponents have been forced to operate outside their comfort zone while facing a large scoreboard deficit.
— Teams that have been successful vs. Louisville have sustained long, offensive drives and controlled time of possession. Turnovers and pre-snap penalties can alleviate this strategy; Cats must play clean on both.
— LB Keith Kelsey and DT Deangelo Brown anchor the interior of the line of scrimmage. Kelsey is the team's leading tackler with 74 and an elite inside linebacker. Brown is a future pro and has recorded 11 TFL, a high number for a line-of-scrimmage defender.
— Kentucky has to be Kentucky regardless of the scoreboard. If it tries to do something different; then the Cats will falter. In other words; run-run-run the football.
— QB Stephen Johnson will face elite Louisville pass rushers: OLB James Hearns (8 QB sacks) , Devante Fields (5 sacks), and DT Deangelo Brown (11 TFL).
OFFENSE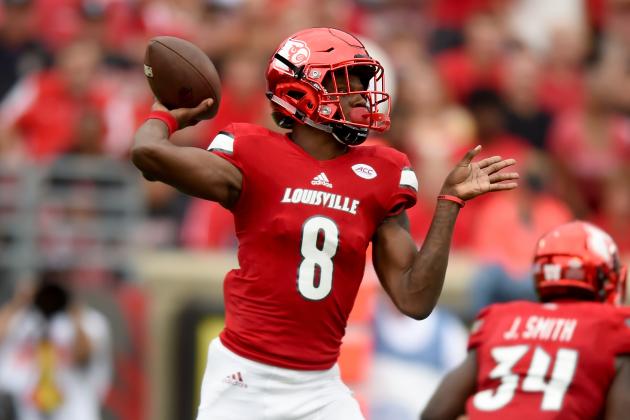 — Louisville's offensive prowess is ranked nationally:
Scoring Offense: 1st,  46 points per game.
Rushing Offense: 12th, 254.64 yards per game.
Passing: 15th, 303 yards per.
— However, the Cardinals rank near the bottom of the nation in Focus Statistics:
Fumbles: 128th, 28 fumbles, lost 20
Penalties: 123rd, 74 yards per game
— Lamar Jackson's 19 rushing touchdowns lead the nation. He's also thrown for 28 TD's. Jackson has rushed for over 100-yards in 7 games this season. As a passer, Jackson has completed 57% of his passes while surpassing the 300-yard mark 4 times in 2016.
— RB Brandon Radcliff's 6.8 yards per carry ranks 15th in the nation. He's rushed for over 100-yards on 4 occasions.
— WR Jamari Staples averages 16.9 yards per catch. The Cards are led by TE Cole Hikutini with 42 catches, 556 yards, and 7 touchdowns. Hikutini will be the best pass catching TE that UK will face in 2016.
— UofL has allowed 36 quarterback sacks, 120th nationally. This is an alarmingly high number given Jackson's scrambling ability. It could be projected that if the Cards played with a human quarterback instead of Lamar Jackson, this number would be at least doubled.
SPECIAL TEAMS
— Punt returner Jaire Alexander leads the team in interceptions with 5 and averages 11.3 yards per punt return. Alexander is dangerous in 2 phases.
What does all this mean?
— Louisville is currently a 26-point favorite.
— Mark Stoops was not happy with his defense following Wednesday's practice. Not good; especially with Lamar Jackson on deck.
— UK's interior offensive line, Guard-Center-Guard, and RB's present the most threat to its opponent. Expect UK to experience early tackles for loss, but Gran will stick with his plan with hopes of wearing down the Cardinal defense.
— Cats have to play a clean game; no turnovers, no dropped passes, no pre-snap penalties, and no penalties that negate points.
— Kentucky will need to score touchdowns in the Red Zone. Wake Forest, Virginia, and Duke experienced success vs. Louisville but waned inside the 20. TD's not FG's will be critical.
— Wildcat OLB's and DE's must sustain gap-integrity. One missed step or missed shoulder placement when responsible for containment can result in a TD for Lamar Jackson.
— Stephen Johnson must hit a homerun to Jeff Badet early in the game. This will prevent UofL from loading the box in order to stop the Wildcat and or running game.
12 games have flown by as the regular season comes to a close on Saturday. Thanks for reading KSR and listening to the Depth Chart Podcasts. It's been a blast.