Fearsome Foes: UT-Martin's Tony Bell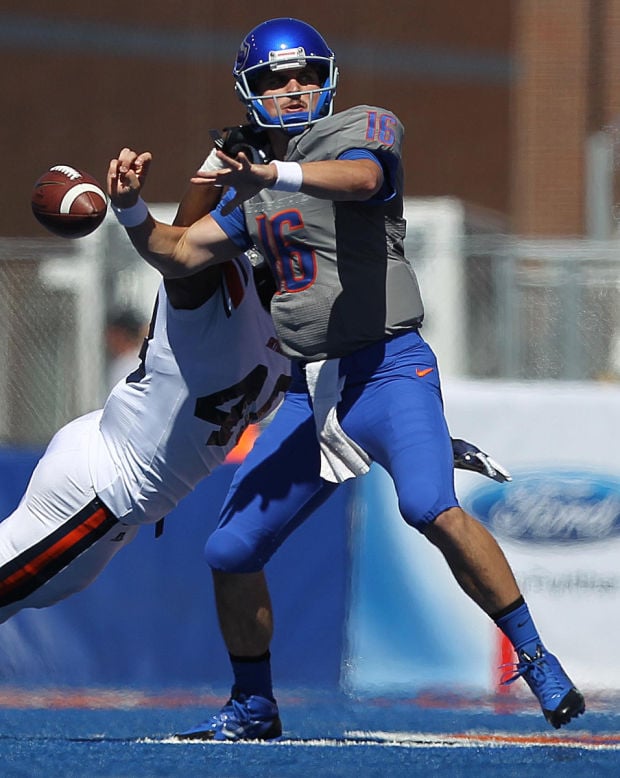 You can't get a clean look at him but that guy knocking the ball out of the hands of Boise State's quarterback is none other than Tony Bell. The UT-Martin Skyhawks player that our own Mark Stoops compared to Bud Dupree. Here's what Stoops had to say yesterday about the linebacker that will be coming to Lexington this Saturday:
"They have a great defensive player, No. 40, the linebacker, an exceptional player. He's a really good football player," Stoops said of Bell. "He can play anywhere in the country. Really like the way he plays […] he's a great pass‑rusher as well. Like Bud in that area. Bud is an outside backer, obviously much bigger. But he's like Bud in that he's comfortable on his feet, got great instincts, he's an extremely good pass‑rusher. He's a mismatch for some people on the edge."
With Darrin Miller now out the O-Line is going to have their hands full finding a way to keep Bell contained. Redshirt freshman Kyle Meadows will surely be tested early and often against a player that has skills beyond your average FCS competitor. Last season UT-Martin's talented linebacker forced and recovered three fumbles, recorded 10.5 sacks, and tallied 80 total tackles en route to being named an all-American by the Associated Press, College Sports Madness, Beyond Sports Network and Phil Steele himself.
Against Boise State last season Bell racked up 5 tackles for loss and forced the fumble that is pictured above. Against Memphis he was a tackling machine. One of the major goals of this game is allowing Patrick Towles to get into rhythm  with his receivers and build confidence for the rest of the year. He can't do that if Bell is able to pester him and his newly sped-up release.
For 2014, Tony Bell has been named to the Buck Buchanan watch list which is awarded to the best defensive player in FCS. If he can have a big game against the Wildcats then he could launch himself to an early favorite for the award. Our young O-line needs to make sure that doesn't happen. If Swindle and Meadows can't keep Towles upright this Saturday then we could have some big problems when we get into SEC play.
Do you think the Cats will have any problems with UT-Martins star?