Familiar Faces: EKU Edition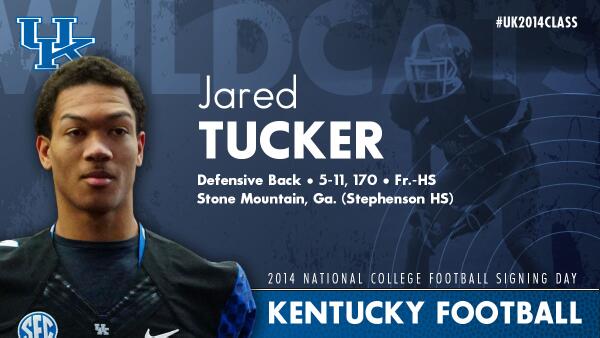 Every year, schools go through a Spring cleaning period where we see an abundance of players realize playing time will be scarce and decide to transfer from the program.
One of the most popular transfer schools? Eastern Kentucky.
EKU isn't necessarily a "Last Chance U," rather a school for players from top-level schools who have fallen a bit on the depth chart looking for a better opportunity to thrive elsewhere.
This year, the Colonels will have several familiar faces in that boat, carving out big roles for themselves in Richmond.
So who should we be expecting this season?
Jared Tucker
Coming out of high school, Tucker was considered a four-star prospect with offers from Ohio State, Florida, Louisville, Tennessee, and Michigan State, among others. When he committed to Kentucky back in May of 2013, it was considered a massive recruiting victory for the Wildcats.
The highly touted corner was another key piece of the class of 2014 that featured Drew Barker, Matt Elam, Mike Edwards, and Darius West, among others. At the time, many recruiting analysts considered it the best recruiting class in UK history.
Tucker only played in three games during his redshirt freshman season in 2015, and after falling on the depth chart going into 2016, he announced his transfer from the program.
As a redshirt sophomore at Eastern Kentucky, Tucker played in eight games with six starts before an injury cut his season short. He finished with 32 tackles, one interception and four PBUs.
Four years after committing to the Wildcats, Tucker is the starting cornerback for EKU and will be suiting up against his former team on Saturday.
LJ Scott
As a four-star running back from Marion, OH, Scott held offers from Louisville, Wisconsin, Michigan State, Cincinnati, and Boston College before committing to UofL.
The former Cardinal played in 25 games, racking up 396 yards over three years with the program before transferring to EKU back in January.
Now, Scott is the Colonels' premiere back and a key member of the kick return team.
He struggled in his debut with the team, rushing for just 25 yards on eight rushes against WKU, but he'll be looking to rejuvenate his hatred for Kentucky this weekend, as if it ever disappeared in the first place.
Nigel Bethel
If you're a Kentucky football recruiting geek, this name should be a blast from the past.
Bethel was listed as a consensus four-star cornerback in 2014 and was included on the ESPN300 in 2014 (226 overall.) ESPN listed the Miami, FL native as the 14th best corner in America.
Kentucky was rumored to be a favorite in his recruitment for a while before ultimately committing to Texas Tech in January of 2014. He also held offers from Tennessee, Mississippi State, West Virginia, Florida State, Ole Miss, Miami (FL), among others.
Bethel played in 18 games for the Red Raiders, where he recorded 84 total tackles, 17 pass breakups, and an interception in two seasons. He was also on Texas Tech's track team and a pivotal member of the 4×100 relay, leading them to the NCAA Outdoor Championships in 2016.
And then he shocked everyone and transferred to Eastern Kentucky.
As a junior for the Colonels, Bethel played in all 11 games, starting in nine. He finished the year eighth on the team with 40 tackles, and also managed six PBUs and an interception.
He also developed into a solid kickoff return player, returning six kicks for 141 yards, an average of 23.5 yards per return.
Bethel is a playmaker, and can absolutely make an impact against the Wildcats.
Cameron Fogle
Many of you probably remember Fogle as Drew Barker's best bud coming out of Conner High School in Hebron, KY. As a senior at Conner, Fogle recorded 55 receptions for 865 yards and seven touchdowns, along with 79 rushes for 865 yards and 16 touchdowns.
Barker and Fogle were a formidable duo, and when the receiver decided to walk on at Kentucky in 2013, many thought they could continue that success as Wildcats. Obviously it would take longer for Fogle to make a mark on the depth chart as a walk-on, but like Charles Walker did this past year, it's possible.
After playing in just one game for UK as a redshirt freshman in 2014, Fogle transferred to EKU searching for a bigger role. As a redshirt junior, the former Wildcat received reps in ten games, starting seven of them. He finished the year fourth on the team with 22 receptions for 246 yards and two scores.
Though they are no longer teammates, Barker and Fogle are still "inseparable," Fogle's mother Cindy told Jen Smith of the Herald-Leader. In fact, the two Conner products are still roommates, despite attending colleges 27 miles from one another.
Here's an excerpt from Smith's interview with Barker on playing his best friend this weekend:
"We talk about this all the time," laughed Barker, UK's backup quarterback, who is hoping to see his first game action of the season against the Colonels on Saturday. "It will be fun to go and play against him again. To see him on the other sideline will be cool for sure."
Teammates turned roommates turned rivals. 
Ray Horton
Horton was considered the third piece of a trio of talent from Belfry High School in the 2017 recruiting class, with Kentucky's Austin Dotson and Louisville's Cole Bentley being the other two.
Horton was also joined by Belfry teammates Jordan Scott and Cameron Catron at EKU.
If you've ever talked to Freddie Maggard about Kentucky HS football, you'd know how high on Belfry he is. The school pumps out very impressive talent and Horton is yet another one of those pieces.
Other names of interest:
Damon Lowe- Trinity HS, Louisville, KY
BK Smith- Male HS, Louisville, KY
Drew O'Bryan- WKU, Ashland, KY
Demontre Boyd- Manual HS, Louisville, KY
Omari Alexander- Manual HS, Louisville, KY
Connor Foos- Trinity HS, Louisville, KY
Bryce Wilson- Tates Creek HS, Lexington, KY
Zay Yeast- Dunbar HS, Lexington, KY