Fall Camp's Thursday Morning Wakeup
We made it, folks. Fall camp is finally here. Today, the team will take the field for the first practice of the season, putting a merciful end to a summer of hype, questions, and speculation. Unfortunately, the media isn't allowed to interview anyone until tomorrow, but somehow, the thought that the team is out there doing their thing makes me happy.
With that in mind, let's do our thing and get ready for another day of UK sports.
The team enjoyed trying on their uniforms yesterday
Take a look at the behind the scenes footage from part 2 of the summer team photoshoot! #BBN pic.twitter.com/hLamSTDyIa

– UKSTOOPSTROOPS (@ukstoopstroops) August 5, 2015
The team got in the camp mood by trying on various uniform combinations yesterday. A few observations:
I believe #94 is JuCo DT Courtney Miggins. If so, I can see why the staff was so eager for him to get on campus. Dude is huge:
Welcome to the defensive line, sir.
Lots of bare midriffs, which tells me these guys put in some hard work in the weight room this summer and want to show it off. Right Jaleel Hytchye?
Ryan Flannigan's stare is terrifying:
Hopefully offenses will feel the same this season.
Michael Porter, Jr. cut his list to ten last night
Again, not that Michael Porter. This Michael Porter is the best small forward and second best player in the 2017 class, and he "narrowed" his list to ten yesterday. I use the quotes because, seriously, he cut his list to ten, which doesn't seem like that big of a deal to me. Regardless, here are those ten: Duke, Missouri, Washington, Stanford, Kentucky, UCLA, Syracuse, Indiana, Kansas, and Virginia. He even announced it via a fancy graphic:
Excited to cut my list to 10! I Appreciate all of the other schools who have invested their time in recruiting me. pic.twitter.com/rfKXud4Ttp

— Michael Porter Jr. (@m1chael_porter) August 5, 2015
Come on down, not that Michael Porter.
So, the movie theater "shooting" in Nashville yesterday was kind of scary
I realize it was in Antioch, one of the dodgiest neighborhoods in the city and the guy was a complete loon with a pellet gun and a hatchet, but still. I've been to that movie theater a few times ($2 movies and cheap popcorn is hard to resist), so I was pretty shook up when I saw the initial reports yesterday. I hate how often I'm reminded this is a messed up world.
That being said, it's going to take more than a few crazy people to keep me from my movie popcorn.
Context didn't exactly help John Calipari with that quote about his players being relieved after the Wisconsin loss
I recorded the replay of Cal's "Halls of Fame" feature on Fox Sports South last night, and was hoping his quote about some players being relieved after the Wisconsin loss would sound better with some context. Not really. Cal just talked about how much his players wanted to go 40-0 and how his friends told him they wished the team would lose a game to relieve the pressure. That didn't happen, and in hindsight, Cal said he wished it had. Cal compared the relief of some players in the locker room to the relief he felt after UMass broke their 27-game winning streak.
"When we lost, there was relief in the room, including the staff, including me, I was 32 at the time, 33, whatever I was," Cal said of the streak at UMass. "I'll say this to you. If I'm ever in the position again, which I hope and plan and want to be, I'm still going to try to win every game. I'm not going to try to drop one game. Still going after 40, because they say it can't be done."
He then went on for several minutes about how he doesn't think any team will go 38-0 again, but honestly, it felt hollow to me. I love Cal, but let's stop spinning. We lost and it sucked. Hopefully some of us will move on. Quotes like this don't help. End of story.
After that, I need this to cheer me up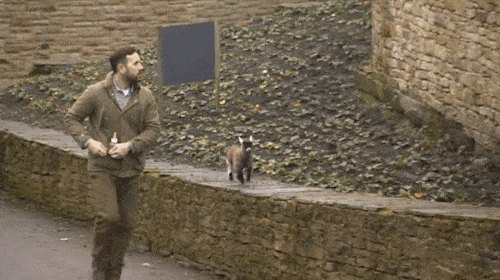 (You know it's bad when I have to break out the Benjamin the pygmy goat GIF.)
Okay, better. Let's roll.
KSR is at the Lawless-Smith True Value and Appliance Center in Russell Springs
…for the Jamestown remote. Kind of confusing, I know. Regardless, go on out and join them. It'll be a grand old time.