ESPN Talks Kentucky Defense With Stoops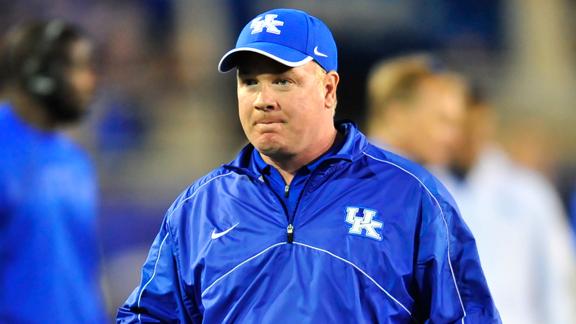 Yesterday our head football coach made the trip to Bristol to participate in the annual ESPN Car Wash which  means lots of interviews and lots of rehashing SEC media days. However, in  an interview with Edward Aschoff Stoops got to go a bit more in-depth than the usual prepared lines. Of course it was all about his forte, the defense, and here's a bit of what he had to say:
The defensive mind and former defensive back has had to partake in many a long breathing session because of the play of his defense. This is Stoops' bread and butter. He was one of the sport's hottest defensive coordinating names at Florida State, and now he's had to watch a revamped unit trudge through the SEC ranking in the bottom four in the league in total defense the past two seasons.

Giving up an average of 400-plus yards in his first 24 games at Kentucky hasn't exactly been the most flattering start for Stoops, but as he's coped with dedicated patience, Stoops sees reason to hope. Despite losing stars on the edge in Bud Dupree and Za'Darius Smith, Stoops thinks his 2015 defense might be the best he has had in Lexington.
The article goes on to drop some names of guys who could be stars in the new 3-4 defensive scheme. Jason Hatcher, Denzil Ware, and senior CJ Johnson are listed as potential replacements for the pressure Bud and Z were able to bring last season. Melvin Lewis, Matt Elam, and Regie Meant are guys expected to anchor the defensive line for the next couple of seasons. And Josh Forrest returns as the leading tackler from a year ago. While the defense is still pretty young Stoops is accumulating some serious depth and playmakers that were severly deficient the past few seasons. That can make all the difference in the 8 game grind of the SEC.
[ESPN: Kentucky defense starting to find SEC talent and depth]