Debriefing Kentucky's Trip to Charlotte for the Belk Bowl It has been one week since Kentucky ended the season with a 37-30 victory over Virginia Tech in the Belk Bowl. Time flies when your team is the best to ever bowl in the best bowl, the Belk Bowl.
I spent five nights in North Carolina's Queen City — not to be confused with Ohio's Queen City of Cincinnati — and learned a lot about life, love, happiness and why you should never talk sh*t to someone from Youngstown.
Belk is Everywhere
The Belk Bowl is the Belk Bowl because there's no other logical name for a bowl game in the city of Charlotte. Belk is everywhere. It's a department store that is always a stone's throw away. It's also an expressway that bypasses downtown. Belk is a theater in the heart of the city. Belk is a gym that served as UK's practice locker room.
Unfortunately, Belk's presence in every single aspect of Charlotte living will end next season. The family sold the company and now they are pulling the naming rights to the New Year's Eve bowl game. Don't worry, there are plenty of banks in town that will sprint to slap their name on the bowl, it just will never be the same without Belk.
Omnipresent Jerry Richardson
Belk is everywhere in Charlotte, now excluding Bank of America Stadium. Belk may be leaving, but you can't get rid of Jerry Richardson.
Every time you attempt to enter the stadium, you'll see an homage to Richardson. The plaque quoting Richardson on the day of the stadium's groundbreaking was a bit much, but understandable. The statue of Richardson towering above all incoming patrons "giving the city of Charlotte football" might be the most pompous, arrogant and greatest rich-guy flex of all-time.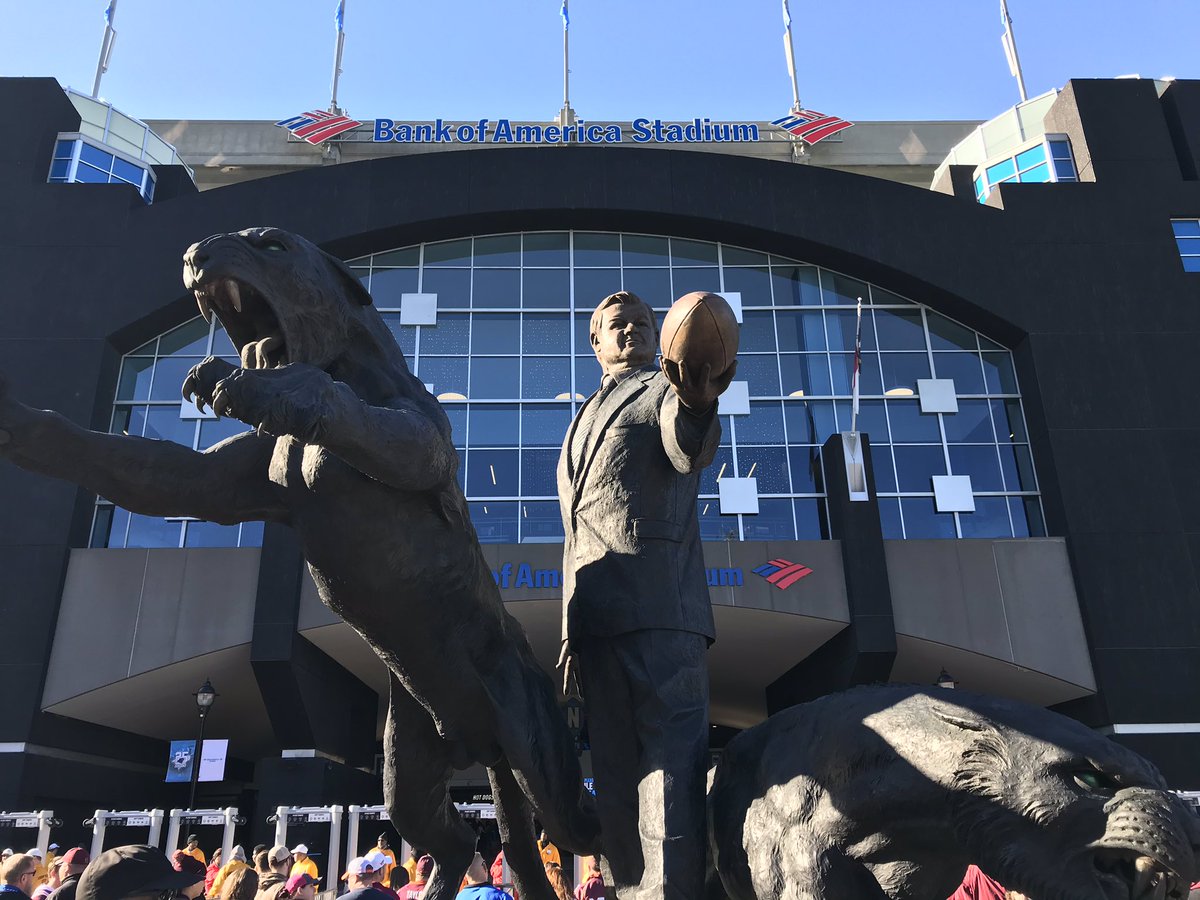 What makes this statue even more hilarious is that the Panthers' former owner was basically forced to sell the team two years ago after the NFL fined him more than $2 million for sexually harassing his employees on Jeans Day. If you look closely at the picture of the statues, Richardson isn't the only thing that will make you laugh.
Ice Cream!
Working in the media is all about perks. This year I received a $25 Belk gift card. You can't put a price tag on that. Just like you can't put a price on the delicious soft serve ice cream that was dispensed from a machine in the press box. I've never had Rupp Arena ice cream but you can't convince me it's better.
Not the Bud Bowl
Maybe the greatest press box perk was not being force-fed Bud Foster information by the ESPN commentary crew. Instead I was treated to Bud Foster jokes on the KSR Live Blog that had a distinct Chuck Norris flavor.
The irony of ESPN's unending praise for Bud Foster is that he's not exactly the type of guy who wants to be the center of attention. That's one reason why he spent his entire career as a coordinator. The unending praise also served to demonstrate just how great Lynn Bowden was. If he can score 3 TDs and have more than 300 total yards against the almighty Bud Foster, he must be the best to ever football.
Fights are Good
After this spectacular game you will never be able to convince me otherwise.
From start to finish, there was an energy you could feel around Bank of America Stadium thanks to the early week trash-talk that boiled over into a few fists thrown in the pregame. In the stands the atmosphere rivaled last year's Citrus Bowl, despite the lower stakes and almost half the people. On the field players delivered hits you rarely see in football anymore. Zach Johnson and Boogie Watson delivered legal blows to Hokies that you could hear and feel throughout the entire stadium.
ZACH JOHNSON ? pic.twitter.com/FZsPjp1Tm4

— KY Clips (@KY_Clips) December 31, 2019
Critics of bowl games describe them as "meaningless exhibitions." Thanks to the pregame festivities that was not the case for either team.
Sports are emotional. In every single one you throughout time will find some form of a physical altercation. It's amplified even further in football thanks to the sport's physicality. You gotta be a bad man to take hits and deliver blows to 275-pound athletes one snap after the next. Mark Stoops has recruited some dudes to UK. A guy from his hometown of Youngstown proved in the Belk Bowl he is the baddest of the bunch. After getting pushed around for years, Kentucky has dudes who don't take sh*t from nobody.
New Year, New Cats
Since Mark Stoops arrived at Kentucky, I've had a few "pinch me" type moments covering the Cats. One of those was on New Year's Eve of 2019.
The Belk Bowl was a transformational moment for me personally and the Big Blue Nation. I started covering the Cats as a college frat guy that didn't go a day without partying. Over the last four years my wife has accompanied to each bowl game. It's quality time, until it's time to work. Thanks to Freddie Maggard's generosity, that changed this year. It was the first time I've ever sat next to my wife at a UK football game. With a little one on the way this spring, it will likely also be the last one for a long time. I'll cherish it forever.
When it came down to crunch time, I was in a familiar place: sprinting toward the field to get an ideal spot to shoot video in the final seconds of the game. The Belk Bowl had a much different feeling than Kentucky's win at Florida, C.J. Conrad's game-winning catch or the Citrus Bowl. This time I was confident Kentucky was going to win. I thought to myself, "Here we go," before the final play and it wasn't in a sarcastic, pessimistic tone. Sure enough, Bowden confirmed my optimistic feelings.
Are you serious?!?! FOR THE WIN! pic.twitter.com/czPVHm7sXb

— Nick Roush (@RoushKSR) December 31, 2019
Freddie's right. This is the New Kentucky Football and it isn't going anywhere anytime soon.