College Football Forgot about Special Teams in 2020
The second Saturday of the college football season was spectacularly stupid, thanks to a bunch of special teams snafus.
It all started at noon and it probably will not end anytime soon. Many believed the circumstances surrounding the odd start to the season would lead to more penalties and turnovers. Those mistakes happened, just not to the magnitude that we saw on Saturday from college football specialists.
Iowa State was the first Top 25 team to fall this year. Billy Napier's Louisiana Ragin' Cajuns got the momentum for the upset with a 95-yard kickoff return and 84-yard punt return touchdown.
The Fun Belt lived up to its name in the afternoon. UTSA led by six with just over 90 ticks left when they punted the ball away. The ball was scooped up near the end zone by Texas State and taken NINETY-ONE yards to the house to tie the ballgame.
Dear god, Texas State just pulled off the greatest punt return in college football history… pic.twitter.com/kAiukntOm7

— Christopher Boan (@cgboan) September 12, 2020
All Texas State needed was a PAT to bring home an improbable comeback victory. That's not too much to ask, right?
TEXAS STATE RETURNS A PUNT FOR 6 TO TIE IT!

All they need is to tack on the extra point to win it, and…oh no pic.twitter.com/X7Ic7BzMLF

— Cover 3 Podcast (@Cover3Podcast) September 12, 2020
In the second overtime the kicker was asked to keep Texas State's hopes alive. You'll never believe this — he missed a chip shot. UTSA won 51-48.
That wasn't the only time college kickers found a way to go viral. Georgia Tech had not one, not two but THREE kicks blocked by Florida State, including a PAT that would have given the Yellow Jackets a one-point lead. Despite one block after another, Geoff Collins trotted out his kicker one final time to bang home the game-winner late in the fourth quarter, lifting Georgia Tech to a 16-13 win over the sad Seminoles.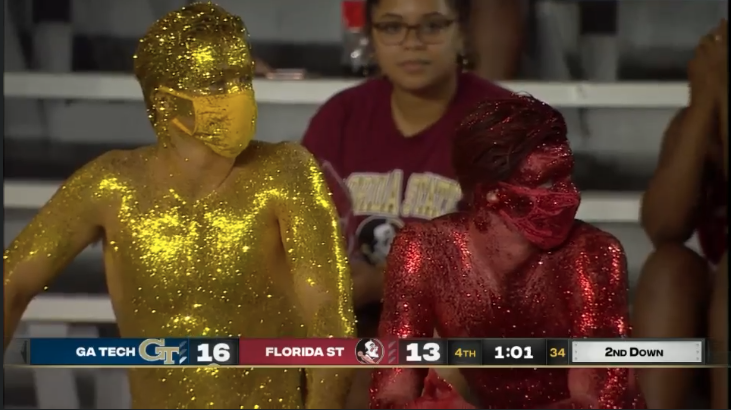 In the nightcap Louisville surrendered a touchdown first after the ball slipped through the punter's fingers near the end zone. WKU recovered and scored on the following play. It still wasn't as disastrous as this punt by The Citadel. It may not be an official record, but this must be the shortest punt return touchdown in college football history.
Wait. What?!? ?

How's this for a punt return TD? #US2F ? pic.twitter.com/SJcfA415p6

— USF Football (@USFFootball) September 13, 2020
A closer look:
Has there ever been a punt for a TD quite like this? pic.twitter.com/k616UHq7kU

— CJ Fogler #BlackLivesMatter (@cjzero) September 13, 2020
Every possible special team mistake that could have happened on Saturday, happened. Hopefully Kentucky special teams coordinator Max Duffy is watching from home and taking notes on what not to do against Auburn.