Closing the book on the worst loss of the Mark Stoops Era
I've seen a lot of bad Kentucky/Tennessee football games in my life, but this one may take the cake. I don't think many fans expected the Cats to beat the Volunteers tonight, but I don't think anyone expected a 52-21 annihilation.
Believe it or not, it was even worse than the score indicated. I wasn't sure it was possible, but last week's disappointing performance in Starkville looked decent in comparison to what happened in Commonwealth Stadium tonight. Considering all the progress the program has made off-the-field in terms of recruiting, facilities, etc., what happened on the field tonight makes this the worst loss of the Mark Stoops era. By far.
In that spirit, let's keep banging our heads against the wall and break it down.
First, an unfortunate injury update
Boom Williams went down with an elbow injury in the second quarter and did not return. Judging by the replay — which I never hope to see again in my life — it's pretty bad. Joey Herrick also went down with a right knee injury. Garrett Johnson went down hard, but should be okay. Wondering why we never saw Drew Barker? His shoulder was too banged up from last week for him to play.
It started off on a good note
Things didn't look great when the Cats went three and out to start the game; however, CJ Johnson made everything better when he scooped up a fumble and returned it 77 yards for a touchdown. I wish I had bottled the energy in the stadium up in that moment, because it was pretty much downhill from there.
What the hell is going on with the offense?
Eight games into the season, I still have no idea what's going on with Kentucky's offense. At times (fewer and fewer as of late), the offense looks great and other times, it looks like something my five-year-old nephew drew up (actually, that may be giving them too much credit). Remember in the preseason when we said Patrick Towles was one of the best quarterbacks in the SEC? In the past two games, he's looked like one of the worst. Tonight, Towles was 16-33 for 184 yards, 1 touchdown and 1 interception. He also had one touchdown rushing, a 1-yard scramble in the second quarter, although that didn't even inspire a lot of confidence. Patrick stutter-stepped across the goal line, hesitating to turn north and just get the ball in. I thought Jared Lorenzen was going to puke.
How bad was UK's offense early on? At the end of the first quarter, Tennessee had 144 yards to Kentucky's 2. TWO. After briefly getting their act together in the second quarter, the offense sputtered again, not scoring again until Garrett Johnson pulled in a 39-yard touchdown pass in the third quarter. That was the last gasp before the Cats collapsed on the mat.
The defense wasn't any better
If the final score wasn't indication enough, Tennessee had their way with Kentucky tonight, putting up 482 yards of offense. Joshua Dobbs had four touchdowns, two passing and two rushing. Kentucky's run defense actually held their own against Jalen Hurd for a while, but he, Alvin Kamara, and John Kelly were just too much in the end, combining for almost 200 yards. To add insult to injury, Tennessee had touchdowns off kickoff and punt returns, the first time they'd had both in one game since the 1950's. Ah, Kentucky football: helping other schools break records since forever.
In the past three games, Kentucky has gotten really, really good at falling to pieces right before halftime. Tonight, Tennessee scored two touchdowns in the final five and a half minutes of the first half, and it just got worse to start the second, the Vols scoring two more touchdowns in 42 seconds. DJ Eliot tried calling the game from the booth for the first time tonight, but if anything, I think it made things worse.
Ready for more bad things? Kentucky had 9 penalties for 93 yards. Hey, Tennessee, enjoying that game on a silver platter? Let's cut up your meat for you too.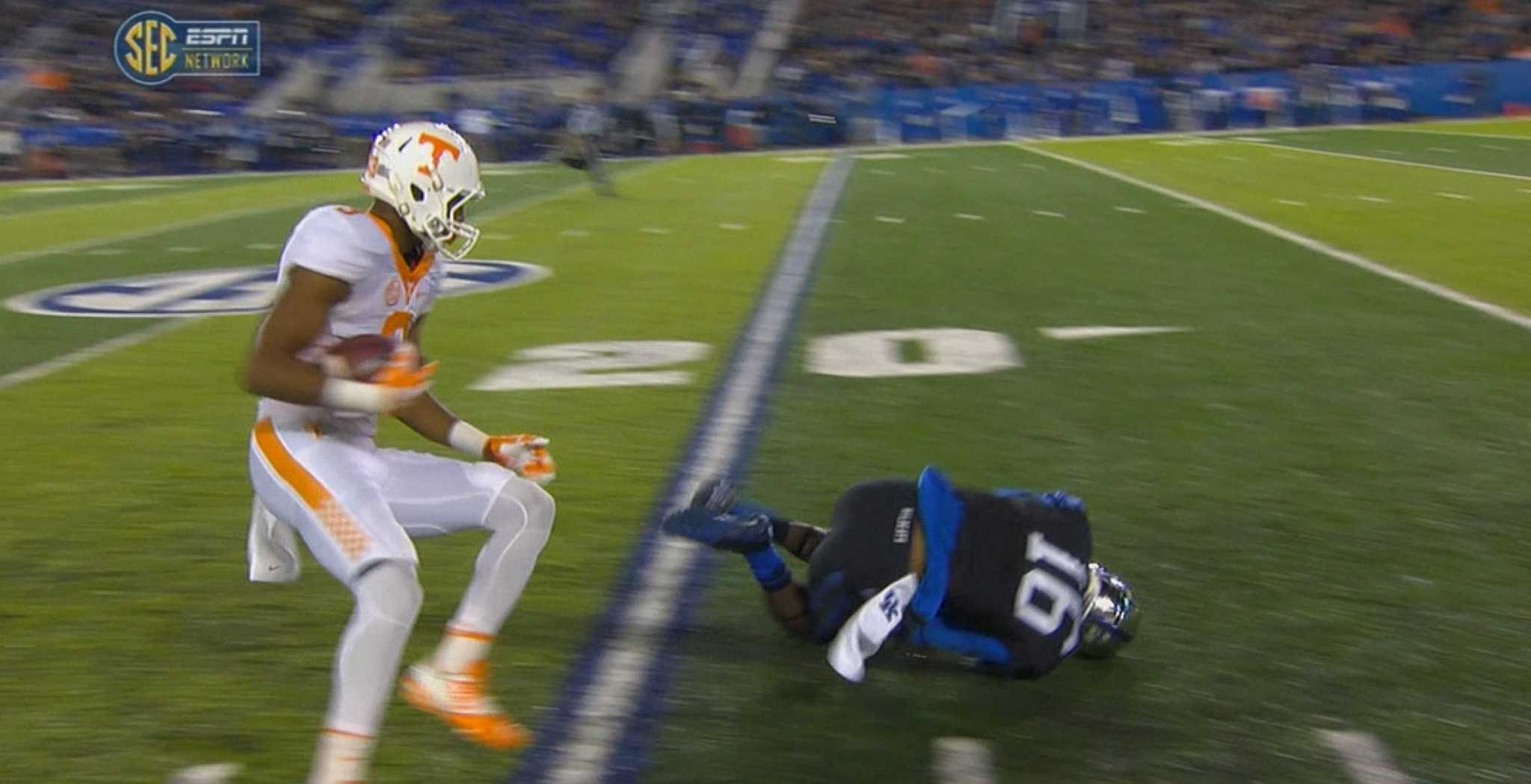 Stoops was just as angry as you'd expect
I didn't think it was possible for a human being to be angrier than Butch Jones, but Mark Stoops gave it his best shot in the postgame presser. Stoops was practically purple when he came into the postgame press conference, keeping his answers curt and clipped.
"It's not acceptable," Stoops said. "It's not okay. Not very pleased. …Give them credit, they beat our butts in all phases. They were much more physical than us. And we've got to play with a lot stronger attitude and mentality than that."
Yes, they do. Now 4-4, Kentucky's entering a very dangerous stretch. Yes, two winnable games in Charlotte and Vandy remain, but tonight's performance doesn't inspire much confidence, especially for the latter. Last season's collapse looms large, and the most troubling aspect of tonight for me was how the team gave up. Three years in, that should not happen, no matter what team you're playing. Stoops noticed. 
"We have got to face adversity better," Stoops said. "We have got to be able to handle it and manage the game and not let it get out of hand."
How do you even move forward from this mess?
"I don't want to see one person dropping their head or moping around," Stoops said of his message to the team. "That's not going to be the way it is. It's clearly not acceptable, and we're not okay with it."
"You can't hide. You go to work, you man up, and you go get better. You go coach better, and that's the way we're going to do it."
Most of you will spend the night pointing fingers and debating which quarterback should start going forward, but for me, the problem runs much, much deeper. Kentucky football is quickly becoming defined by errors and missed opportunities. That "explosive offense" we once had confidence in is now a ghost of its former self. For all the buzz around the program, the recruits, the upgrades, etc., it's clear that the program has momentarily stalled, stuck in first gear at a crossroads. Losses to Florida, Auburn, Mississippi State, and Tennessee are far from the end in the world, but the manner in which the last two happened reflect some serious growing pains.
But for now, as Patrick Towles told reporters after the game, "getting your ass kicked sucks."