Christian Lewis' Blue Shoes want Things You Missed During a Busy Week
Holy Hell. What a week.
An offensive coordinator coaching search culminated less than 24 hours before signing day. John Calipari revealed he'll never have a second career as a cartographer and Kyra Elzy got the interim tag removed from her title. Oh, and I almost forgot about the new offensive line coach that was hired the day before Kroger Field played host to the Kentucky high school football state championships.
It was easy to overlook some things this week. Let's revisit them before the weekend begins, shall we?
An Incredible Signing Day Fit
When recruits say Drake's line, "I rock Kentucky blue," few take it as far as Christian Lewis. The wide receiver from Alabama was dressed to the nines when he signed on the dotted line to join Kentucky's football program.
?'? ??? ??? ??????? ? ????? & ? ???? ???????? ???? ?? ??? ?? ?? pic.twitter.com/aYvaazSYJG

— Christian Lewis~DEUCE~ ? (@ChrisLew__) December 16, 2020
He looked cool, but he wore all of his emotion on his sleeves.
#NationalSigningDay = dreams come true. @ChrisLew__ signed with @UKFootball today. His emotion is how every student-athlete feels today. @WBRCnews pic.twitter.com/5l39hhMwB4

— ChristinaWBRC (@ChristinaWBRC) December 16, 2020
UK Assistants are Candidates for Prominent Vacancies
The coaching carousel will turn for at least another month. While Stoops still works to complete his staff, he may have to fill some unexpected vacancies on the defensive side of the ball.
After Clark Lea's move from Notre Dame to Vanderbilt, Pete Thamel listed defensive coordinator Brad White as a candidate to call the defense for the Fighting Irish. Inside linebackers coach Jon Sumrall's name was mentioned if Troy chose to move on from their head coach. He also could be in the mix to replace Bob Diaco as Purdue's defensive coordinator.
If I were a betting man, I would say that neither scenario would likely happen. White can parlay one more season at UK into a head coaching gig if he wants. It appears that Troy will in fact keep their head coach. Sumrall interviewed for the Purdue vacancy a year ago and did not get the job. Would things change that substantially in less than a year? I doubt it.
Echols is Hula Bowl Bound
The senior UK cornerback is doing everything he can to showcase his talents ahead of the NFL Draft. He's participating virtually in the Shrine Game and he'll play in the Hula Bowl in Hawaii Jan. 31.
Bringing Tamme Back
The former UK tight end is fired up for the addition Liam Coen. How fired up? He's ready to show the young guys the ropes, and by show them the ropes, he means on a white board, not by actually running on a football field.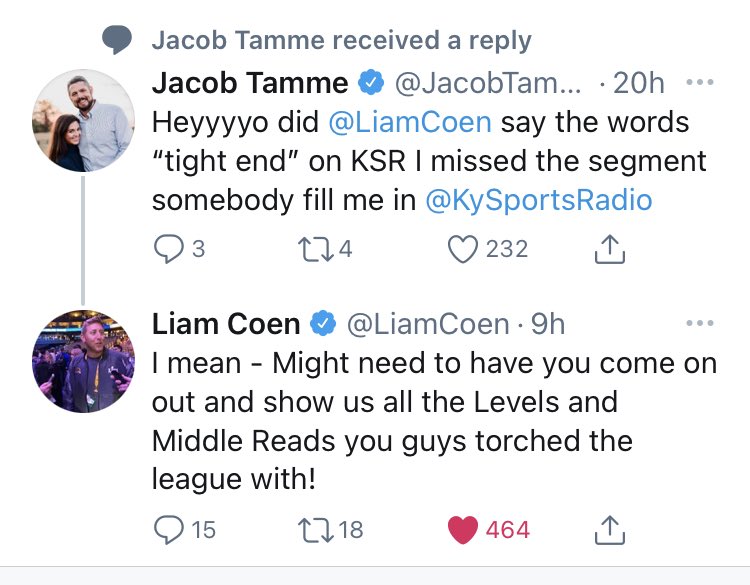 J.J. Weaver has Successful Surgery
The redshirt freshman outside linebacker suffered a season-ending injury, tearing his ACL against Florida. His long road to recovery began Thursday.
View this post on Instagram