Catch Up with the Cats at the TaxSlayer Bowl
The team started TaxSlayer Bowl week with practice at North Florida University.  After a brief break, they occupied their evening with dinner and games at Dave and Buster's.
The leader of the offensive line proved once again who's boss, this time in NASCAR.  Jon Toth took down Dylan Greenberg, Logan Stenberg and Cole Mosier.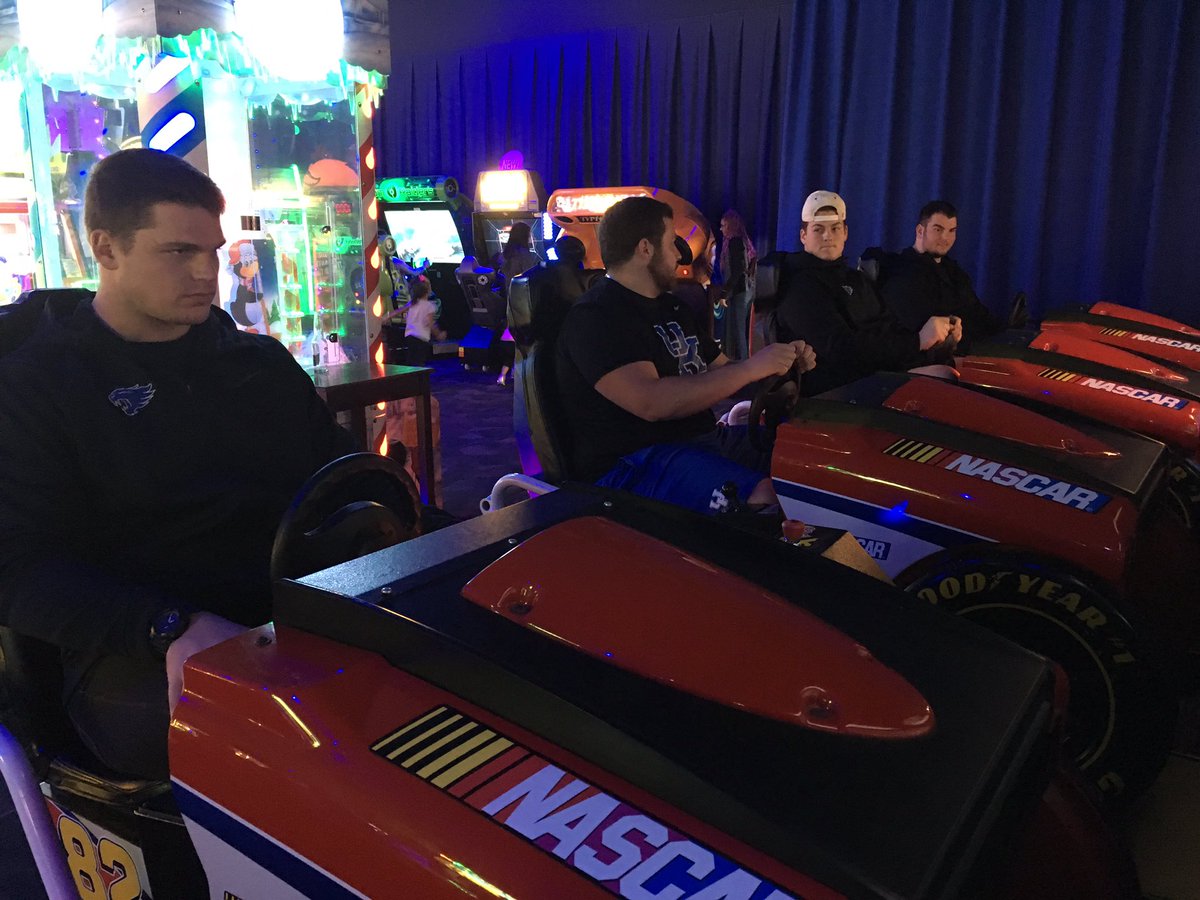 Never imagined Jordan Jones as a Batman guy, unless we're talking about the Joker.  Nobody has ever embodied the Joker more than Jones.  Jones haunts his opponents' dreams: "Wanna play a game?"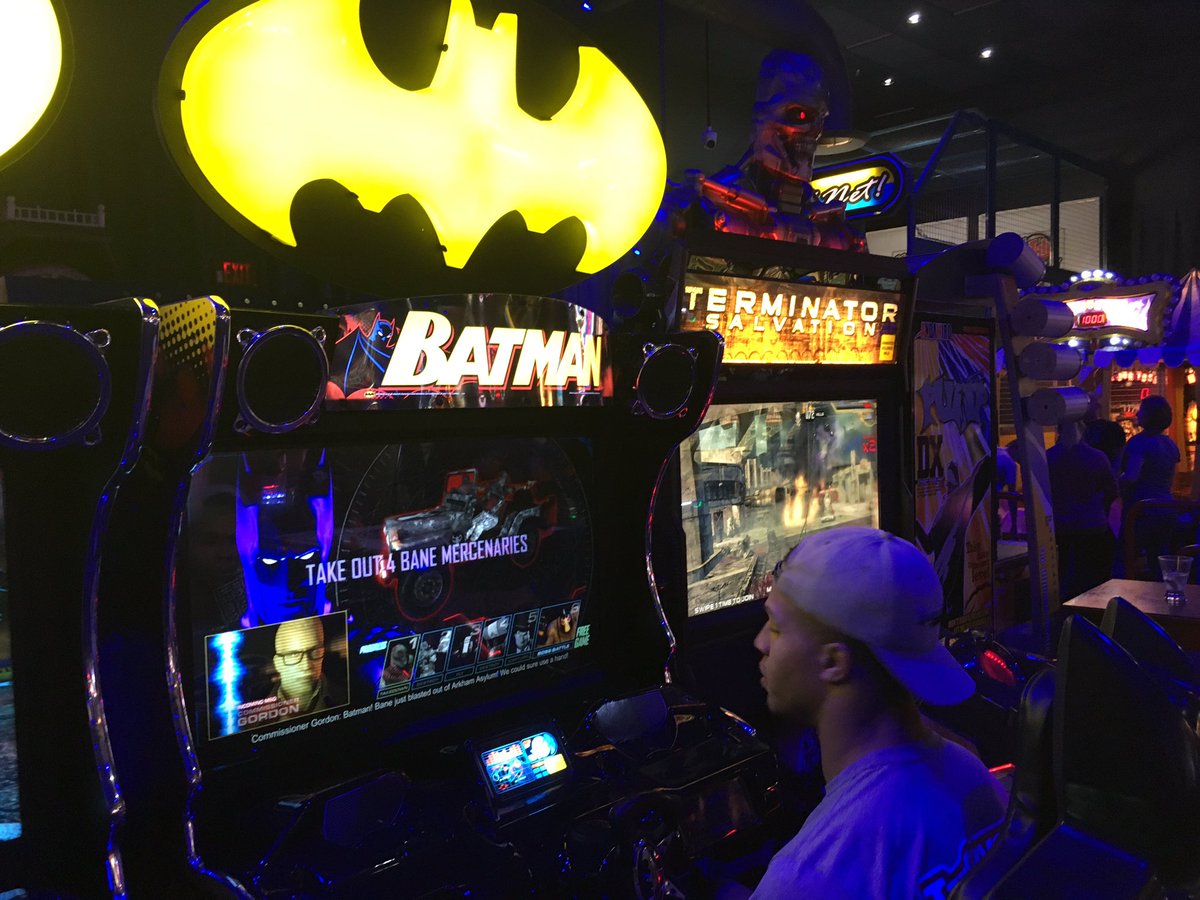 Darius West couldn't beat Kobie Walker on the air hockey table.  West allegedly let Walker win.  Allegedly.
He may not be able to play on the field, but @D_1west25 is hitting the air hockey table just as hard. #BBN pic.twitter.com/5JW3lklxXD

– UK Stoops Troops (@UKStoopsTroops) December 27, 2016
I'll let you caption this: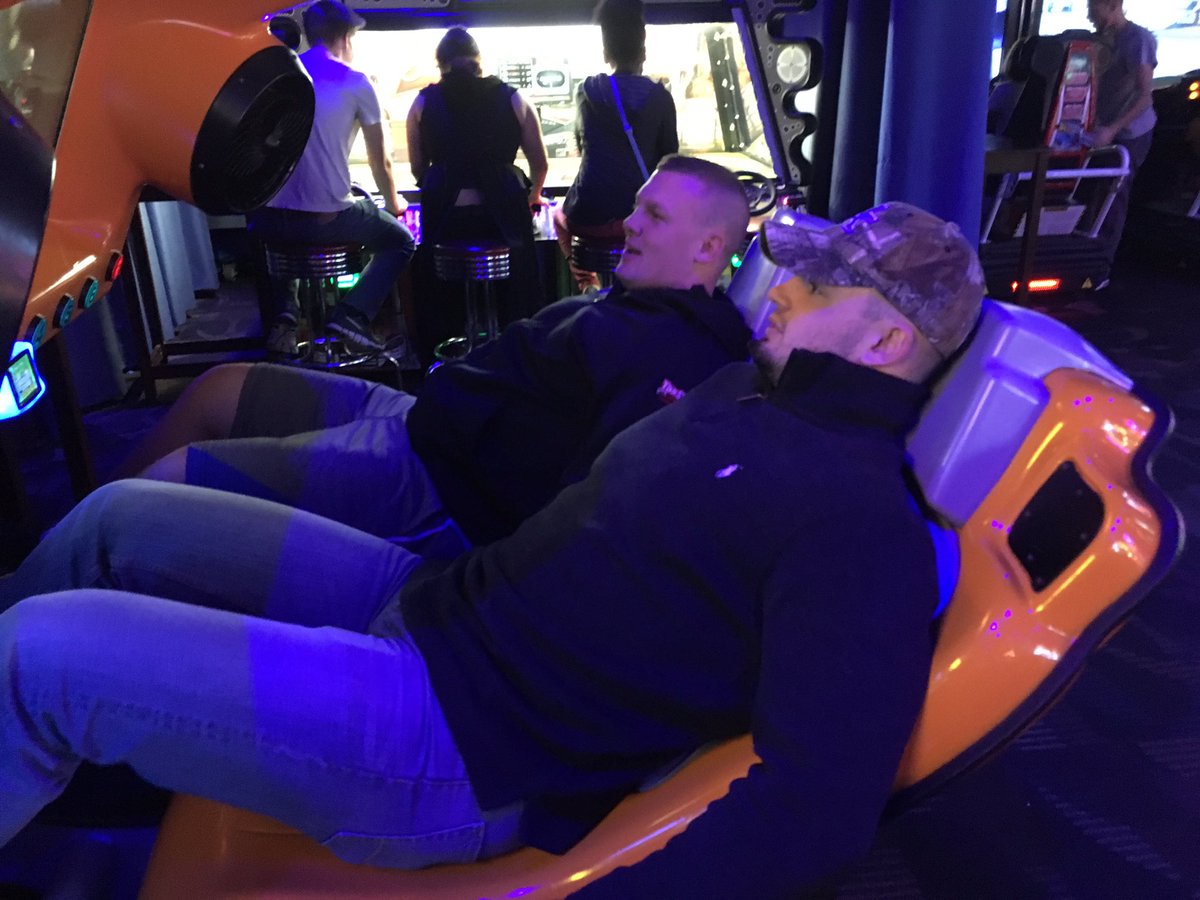 If you're one of those who prefers the "business trip" side of bowl week to the fun and games, here's a look at the TaxSlayer Bowl depth chart.
OFFENSE
QUARTERBACK
15 Stephen Johnson (6-2, 183, Jr.)
14 Luke Wright (6-4, 206, So.)
RUNNING BACK
18 Boom Williams (5-9, 196, Jr.)
3 Jojo Kemp (5-10, 200, Sr.)
OR 26 Benny Snell (5-11, 220, Fr.)
WIDE RECEIVER
13 Jeff Badet (6-0, 180, Jr.)
6 Blake Bone (6-5, 213, Jr.)
19 Kayaune Ross (6-6, 225, So.)
WIDE RECEIVER
80 Tavin Richardson (6-3, 216, RFr.)
OR 2 Dorian Baker (6-3, 208, Jr.)
82 Jabari Greenwood (6-3, 195, RFr.)
WIDE RECEIVER
9 Garrett Johnson (5-11, 175, Jr.)
88 Charles Walker (5-11, 203, Jr.)
WIDE RECEIVER
1 Ryan Timmons (5-10, 198, Sr.)
31 David Bouvier (5-9, 171, So.)
TIGHT END
15 C.J. Conrad (6-5, 245, So.)
85 Greg Hart (6-5, 245, Jr.)
FULLBACK
48 Will Tom Collins (5-11, 241, Sr.)
49 Tanner Fink (6-2, 251, Sr.)
LEFT TACKLE
74 Cole Mosier (6-6, 335, Jr.)
67 Landon Young (6-7, 305, Fr.)
LEFT GUARD
68 Nick Haynes (6-3, 316, Jr.)
71 Logan Stenberg (6-6, 318, RFr.)
CENTER
72 Jon Toth (6-5, 310, Sr.)
65 Jervontius Stallings (6-3, 318, So.)
RIGHT GUARD
65 Jervontius Stallings (6-3, 318, So.)
69 Ramsey Meyers (6-4, 305, Jr.)
RIGHT TACKLE
73 Kyle Meadows (6-5, 300, Jr.)
OR 64 George Asafo-Adjei (6-5, 315, So.)
DEFENSE
DEFENSIVE TACKLE
99 Adrian Middleton (6-3, 303, So.)
98 Tymere Dubose (6-5, 320, So.)
NOSE GUARD
77 Naquez Pringle (6-3, 320, Jr.)
69 Matt Elam (6-7, 360, Jr.)
DEFENSIVE END
94 Courtney Miggins (6-5, 285, Sr.)
92 Alvonte Bell (6-5, 260, Jr.)
DEFENSIVE END/OUTSIDE LINEBACKER
35 Denzil Ware (6-2, 255, So.)
20 Kengera Daniel (6-5, 260, So.)
STRONGSIDE LINEBACKER
41 Josh Allen (6-5, 230, So.)
47 Jordan Bonner (6-5, 220, So.)
MIDDLE LINEBACKER
51 Courtney Love (6-2, 242, Jr.)
56 Kash Daniel (6-1, 241, Fr.)
WEAKSIDE LINEBACKER
34 Jordan Jones (6-2, 220, So.)
32 Eli Brown (6-2, 215, RFr.)
NICKELBACK
24 Blake McClain (5-11, 200, Sr.)
5 Kendall Randolph (6-0, 182, Jr.)
CORNERBACK
29 Derrick Baity (6-3, 182, So.)
3 Jordan Griffin (6-0, 177, Fr.)
STRONG SAFETY
27 Mike Edwards (6-0, 200, So.)
5 Kendall Randolph (6-0, 182, Jr.)
FREE SAFETY
24 Blake McClain (5-11, 200, Sr.)
OR 15 Marcus McWilson (6-0, 210, Sr.)
CORNERBACK
21 Chris Westry (6-4, 195, So.)
11 J.D. Harmon (6-2, 200, Sr.)
SPECIALISTS
KICKER
99 Austin MacGinnis (5-10, 180, Jr.)
95 Miles Butler (5-9, 171, So.)
PUNTER
86 Grant McKinniss (6-1, 210, Fr.)
OR 93 Bryan Kirshe (6-0, 150, So.)
LONG SNAPPER
42 Tristan Yeomans, PS (6-2, 290, So-JC)
53 Blake Best, FG, PAT (6-1, 246, Fr-RS)
PUNT RETURN
88 Charles Walker (5-11, 203, Jr.)
1 Ryan Timmons (5-10, 198, Sr.)
KICKOFF RETURN
26 Benny Snell (5-11, 220, Fr.)
22 Sihiem King (5-9, 172, So.)
HOLDER
42 Tristan Yeomans, PS (6-2, 290, So-JC)
86 Grant McKinniss (6-1, 210, Fr.)