Can We Stop These Guys: Western Kentucky Edition
In baseball your team can win or lose based upon the performance of one man, the pitcher. In basketball you team can be done in by one night of unbelievable scoring (::ahem:: Elston Turner). However, when it comes to football a team's quality is rarely determined by the play of an individual but rather by the strength of the team. Stopping a football team requires an attack on multiple fronts and if you can achieve victory in those strategic areas you can usually find a way to win the game. This weekend if Kentucky is going to avenge last season's upset a good place to start will be shutting down these three playmakers. Welcome to "Can We Stop These Guys?" Western Kentucky Hilltoppers edition.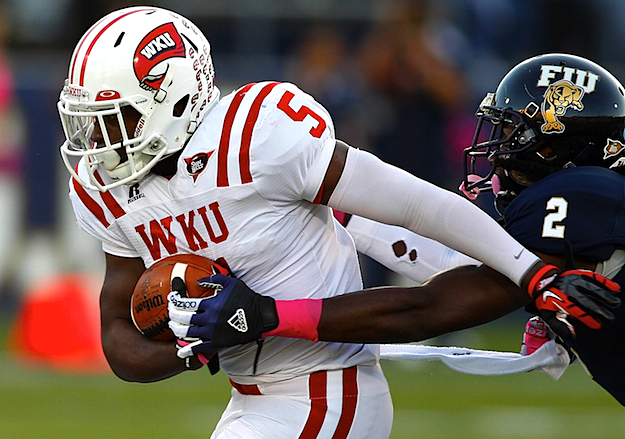 Antonio Andrews
Former Ft. Campbell stand-out Antonio Andrews never received an offer from the former staff despite being a two time state champ and Mr. Football. After leading the NCAA in all-purpose yards last season with 3,161 I think you can add that move to the growing list of head scratchers made by Joker and his crew of flunkies. If you watched last year's game Andrews should be well known. He was the guy who ran wild in Commonwealth on his way to 125 yards and three touchdowns. Oh and a pass on a two point conversion that gave WKU the win. I think it's safe to say Andrews will be the primary focus of the defense this Saturday night.
However the Cats should have a much easier time finding a way to stop him this time around. WKU will be replacing two members of the O-Line while adapting to the less run intensive offense of Coach Petrino. Meanwhile for the Cats we won't have Minter calling schemes which is the first advantage and Andrews will have to find away around the two headed attack of Za'Darius Smith and Bud Dupree. Andrews is going to have a tough time finding the holes that seemed to be everywhere last season.
Jonathan Dowling
Heading into last years game Max Smith had not thrown an interception through the first two games, the Tops would quickly change that stat as they picked him off four times. A major factor in those interceptions was DB Jonathan Dowling who picked off Smith three of those four times. Dowling was an unknown heading into last years game after sitting out a year following a transfer from Florida but made his presence felt in Lexington. Kentucky will have to be accurate if they are going to avoid the same errors as last season.
Stopping Dowling from having another big day will fall on presumed starting quarterback Jalen Whitlow. Whitlow will need to be on top of his strikes as the Neal Brown's offense makes it's debut for the first time in Blue and White. Jalen also has the ability to scramble if things aren't working out downfield which would have been a nice option to have in the game last season. That may not be too wise if linebacker Andrew Jackson is in position to make a play. Bottom line Whitlow needs to be on top of his decision making in order to neutralize the topper defense. Based on what we saw last year I don't think that should be too much of a problem.
Brandon Doughty
Last season WKU quarterback Kujawn Jakes marched into Commonwealth Stadium, lead his team with a sturdy 16-20 for 160 yards, and left with a victory. This year if Western will have any hope of a victory they will have to do so behind the arm of Brandon Doughty. The junior QB racked up one start his freshman year before going down to a season ending knee injury and only played in two games last year as a sophomore. This year he will be leading the new WKU offense, which is rumored to be scripted all the way through the first half, against an improved Cat defense.
To stop Doughty the Cats will need the secondary to play well. That group is going to be the target of opposing teams all season long and they just need to focus on not giving up the big play. Last season Jakes' confident poise was a major factor in the Hilltoppers victory. Doughty will need a similar effort to give the tops a chance. I like our odds.
So what do you think? Will Kentucky have any trouble putting a stop to these guys or anyone else on Western's team? Or are they in for another long Saturday night? Comment or let me know on twitter @ACassady_KSR