BTI's Rants and Ramblings: The 2nd Year Jump for Coaches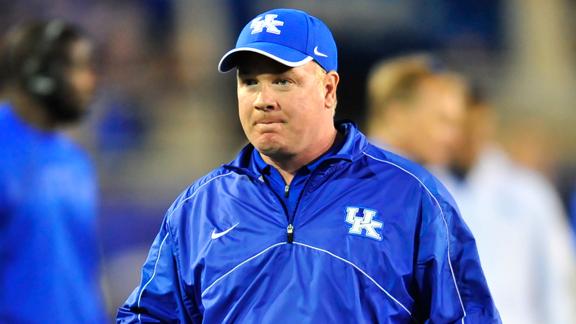 There is a definite split amongst UK fans and fans of football in the state on what the expectations should be for Kentucky this season.  Some fans are calling for another year of patience and looking forward to 2015.  I generally fall in the camp that expects a 2-3 win jump this year into the 4-8 or 5-7 area.  And there are strong arguments for both sides.  But my biggest point about thinking the Cats will get to 5 wins this year is the simple fact that a 2nd year of any coaches tenure at a school usually brings an improvement.  The simple fact the players are much more comfortable with the coaching staff and the system in place makes it a smoother entry into the season.  But does my belief in 2nd year head coaches hold water?  Below are each of the 14 SEC schools with the coaches they have hired since 1990.  And next to each coach is the increase or decrease in wins from their first season to their second.  Those in red had a decrease.
Alabama
Gene Stallings: +4, Mike Dubose: +3, Dennis Franchione: +3, Mike Shula: +2, Nick Saban: +5
Arkansas
Jack Crowe: +3, Danny Ford: -2, Houston Nutt: -1, Bobby Petrino: +3

Auburn
Terry Bowden: -2, Tommy Tuberville: +4, Gene Chizik: +6
Florida
Steve Spurrier: +1, Ron Zook: Even, Urban Meyer: +4, Will Muschamp: +4
Georgia
Jim Donnan: +5, Mark Richt: +5
Kentucky
Bill Curry: +1, Hal Mumme: +2, Guy Morris: +5, Rich Brooks: -2, Joker Phillips: -1
LSU
Curley Hallman: -3, Gerry DiNardo: +3, Nick Saban: +2, Les Miles: Even
Mississippi State
Jackie Sherrill: Even, Sylvester Croom: Even, Dan Mullen: +4
Missouri
Larry Smith: Even, Gary Pinkel: +1
Ole Miss
Tommy Tuberville: -1, David Cutcliffe: -1, Ed Orgeron: +1, Houston Nutt: Even, Hugh Freeze: +1
South Carolina
Brad Scott: -2, Lou Holtz: +8, Steve Spurrier: +1
Tennessee
Phil Fulmer: +1, Derek Dooley: -1
Texas A&M 
Dennis Franchione: +3, Mike Sherman: +2, Kevin Sumlin: -2
Vanderbilt
Gerry Dinardo: -1, Rod Dowhower: Even, Woody Widenhofer: -1, Bobby Johnson: Even, James Franklin: +3
All total, that is 50 head coaches.  Of those 50, 37 head coaches had an even or increase in wins in their 2nd season.  But even more important, for those 37 coaches, their average wins jumped  up 2.4 wins from season to season.  If that holds true for Mark Stoops this year, we are looking at a 4 or 5 win season this year.  And that is how I get to my conclusion.  Now, to be fair, there are 13 coaches who dropped in wins from their 1st to 2nd season.  But considering that UK won only 2 games this year, I find it hard to believe that Kentucky is going to drop in wins this year.
So do you see a 2nd year bump for Mark Stoops?