Bill Parcells' Saturday Morning Wakeup
In 2003, Mitch Barnhart had to make one of the most difficult hires of his early tenure – find Guy Morris' replacement to lift the probation-laden program from the grave. After a 7-5 2002 season, Kentucky showed promise, but needed a homerun hire to continue building momentum. The homerun everyone wanted was Bill Parcells, but Mitch could only make contact.
The former two-time Super Bowl Champion of the New York Giants wasn't out of the Wildcats' reach. Four years into his second retirement, legend says that Mitch actually made the meeting happen, but fate led Parcells another way. Not long after, Jerry Jones hired him as the Cowboys head coach and Mitch Barnhart recruited Rich Brooks. Even though it appeared to be a disaster at first, Brooks became the most successful UK football coach in my lifetime, and the Cowboys still suck.
Before we move on, Happy 75th Bill! It was nice (kinda) knowing ya.
Cats' Last Preseason Scrimmage is Going Down
To say yesterday's practice was rough is an understatement. Angry Stoops was back with a vengeance after the worst performance of Fall Camp. That NEEDS to change today during the most important day in Fall Camp. Freddie Maggard described the effects that will take place after today's "moving day."
Unfortunately, we probably won't hear too much until after the staff watches film on Monday, but Kindsey Bernhard will be on the scene to recap Stoops' comments around 3:00.
Watch Future Footballers on ESPNU
The 2015 Geico ESPN kickoff is the biggest day of high school football for the four-letter network. Games will be running all day across the country. Now that Kentucky has entered into elite recruiting status, we get the opportunity to watch future Wildcats face-off against the best of the best.
Class of 2017 commits Mike Warren (RB) and James Hudson (DE) will start the show at 4:00 on The U, as their Toledo Central Catholic team takes on Cleveland Benedictine. Stay tuned at 7:00 to watch Lawrenceville (Ga.) Archer's Kobe Smith, a 2016 DT commit, against Peachtree Ridge.
KSR Prep's Trip to Prestonsburg was a Success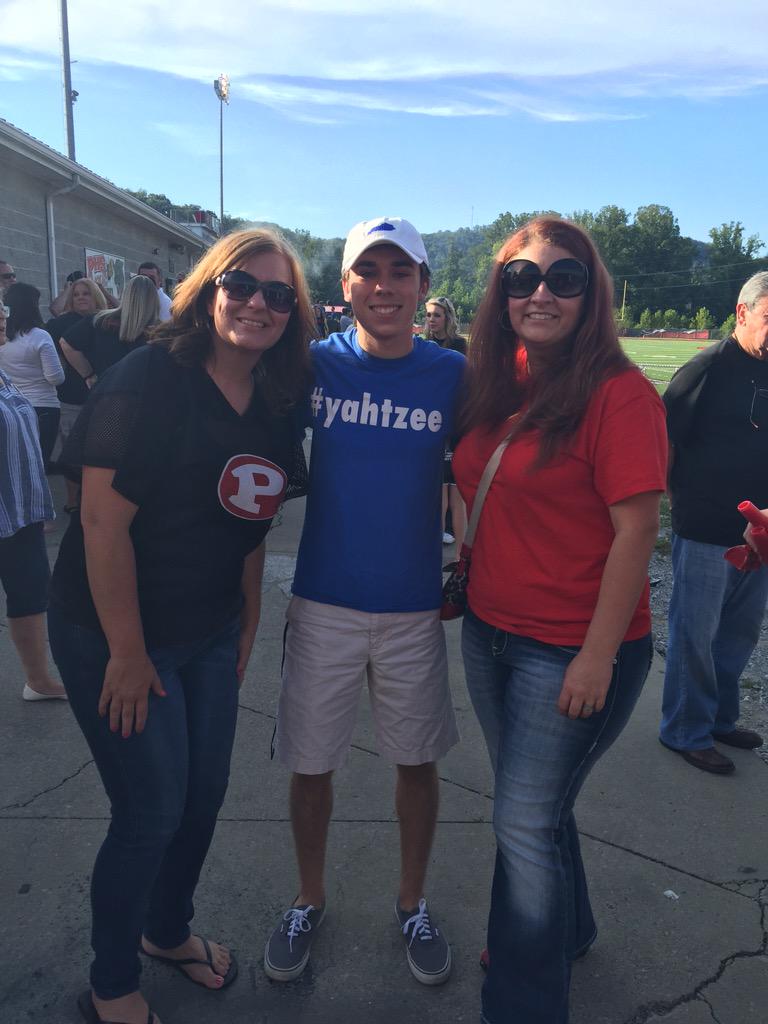 Trey had celebrity status at the pregame tailgate.
Trey Huntsman's first Friday Night Football experience wasn't the best battle we will see this year, a 41-6 road win for Pikeville, but it still sounded like a lot of fun. Stick around for a full recap of the experience on the site this afternoon.
ICYMI: Kash Daniel had an OK start to the season, rushing for 3 TDs in a blowout victory. Landon Young's Lafayette defeated Dunbar, 43-21, and Drake Jackson's Woodford County fell to North Bullitt, 37-32.
Bowling Green had a Rough Start in the LLWS
Their 14-2 loss to California was forgettable, but they have a chance for redemption today at 3:00 pm on ABC against Oregon. It doesn't get any cooler than getting a W on broadcast television. YOU GOT THIS B-G!
It's a Perfect Day for the State Fair
It really doesn't get much better than this. I can't be in attendance, but I would appreciate suggestions for the best exhibits. I always enjoy the tropical fish and award-winning cakes. Also, if someone could get me a spot as a taste-tester for State Fair food, I will be forever grateful.
Fox Sports has a Magnificent Har-Bus
The khakis on the Fox Sports "Opening Drive" bus aren't painted on, those are actually khakis. According to Awful Announcing, the ode to Jim Harbaugh's signature attire required 211 man hours, six gallons of adhesive, 1,100 feet of thread, and 1,300 square feet of fabric.
If Erin Andrews and Gus Johnson can't get viewers, 1,300 square feet of khaki should do the trick.