Best-Case, Worst-Case Scenarios for Louisville
The match-up that everyone anticipated at the start of the season is finally upon us. The Cats sit with 5 wins and need to beat their rival to go bowling. Louisville is eying a trip to Orlando for the Russell Athletic bowl with a chance for another year of bragging rights. For Kentucky, there is a lot more on the line and it's as much of a must-win as any game ever played in the series. Here are my picks for the best and worst possible outcomes from this Saturday's contest.
Best-Case Scenario
Coming off the bye week and focused on getting the sixth win, the Cats fire on all cylinders inside Papa Johns stadium. Some rest was exactly what the defense needed as they are finally able to wrap up some guys in the open field. Bud and Big Z get to freshman QB Reggie Bonnafon a early and force him into some bad throws. AJ Stamps comes up with a big time takeaway to put the Cats in the drivers seat for the rest of the game.
With the game at noon, Louisville already bowl eligible, and a three game win streak in the series the Cards and the crowd show up lackadaisical. Patrick Towles is back in early season form as he stands in the pocket poised and connects with Ryan Timmons for major yardage. The offensive line is able to open up some holes for the run game and Kentucky eats up some clock to nurse their lead. Louisville ties the game late but Austin Macginnis sends the Cats on to the postseason with a big-time boot from 40 yards out.
The Cats head on to Birmingham. Damien Harris commits 3 weeks later and the recruiting momentum keeps on rolling. Kentucky beats Bobby Petrino at Louisville for the first time. Couches burn on State. Bedlam in the Bluegrass.
Worst-Case Scenario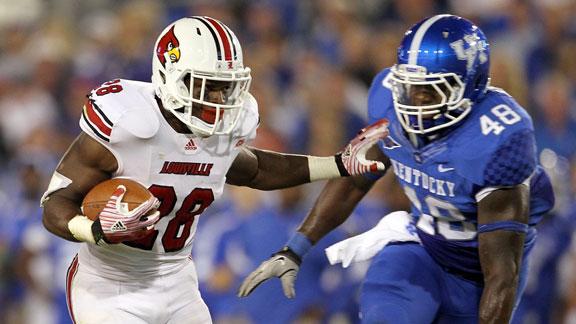 Bobby Petrino runs the score up as he pushes his record against the Cats to 6-1. Petrino didn't even get a glance, for good reason, during Kentucky's coaching search and for that he makes the most of the Cards' run game. Bonnafon doesn't have many completions but thanks to Michael Dyer and Brandon Radcliff  Louisville is able to bruise their way to 6 yards per carry. That allows the Cards to stay in short yard situations for most of the game and Devante Parker to act as a safety valve for the freshman QB to find in space and make a play.
Kentucky's tackling woes continue as they miss on simple plays and can't keep the Cards covered. Louisville's defense is as good as advertised which keeps Patrick Towles from getting into rhythm. Kentucky falls into an big deficit and that proves too much to overcome. Cards win 38- 17.
What are your best case and worst case scenarios for this Saturday?