Barnhart, Capilouto Release Statement on Alcohol Sales at SEC Football Games
A day after a Sports Illustrated report named Kentucky as one of the SEC's strongest advocates to keep the stadium-wide ban of alcohol sales, President Eli Capilouto and Athletic Director Mitch Barnhart are doing some damage control. They released the following statement on the matter: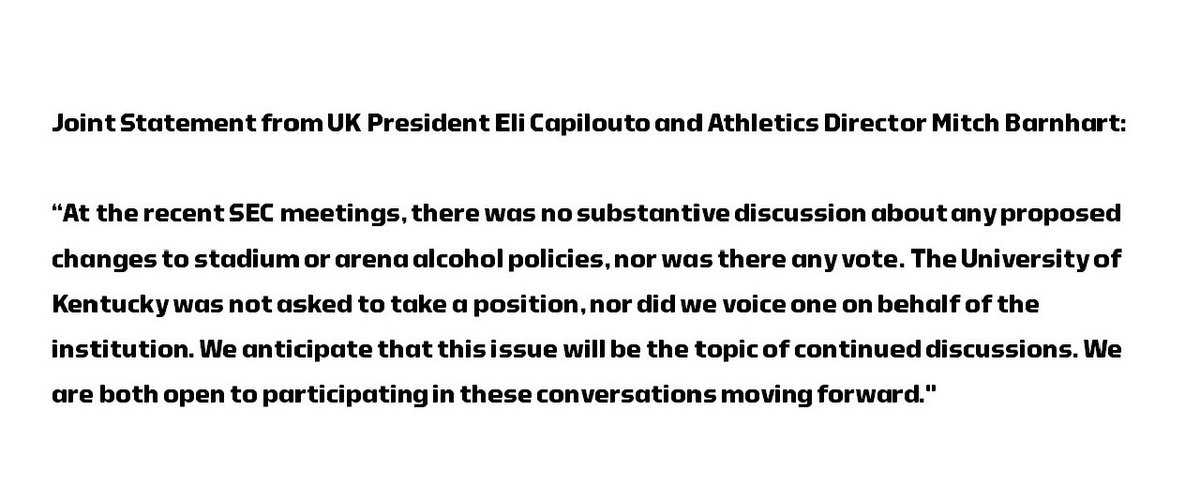 The statement follows backlash from fans across the Big Blue Nation. One of the biggest detractors is KSR's own Matt Jones.
Here's what makes me mad about UK/SEC alcohol policy. Wealthy donors are allowed to drink and are sold alcohol by the school via the club sections

But average fans are banned from buying it. It is hypocritical a perfect example of UK not paying attention to the average fan

— Matt Jones (@KySportsRadio) June 1, 2018
Reality is wealthy UK fans demanded alcohol at games…so UK literally redesigned both Kroger Field and Rupp to accommodate them

Average Fan asks for alcohol at game…silence

There is a reason attendance is down. Fans don't think UK cares what they think

— Matt Jones (@KySportsRadio) June 1, 2018
No progress was made to abolish the ban at the SEC Meetings in Destin. It will remain a topic of discussion over the coming months, but the rule is here to stay for the foreseeable future.
[mobile_ad]