Andrew Jackson's Friday News and Views
We're a mere 44 hours away from Kentucky football's not-a-rivalry game with Western Kentucky University on the grass Vince Young once roamed in Nashville, Tennessee. Tonight we'll continue the countdown by paying tribute to a man who would be very excited about the game if he weren't dead: Andrew Jackson.
Jackson's a Nashville guy, just like you and me, and I'm certain he'd be chowing down on turkey legs and slamming ice cold brews under the sweltering sun at LP Field if not for, ya know, the whole being dead thing. But that doesn't mean he won't be around when the ball is kicked. Oh no, Jackson will be right down the street at The Hermitage, his former home and the place he's been resting since 1837.
Now some of you are probably thinking, "Andrew Jackson? Doesn't he play for Western Kentucky?", and the answer is no. No he does not. Jackson was the seventh President of the United States before the Hill was even a twinkle in the Toppers' eyes. Jackson was an army general who defeated the Creek Indians at the Battle of Horseshoe Bend and the British at the Battle of New Orleans. He was "Old Hickory", the man who fought in duels and kicked ass doing it. Look at a 20 dollar bill, that's him. Any other Andrew Jackson doesn't exist. The alleged Andrew Jackson in your WKU media guide, he's just a guy who's about to lose a football game.
This 'sposed to be the News and Views, but the Waldorf's WiFi is weaker than Bobby Petrino at a volleyball match. Let's give it a go, though…
 The UK football team got one last practice in on Thursday afternoon before it makes its way down to Nashville tomorrow for Saturday's game. It was the first practice with an official starting quarterback, as Mark Stoops confirmed he told Jalen Whitlow and Max Smith who would get the nod against WKU on Wednesday night. Though he wouldn't tell the media which guy will be under center, he did say they were both fantastic. "They're team guys," Stoops said. "Sure, they're competitors, but they want to win. They're all in."
Our guess is still Jalen Whitlow and it's his show unless things go very, very south.
  Matt and I have discussed this several times on radio this week and I'll say it again here. We want our old Western Kentucky back. This trash-talking is heartbreaking and it bothers me to see us growing apart. We want the lovable little Western we root for 364 days out of the year back in our lives. I love Western Kentucky. I almost went to Western Kentucky. Several friends, colleagues, and family members went to Western Kentucky. But since the Hilltoppers' upset win in Lexington last year, we hear a lot of mouthing and taunting from Bowling Green and we don't like it. This isn't a rivalry and it'll never be a rivalry, so let's lose this animosity before it goes beyond the point of return. Let's be friends again on Sunday, okay? I want to cheer for Big Red and test drive Corvettes again.
 In case you didn't get the memo, the KSR football pregame show has a new co-host this season and we couldn't be more excited to have him on board.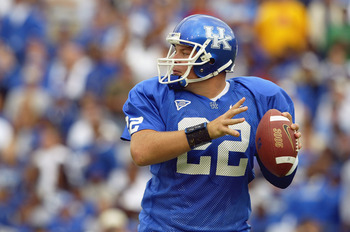 That's right, Jared Lorenzen will join Matt, Ryan and me on the WLAP airwaves before every Kentucky football game this season, starting this Saturday at 3:30 ET. The format will be the same — two hours before home games, one hour before road games (it's two hours for the opener) — but unlike last year, we have something exciting to talk about and we're pumped to have the Pillsbury Throwboy to lend a voice. I encourage you to tune in.
 Fun Fact of the Night: In the two schools' four prior meetings, Kentucky averages 37.3 points to WKU's 16.5. Again, it's not a rivalry.
 Class of 2014 basketball recruit James Blackmon Jr. is currently on the University of Kentucky campus for an unofficial visit to the school and he's enjoying his stay, even more than he expected, he says. In fact, he's having so much fun, he set up an official return visit to UK for Big Blue Madness in October. Blackmon Jr.'s good buddy and fellow IU decommit Trey Lyles is also planning to take an official to Lexington that weekend, which means every other team pursuing the two should surrender now and move on to other prospects.
 It was an unlucky night for two former Wildcats in the NFL. Trevard Lindley (Eagles) and Martavius Neloms (Lions) both suffered ankle/foot injuries in preseason games Thursday night. Let's hope they're able to shake it off and hold on to their roster spots in the league.
 This internet in my hotel room is really, really bad.
 Tom Leach made his long-awaited KSR debut Thursday afternoon and he did not disappoint. Tom wrote what he believes are the key storylines and matchups heading into Saturday's game with a little extra fodder for UK football fans. It's a must read and you can find it to the right in the new "Top Stories" section on the sidebar.
It's Duck Season at Harbor House of Louisville. For the 10th year in a row Harbor House will be giving away a Honda Fit to one Lucky Duck. And if the third place duck is a preselected Million Dollar Duck, you will win $1,000,000!  This year, the KEN-DUCKY DERBY FESTIVAL will be September 28th from 12:00 pm – 5:00 pm at the Waterfront by Joe's Crab Shack. The ducks race at 4:00 and there will be live music, vendors, food, the Mommy's Nest Kids Section and much more. Buy your duck today.
That'll do it for tonight. Keep checking out TheOuterCourts.com if tennis is your thing.
Go Cats. Beat Western.