An Afternoon At The Governor's Cup Classic
I am a big fan of football and I am a bigger fan of free food.
Those two things came together today at the Governor's Cup Classic in Frankfort, so I made the 30-minute trip west of my couch to attend the event.
Held at the lovely Frankfort Country Club, the 2016 Governor's Classic brought fans and boosters of both sides of the UK-UofL rivalry together for a golf scramble and fundraiser. The mixing of blue and red made for a bizarre atmosphere, and it was a little uncomfortable, honestly.
At one table I got smiles and waves from Cats fans proudly wearing blue; at another, lots of ugly looks from people who despise Kentucky Sports Radio. As Freddie Maggard said to me when I first got there, it is weird seeing Louisville fans in person because sometimes it feels like they only exist online. But it turns out they're actually real people with real money to do fun stuff for a good cause, like the Governor's Cup Classic.
Enough about Card Nation, though. Let's talk about the Classic. By now you've probably seen a ton of stuff from it, but I'm here to share with you the behind-the-scenes takes and observations.
We'll start with lunch…
On the Menu:
— Pulled pork
— Chicken breasts
— Baked beans
— Pasta salad
— Coleslaw
— Cookies (for those who aren't perfecting their summer bod) Hey look! Oscar Combs and Joe B. Hall!
Nice hat, Coach.
The President of Kroger couldn't get the governor's name right.
Calvin Kaufman, President of the Kroger Louisville Division, had the honor of introducing Matt Bevin to kick off the press conference, and in his opening remarks, he referred to the governor as "Matt Blevin" at least four or five times.
Then to top it off, Mark Stoops thanked "Senator Bevin" to conclude the press conference.
Rough day of recognition for the gov.
I did not pay attention to Bobby Petrino.
Bobby Petrino was the first of the two head football coaches to address the crowd, and I'll be honest, I didn't listen to a single word he said.
But I did have some fun on SnapChat!
On second thought, I do remember hearing something about it being a "friendly rivalry." I think I laughed and then went back to drawing on him.
The crowd was incredibly disrespectful to Mark Stoops.
I was sitting 15 feet from Mark Stoops and it was hard to hear him (and he had a microphone) over the crowd towards the back. Stoops tried to speak over them for a couple of minutes, but they only got louder and louder.
Then Alan Cutler stepped in and became the hero we all needed:
In all seriousness, it was one of the rudest things I've seen in a long time. The room was completely silent for Bobby Petrino then obnoxiously loud when it came time for Stoops to speak. I don't know if a new group of folks walked in and didn't know Stoops was talking or what, but you could tell he felt disrespected.
Thank you, Cutler!
Easy with the trophy there, Governor.
Weight room. pic.twitter.com/stV6NN8WOo

— Drew Franklin (@DrewFranklinKSR) June 7, 2016
Leave the heavy trophy lifting to the Wildcats when they win it back later this year.
I tried to get a selfie with Bevin and failed.
But check out the extension on this selfie he took with the three Louisville honorees: Deion Branch, Mark Sander and John L. Smith.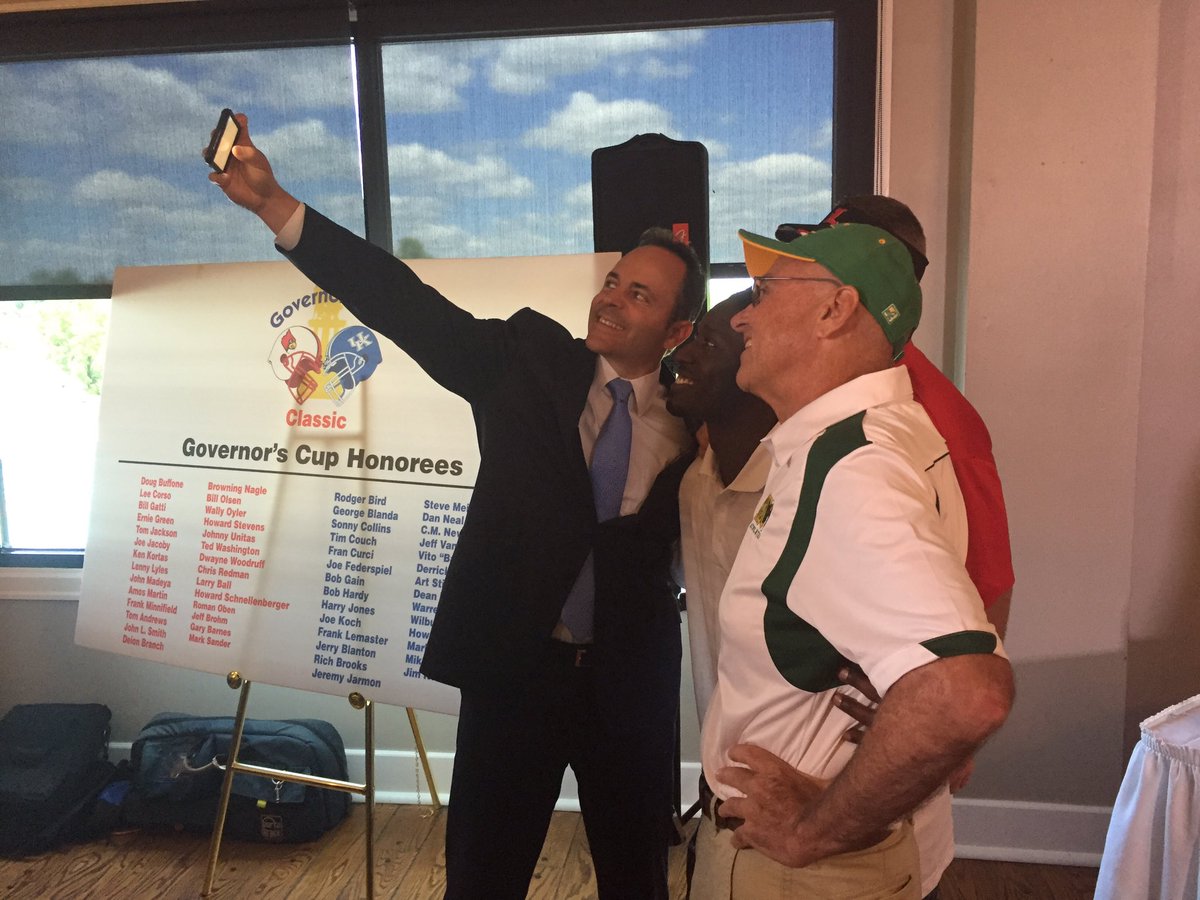 It was good seeing former players back to support Rich Brooks.
Aside from Jeremy Jarmon, one of the honorees, I spotted Dicky Lyons Jr. and Trevard Lindley in attendance, among a few others. (And Freddie.)
Dicky looks like he could still go out there and take someone's chin off.
Rich Brooks' belt game is strong.
Yet another reason to love Brooks. (Who sources tell me had lots of fun Monday night.)
The event raised a lot of money for Dare to Care Food Bank and God's Pantry Food Bank.
As well as $10,000 donations from Kroger to the general scholarship fund of each school.
Now let's quit pretending Mark Stoops and Bobby Petrino like each other and get ready for some football.