A rookie's life, from fight song singers to dish washers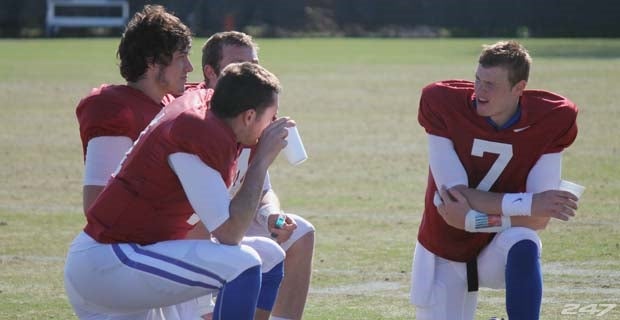 College football is a total different game and experience from what I went through decades ago. That's probably a good thing. With camp starting this week, I thought I'd share my horrifying and perhaps funny fall camp experiences.
Way back when, freshmen would report to camp a week earlier than the veterans. The purpose was to acclimate rookies to campus and teach the youngsters proper practice procedures. Upon arrival, freshmen bonded. Today, twitter and unofficial visits strengthen pre-Wildcat bonds.
After two days or so, our class was tight. We learned how to practice and even established basic playbook knowledge. By day four, we started to think we were pretty cool. A certain strut could be seen as we began to self-recognize as college football players. On day five, our lives would change.
Day five started out the same as the previous four. Early wakeup, a couple of practices as well as other mundane camp activities. Then it was time for dinner. Unknowing to us, the varsity had reported and had eaten their evening meal prior to us entering the dining facility. We were strategically lined up and prepared to march into the Donovan Dining Hall. None of us had a clue what was about to happen.
We walked through the doors and there were 80 grown men (varsity) sitting in the middle dining tables. They appeared to be anxiously and angrily awaiting our arrival. As we walked the thirty feet to get our food, the old dudes then began beating their forks on their plates. The closer we got to the hamburgers, the louder they got. I can still remember the sound. At this point I'd rate my nervous factor around 100 or so. I didn't want to make eye contact. You never want to make eye contact.
Once we clumsily retrieved our food, we were only allowed to sit in the outer tables. Never in the middle. Those seats were reserved for veterans. When the last pimple faced rookie was seated, the fun started. Seniors would single out players and "request" them to stand up and sing either their high school or UK fight song. A misspoken or forgotten word would bring on an onslaught of heckling. To this day, I can still remember the DeSales fight song. Not because I went to school at DeSales, but from listening to Jerry Bell proudly recite his boisterous rendition on a nightly basis.
Following thirty minutes of the worst singing you could possibly imagine, rookies were then "asked" to carry upperclassmen's trays to the dish cleaning area. This went on until the end of fall camp. Then, and only then, was it safe to eat in the middle tables. I now look back and laugh about this rite of passage. What was a nerve wracking experience has morphed into a fond and funny memory.
At the Greater Louisville UK Alumni Luncheon, I sat at a table with several has-beens. Those same cats were the ones that singled me out to sing years back. They must have either thought I was a cocky punk that needed a dose of humility or they were just huge fans of the Cumberland High School fight song. Regardless, to this day, we remain lifelong teammates. I don't miss the games. I sure as heck don't miss practices. I do miss my friends. Yes, even the ones that made me sing.
Camp traditions or rites of passage exercises are now obsolete. Probably a good thing. It was all in good fun. Quick, can you sing your high school fight song? Do you know all the words to "On on U of K?" I can and I do. Fall camp is here. Football is here.