A Ridiculously Incomplete 2019 SEC Media Days Recap: Tennessee
A disastrous coaching search gave Tennessee Volunteer fans Jeremy Pruitt. The former Hoover High School coach and Alabama defensive coordinator almost got the Vols to a bowl game, if not for a loss to Vanderbilt in the final game of his first season. Entering his second appearance at SEC Media Days, Pruitt filibustered for 21 minutes while wearing the most disgusting attire in the United State.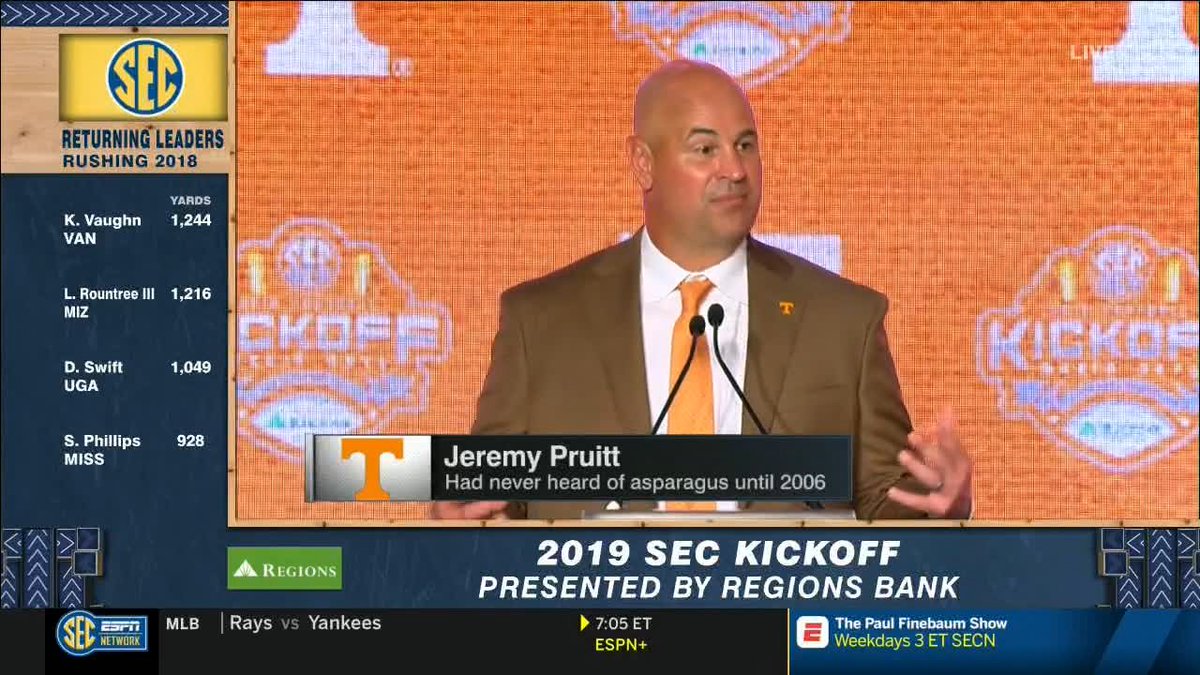 This is a cry for help. Get Pruitt out of their ASAP.
The Best Thing Jeremy Pruitt Said — "That was really my wife's idea."
The Best Thing Jeremy Pruitt Said (Out of Context) — "There's a lot of large men running around."
Coach Speak 101 — Most coaches try to hide their disdain for the media. Pruitt flat out said he doesn't like talking to us, but at least thanked us for our service.
"This has not been my favorite time as a head coach. It's not something that I exactly enjoy doing, but I appreciate the media and what you do for our game."
Same Face, New Place — Eight years ago, Tee Martin told Matt Jones to "look out" for Bookie Cobbins. Now he's back at his alma mater as the passing game coordinator for the Volunteers. Quarterback for Phil Fulmer's 1998 National Championship team, Martin spent the last seven seasons on USC's coaching staff.
Martin is not the only former UK coach who's coming to Tennessee from the west coast. Derrick Ansley will serve as Tennessee's defensive coordinator after spending a year with the Oakland Raiders. Prior to the brief NFL stint, Mark Stoops' first defensive backs coach left Lexington to join Nick Saban's staff at Alabama. A new quality control staffer, Mike Colosimo, spent the last three years on UK's staff as a graduate assistant.
Tennessee's Scariest Player — Is Jarrett Guarantano scary? That's debatable. Of all the moderately talented quarterbacks in the SEC East, he could be the best. Last year he threw the fewest interceptions in the SEC, with only three all year long. He has his top four receivers returning, as well as explosive running back Ty Chandler. The Tennessee hype train will perform as well as Guarantano does.
Biggest Question Mark — As soon as Trey Smith stepped onto the field, he was one of the best offensive linemen in America. The former five-star recruit was a Freshman All-American offensive guard in 2017. The following spring, blood clots forced him to the sideline. Smith felt well enough to return for seven games in the fall, until the blood clot problem resurfaced once again.
Smith may not ever play football again. Jeremy Pruitt said they're working with doctors to see if it's possible. "Trey wants to play football and they're in the process of figuring out a plan so he can be able to do that."
Without Smith in the equation, Gurantano will be protected by a pair of five-star true freshmen offensive tackles. Replicating Smith's immediate success is far from a guarantee.
Good News for UK — Since Kentucky snapped the lengthy losing streak to Tennessee in 2011, the Cats have split the four games in Lexington. This year's meeting at Kroger Field follows a UK bye week as well.
Bad News for UK — The Vols return 16 starters from a team that upset Kentucky in 2018 at Neyland. It's still hard to explain exactly how UK lost that game.
Fear Factor — 5.575
A lot of things can happen throughout the season to change the trajectory for each team. Kentucky had no business losing in Knoxville last year, but the tank was on E after the emotional loss to Georgia. With all that being said, the Vols' lofty recruiting class rankings make them a favorite amongst talking heads, even though they should not be able to beat Kentucky in the trenches.
See each piece in our preview series from SEC Media Days 2019: Missouri, Florida, Georgia
[mobile_ad]