A Look Back and Beyond: 2016 Governor's Cup Honoree Jeremy Jarmon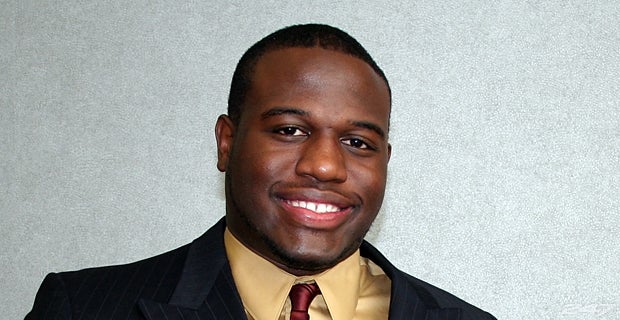 Finding a classier representative of the UK football program than Jeremy Jarmon would be an exceedingly difficult task. During Monday and Tuesday's Governor's Cup festivities, Jarmon, Coach Rich Brooks, and Dr. Jim Kovach will represent the University of Kentucky as this year's honorees at the annual two-day event. I recently conducted a Q&A session with Jeremy. The following are his heartening responses about his time as a Kentucky Wildcat.
Question: What were your thoughts after learning about being honored by the Governor's Cup?
I was actually pretty surprised. There have been dozens of good players over the years in the UL-UK rivalry that are worthy of receiving this honor. It brings me joy to know that I am being acknowledged as being one of the best players in the history of the Battle for the Governor's Cup trophy.
Question: Honored to be distinguished the same year as Rich Brooks? 
Most people that are close to me know how much I care for Rich Brooks. I'm honored to be receiving this recognition with him. It's going to be great reminiscing with him and guys from each of his teams at UK.
Question: Tell us something about Rich Brooks that nobody knows.               
Coach Brooks was never the same person two days in a row. There were days he would bounce around and talk with us in the stretch line and other days we wouldn't hear one word from him. He sometimes would watch practice intensely about 20 yards away from everyone and other days perform long, hands-on demonstrations showing us how to be the best lineman or running back in the country. He always kept us guessing. When he spoke he had everyone's attention and respect.
Coach Brooks and Steve Ortmayer came to my house on an in-home visit and my mom cooked a dinner that consisted of baked chicken, beans, cabbage, and pan-fried, oval shaped, hot-water cornbread. Coach Brooks enjoyed the cornbread so much that after dinner, he turns to my mom and says," Susie, Can I get that pancake recipe so I can share it with wife my Karen." Of course me and my mom died of laughter!
Question: Describe your time as a Kentucky Wildcat? 
It was an uphill battle for me since I spent my first 1.5 years recovering from a shoulder injury from high school and knee injury freshman year in college. I worked hard in physical rehabilitation and fought depression my first 2 years in college to emerge as one of the best defensive lineman in my class. I never envisioned that coming into college I would experience such an extreme of low points and high points. Now looking back, I am so grateful to have been a part of such a great coaching staff and team. People like Rich Brooks, Steve Brown, Joker Phillips, Steve Ortmayer, Chuck Smith, Marc Hill, Jim Madaleno, Barb Deniston, Dontae Wright and Rick Petri showed us how to be detail oriented in various facets of life, while enjoying the opportunity to play college football in the SEC.
Question: Talk about your press conference with Mitch Barnhart.
It was a very difficult time period to be dealing with that situation for two months prior to my graduation. Mitch Barnhart and Sandy Bell had always been there in my corner to support me over my four years at UK. That day was not any different. The hardest thing that I had to do that day was let Coach Brooks know that I wouldn't be able to play for him during the 2009 season.
What are you doing these days?
Currently, I'm working in the medical device industry and providing support for healthcare facilities, physicians, and patients in Central Kentucky
Question: Talk about being a Kentucky Wildcat and life after football.
The University of Kentucky will embrace its student athletes that are devoted to excellence. Choose a university that has an administrator, coaches, and support personnel that you trust and genuinely want the best for you. I chose UK because I believed in the UK brand that President Lee Todd, AD Mitch Barnhart, and Head Coach Rich Brooks represented. I still receive advice and encouragement from this group. Less than a month after retiring from football, I was offered the ADFO position on the football staff. This position gave me a chance to give back to the student athletes, while being mentored during this transition by the staff and administration.
My life is just beginning now that football is over and various people here have assisted me with resume building, job seeking, outreach, investments, relationship and family advice, continuing education, etc. This community continues to find ways for me and others to stay involved with the program and this has only increased my regional contacts within the UK Alumni network. There's a certain "je ne said quoi" about being affiliated with the University of Kentucky. People are just absolutely fanatical about this university and the reach of its brand.
Question: As a compassionate person, ever consider going into politics?
As of now I do not have any interests in becoming an elected official. I am certain that I will be assisting with some races in central Kentucky in the next few years.
Question: What was your favorite UK moment?
My last college football game was played in the AutoZone Liberty Bowl in Memphis against East Carolina. It was amazing hosting my friends and teammates in my hometown over the Christmas/New Year's break. I couldn't have asked for a better place and outcome in my final game as a Kentucky Wildcat.
Full disclosure, I deeply care for Jeremy Jarmon. He's a pleasure to work with on television and radio. But most importantly he's a loyal and honorable friend that I highly admire. Congratulations to a great guy for this well-deserved honor.