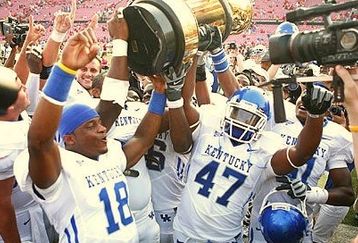 When the Governor's Cup started the season, we knew it would have lasting ramifications for the season, but we didn't realize truly how important it was until the game was moved to the season finale.  For the second year in a row, a Governor's Cup win will give Kentucky a bowl birth.  It will not come easy.  Kentucky's second half of the season might be even more disastrous than the second half of last year's, with only a win over the dismal Charlotte since heading into the Thursday Night Showdown with Auburn.
Louisville started sluggish, but has found a way to become bowl eligible.  They've looked better than UK often, but they've also looked just as bad (if not worse) at times.  They're defense has been good, but it's been against terrible offenses.  They've struggled to figure out who their quarterback is, undecided between the runner, Lamar Jackson, and the traditional pocket passer that killed Kentucky last year, Lexington native Kyle Bolin.
Even though many may not agree, this game really is a 50/50 toss-up.  Whoever makes fewer mistakes will get the win.
The lackluster play by both teams and the Thanksgiving holiday has chilled both fan bases, but I know something that will fire up the BBN.  Ladies and Gentlemen, allow me to present, "Stevie Got Loose."
Listen to the KSR Pregame Show RIGHT NOW
There's no waiting around for it today, we're starting early to get you ready for the Governor's Cup.  It's a nasty morning, but I'm keeping my fingers crossed that the entire crew will be back at it from the parking lots surrounding Commonwealth Stadium in the lucky gator.
Get to the Cat Walk at 9:45
The team is rarely punctual, but they'd appreciate your presence near Gate 1 about two hours before kickoff.  Up until recently, the Cat Walks this year have been the best I've ever seen.  Let's finish on a high note by leaving these Cats with a lasting memory.
The Weather Will Play a Factor
It's not gonna be "November cold," but the rain might make it feel colder than the 60-degree temperature indicates.  After a soggy night, hourly forecasts predict light rain during tailgate time, picking up around noon and remaining steady throughout the game.  I'm not gonna play the "rain is better for so-and-so" game, but I will say: "At least it won't be as terrible as last week's weather."
Kentucky Can Run Their Way to a Victory
Last year was the first year in about 15 that the team that ran for more yards did NOT win the game.  Even though both schools are known for producing elite quarterbacks, this game is won and lost on the ground.  Through the last three games, Kentucky is averaging 240 rushing yards per game compared to Louisville's 160.  Brandon Radcliffe might be their best offensive player, but he doesn't have the line, or the depth behind him to keep up with Kentucky's running game.  Kentucky can control the clock and keep the pressure off by successfully running on first down.
If Kentucky doesn't run the ball effectively, it's going to be a long day.
19 Seniors will Celebrate Senior Day
Get in early to show these guys you care.  They've been through plenty of tough times, yet still persevered.  Guys like Josh Forrest will be missed on the field, but a man like Melvin Lewis will be missed even more as a leader off the field.  If they can find a way to end on a high note, this class will be credited as the trailblazers into a new era of Kentucky football.
The Hate is Real
I doubt there will be another pregame fight before this year's Governor's Cup, but one thing is certain: the guys in the middle of it last year will need to play great today.  Drew Barker and Jeff Badet were excited redshirts in the middle of the melee a year ago; last week they were the most potent passing duo, connecting four times for 39 yards.  Here's to hoping they make more highlights on the field this year than they did last year.
The Kentucky Football State Championships are Set
It was a rough night for the Podcast Crew.  Tyler's Danville, Jared's Highlands, and my DeSales Colts all lost in very close games.  The Pikeville/Paintsville rematch wasn't the same without Kash Daniel.  Paintsville didn't stand much of a chance against the state's #1 offense without him, falling 42-23.   Here's the adjusted scheduled for next weekend's finals in Bowling Green after WKU's win won them homefield in the C-USA Championship.
1A: Beeechwood vs. Pikeville, 7:00 pm Thursday
6A: Male vs. Lafayette, 5:00 pm Saturday
5A:  Bowling Green vs. Pulaski County, 8:00 pm Saturday
2A: Mayfield vs. Newport Central Catholic, 1:00 pm Sunday
3A: Lexington Catholic vs. Belfry, 4:00 pm Sunday
4A: South Warren vs. Johnson Central, 7:00 pm Sunday 
Check back after the football game for Trey's semi-state recap.
Bobby Petrino has Never Lost to Kentucky…
…and neither team has ever won five in a row in the Governor's Cup series.  UofL has won four in a row.  Something's gonna give when the Cats and the Cards kickoff at noon on the SEC Network.